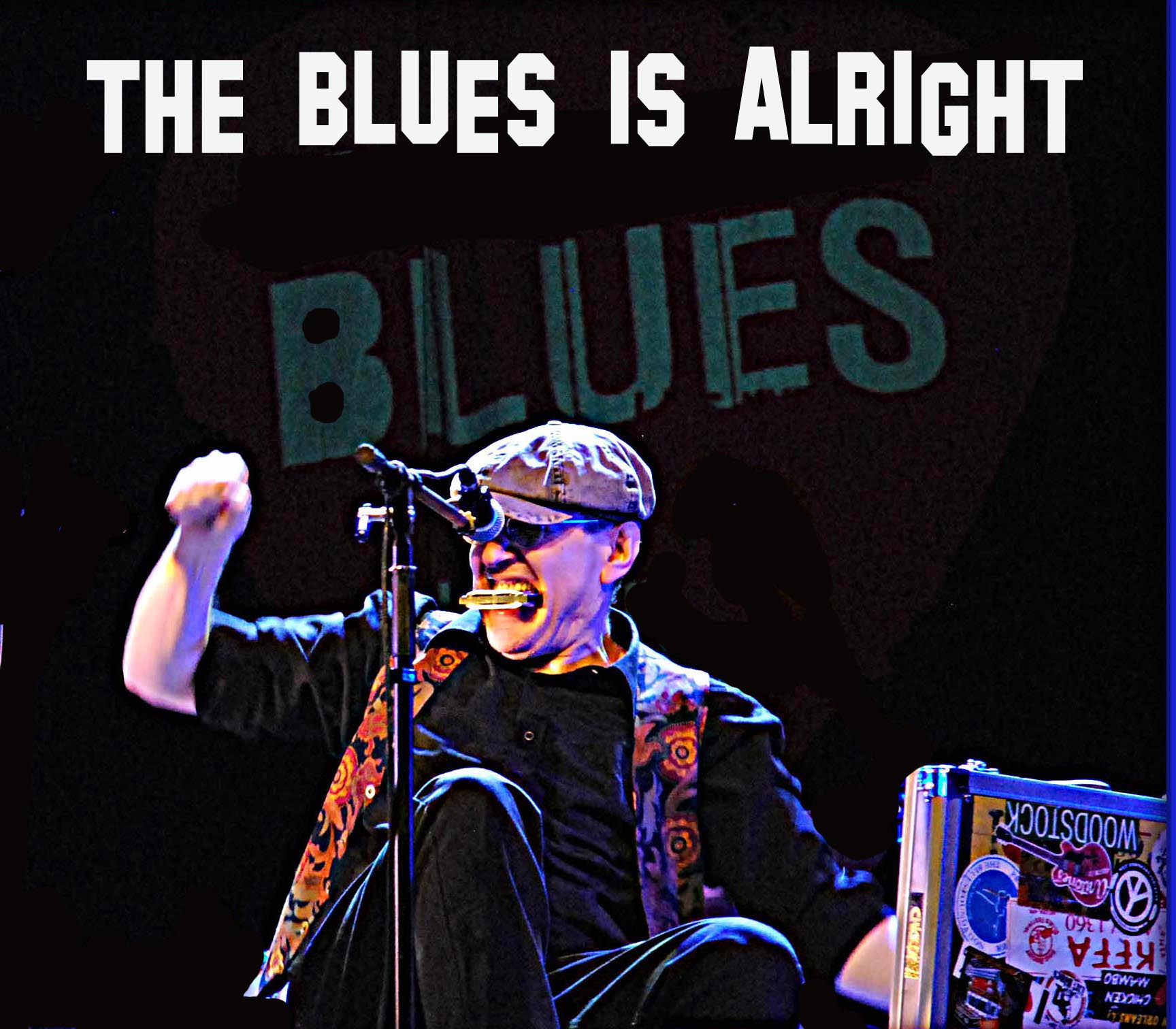 ---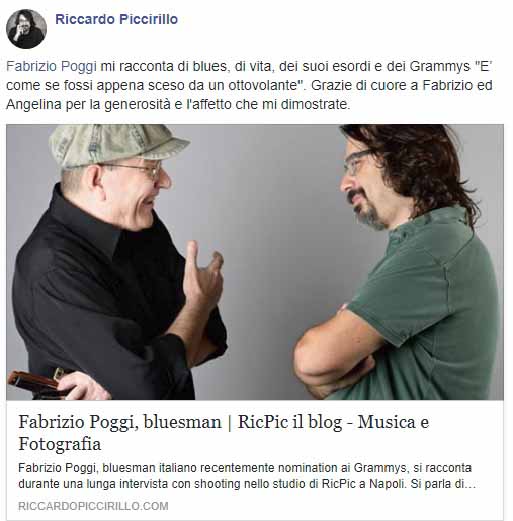 ---
---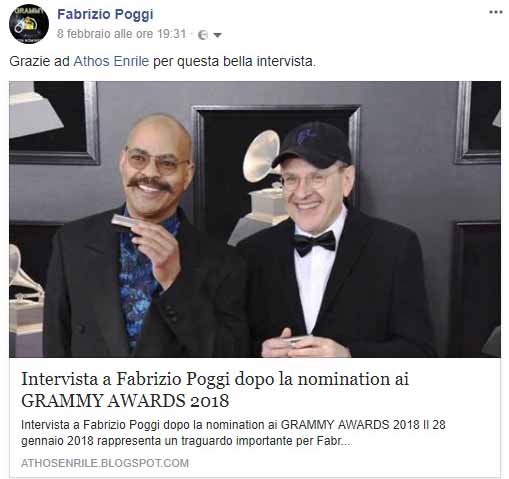 ---
---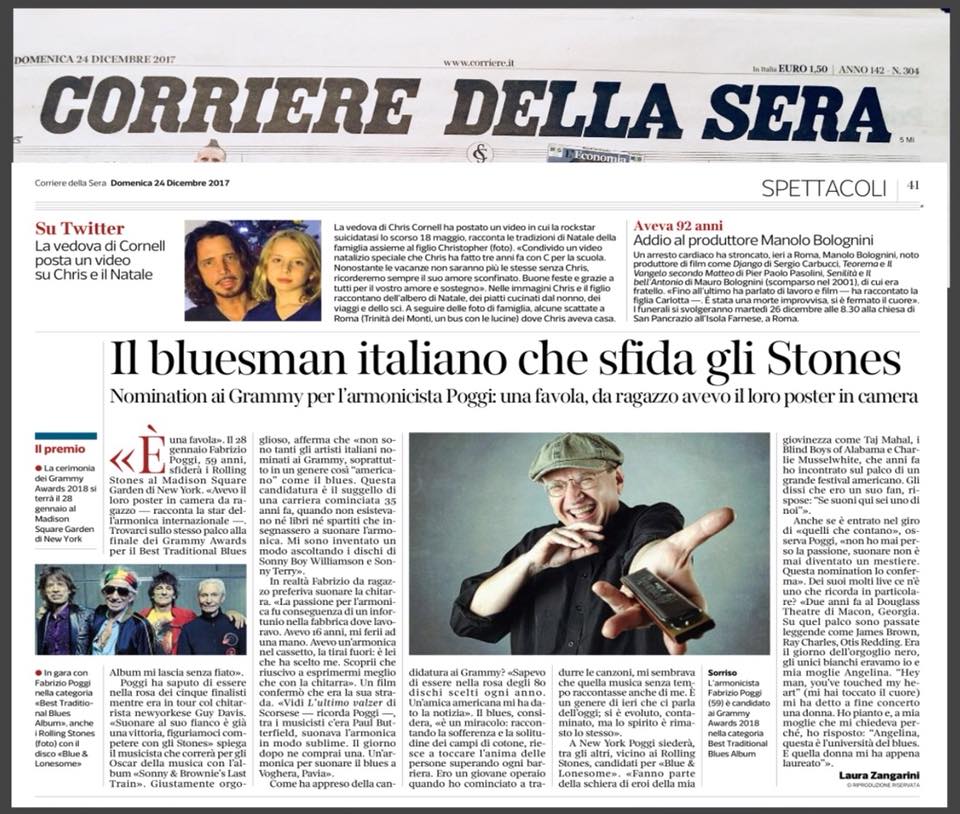 ---
---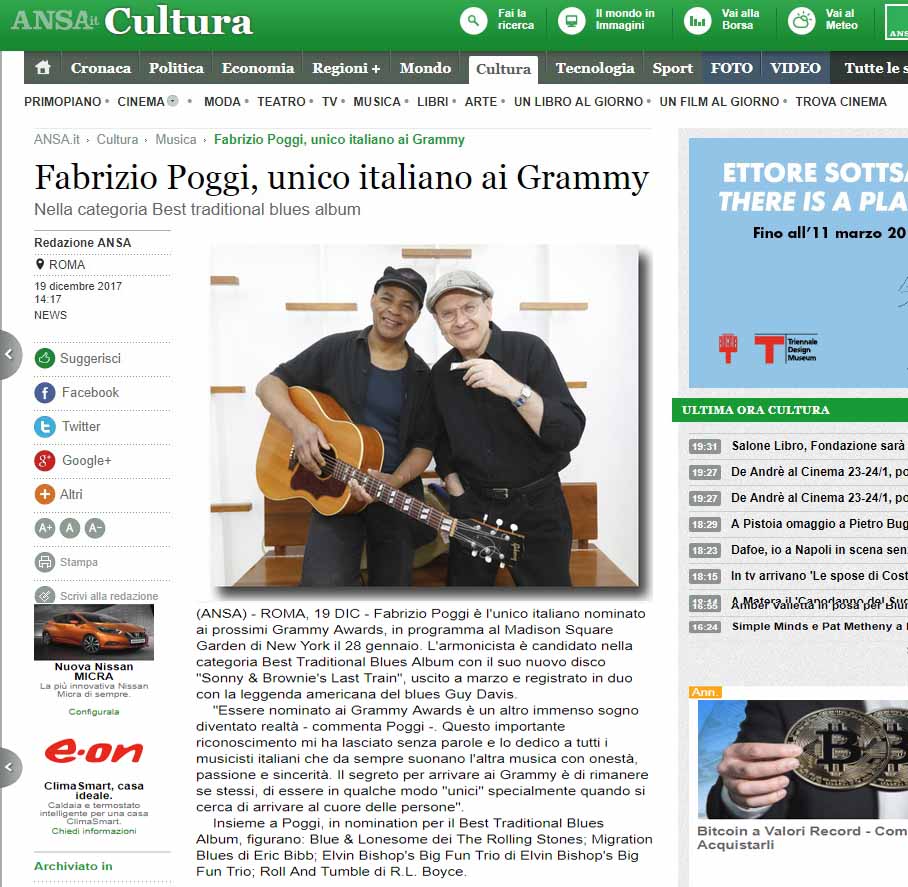 ---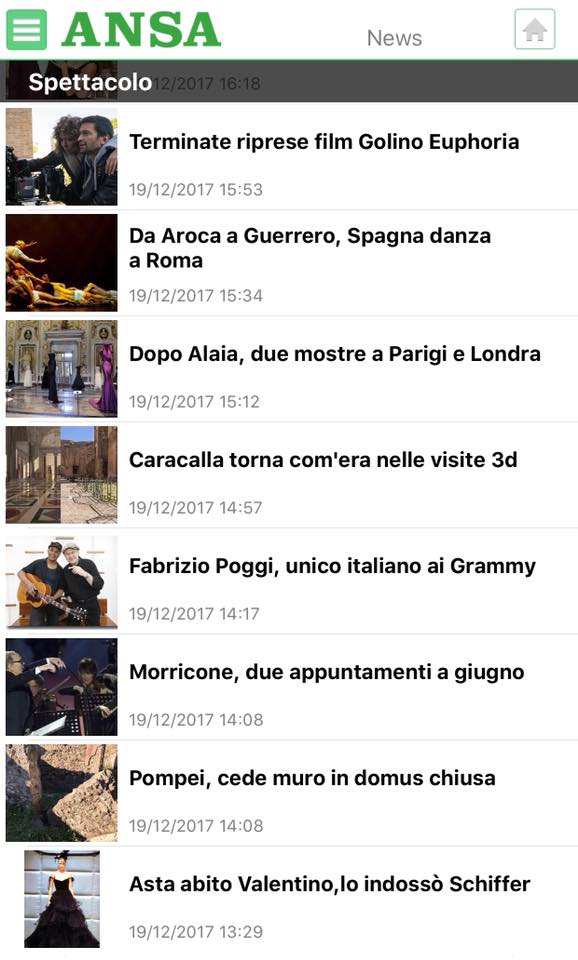 ---
---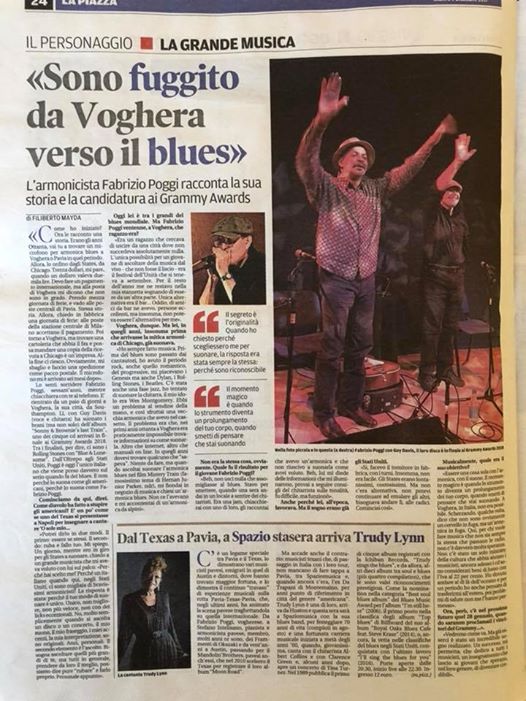 ---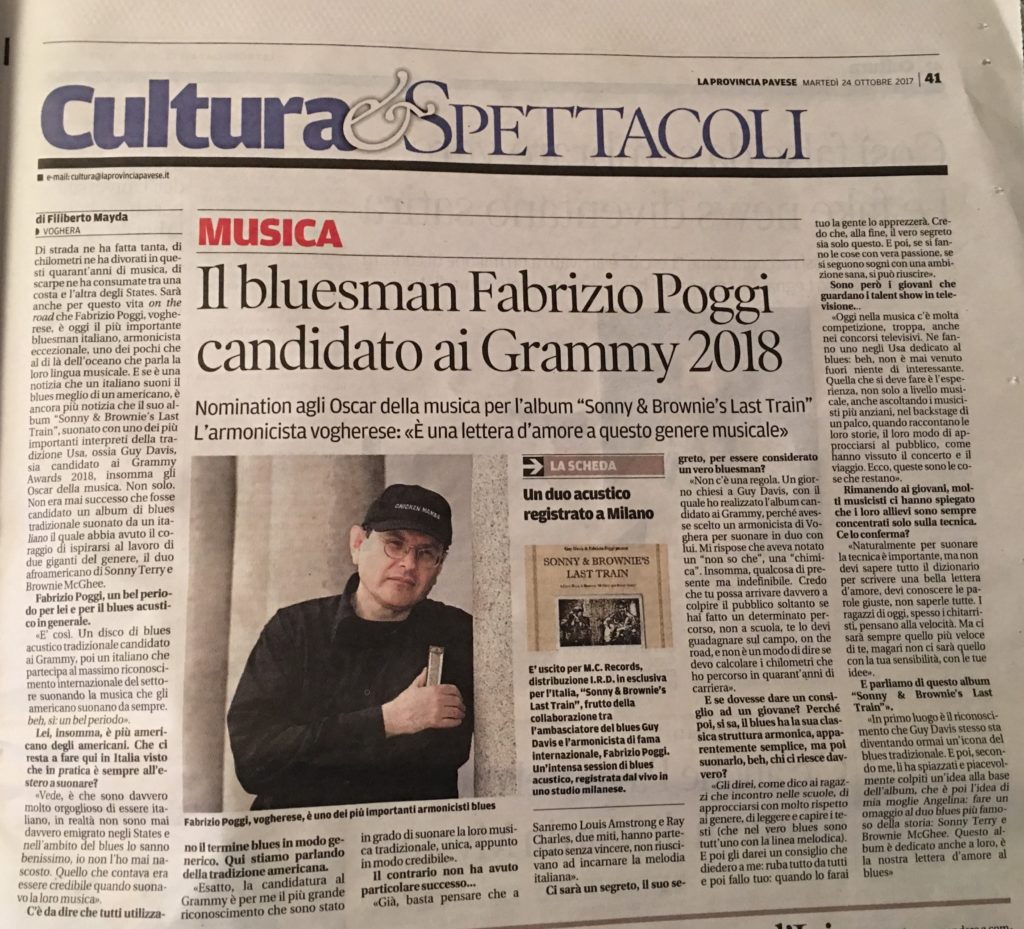 ---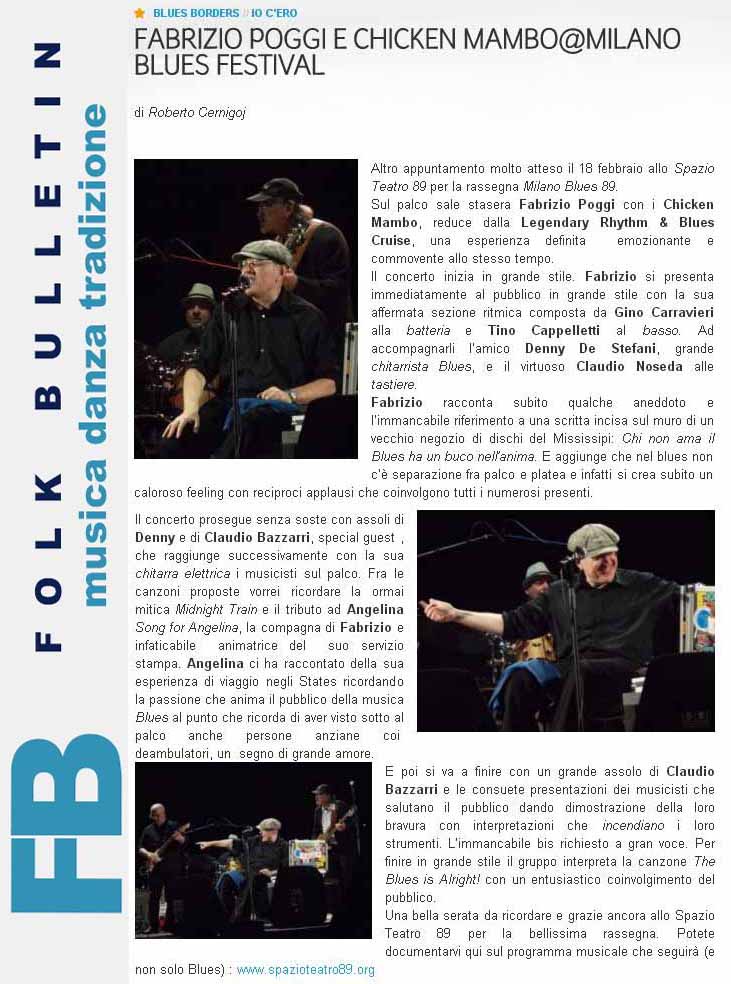 ---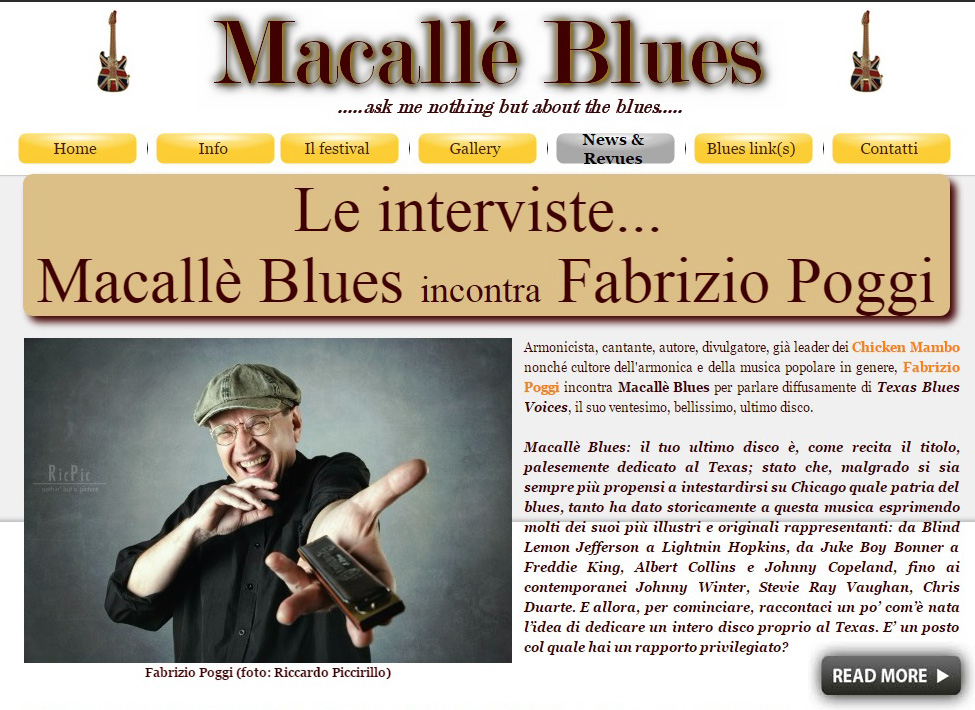 ---
Intervew with Fabrizio Poggi appeared on the italian national magazine
MUSICA JAZZ November issue written by Pike Borsa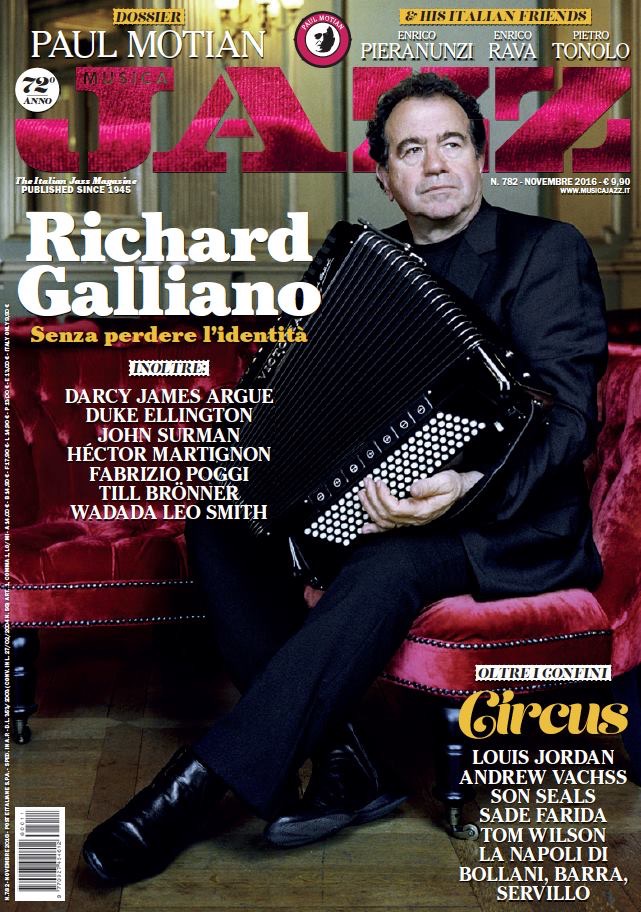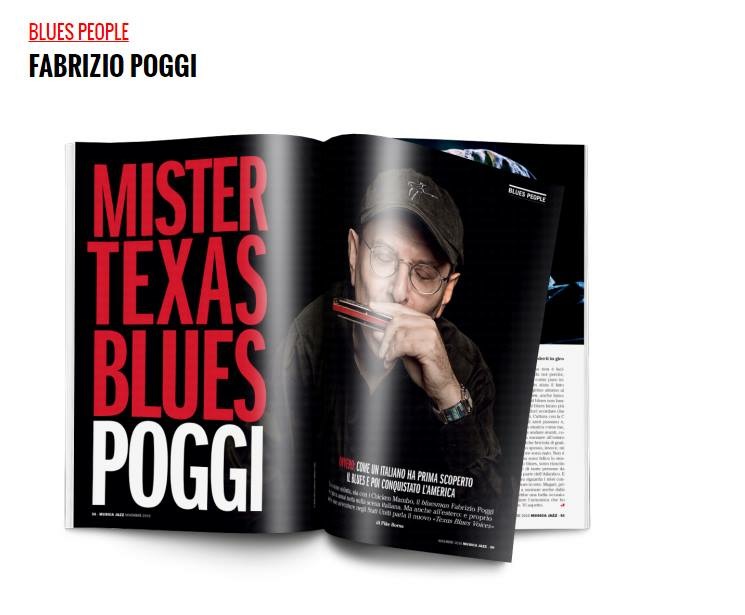 ---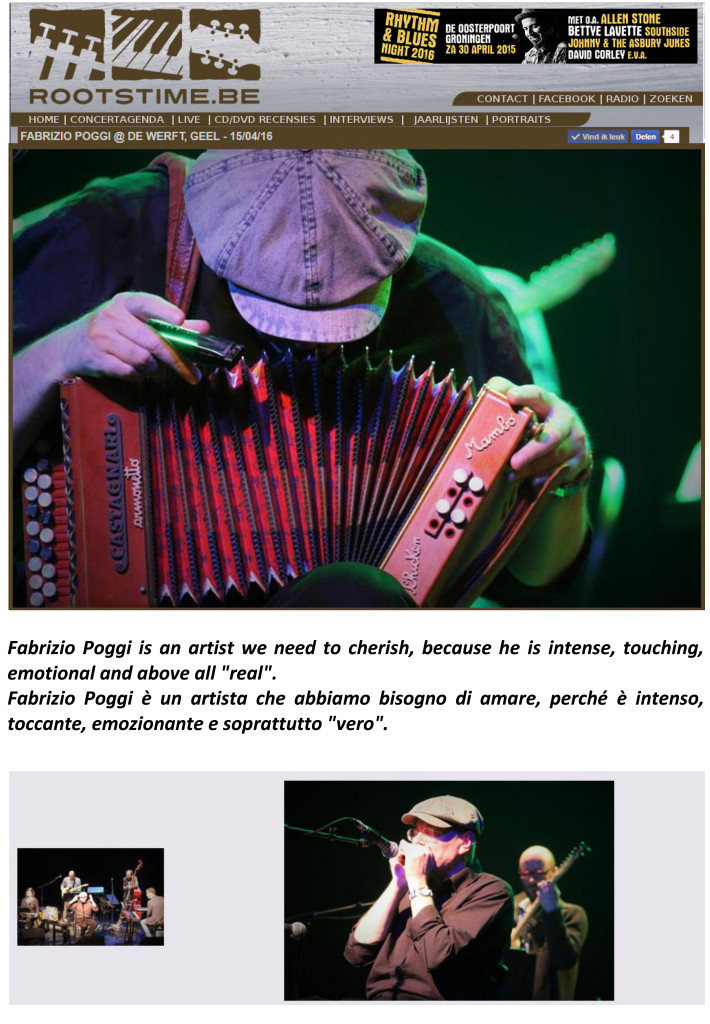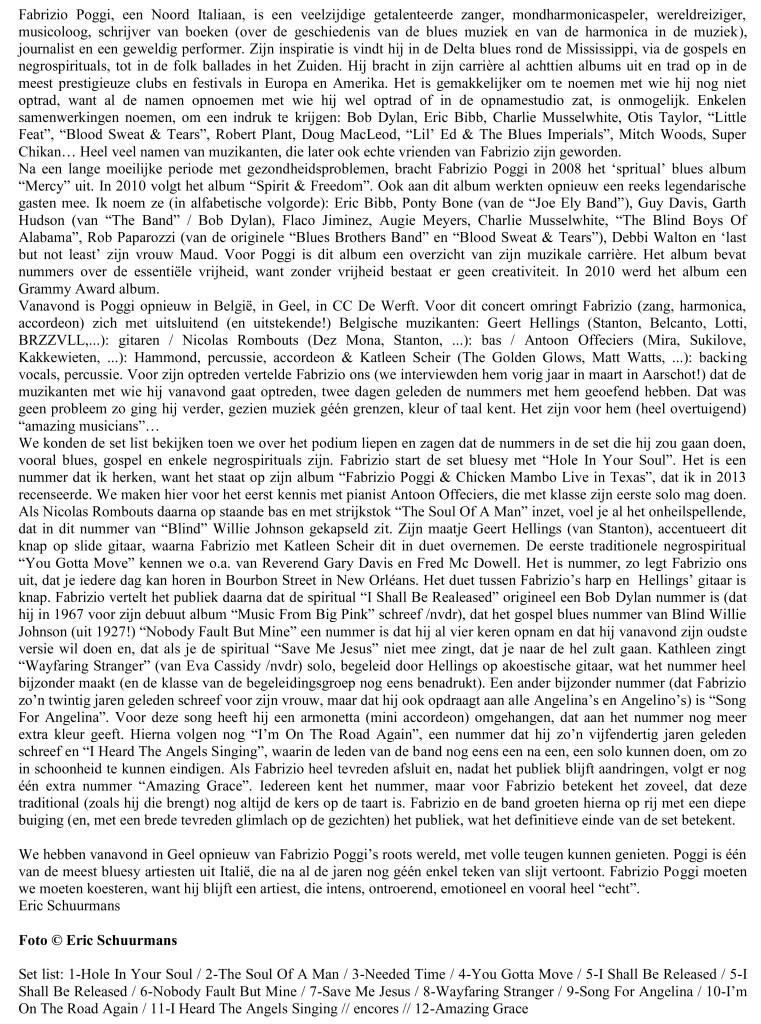 ---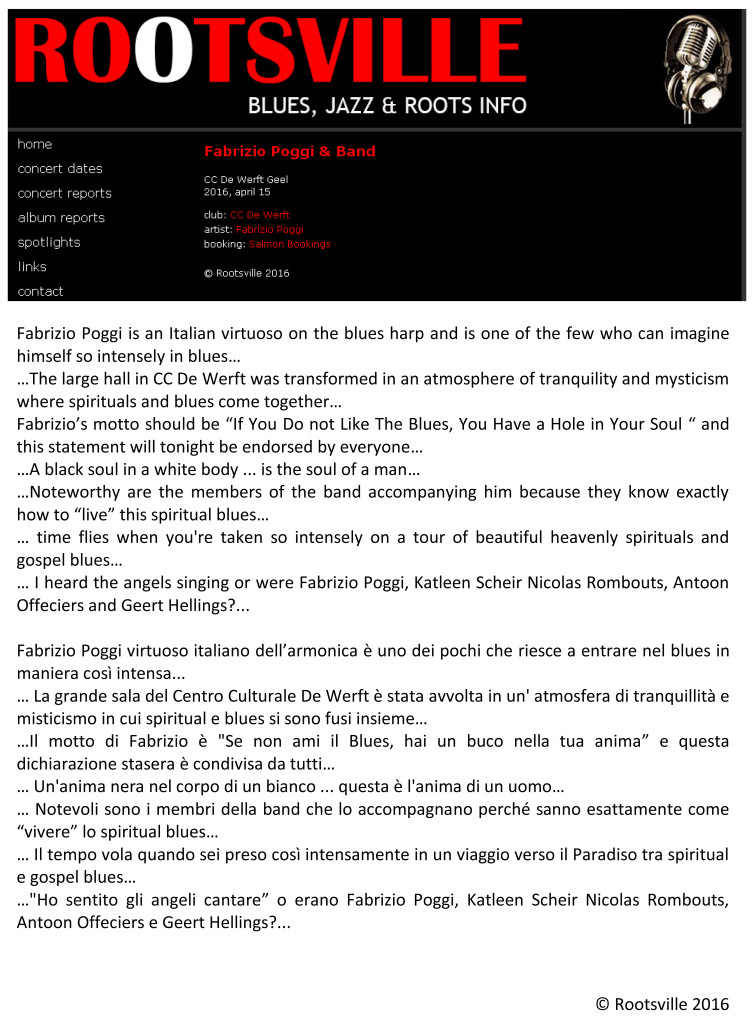 ---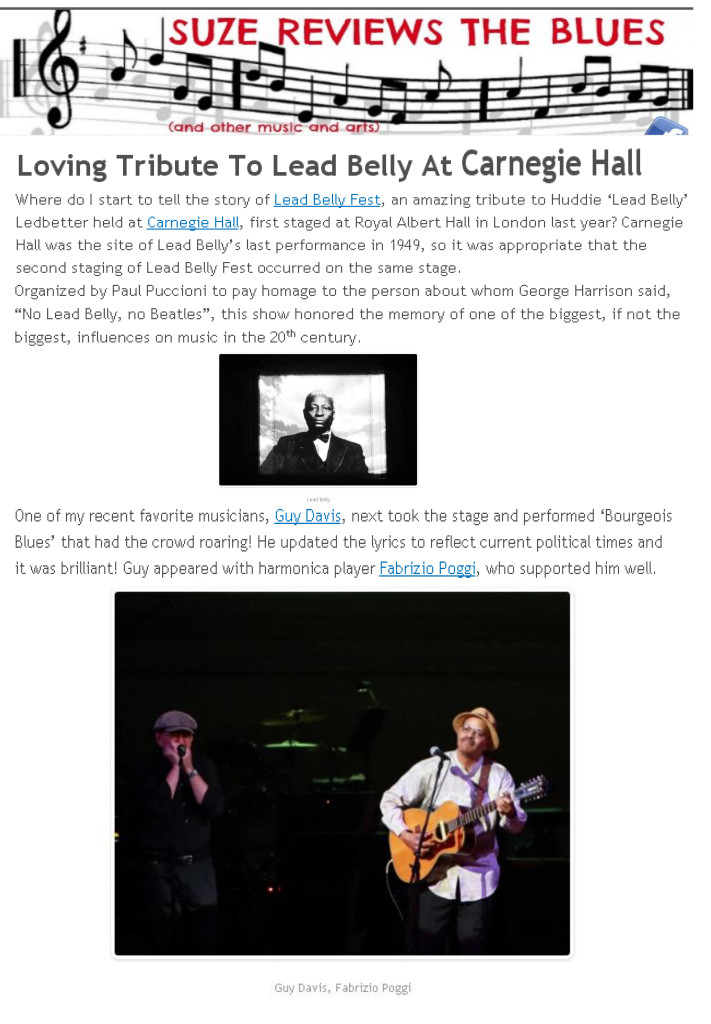 ---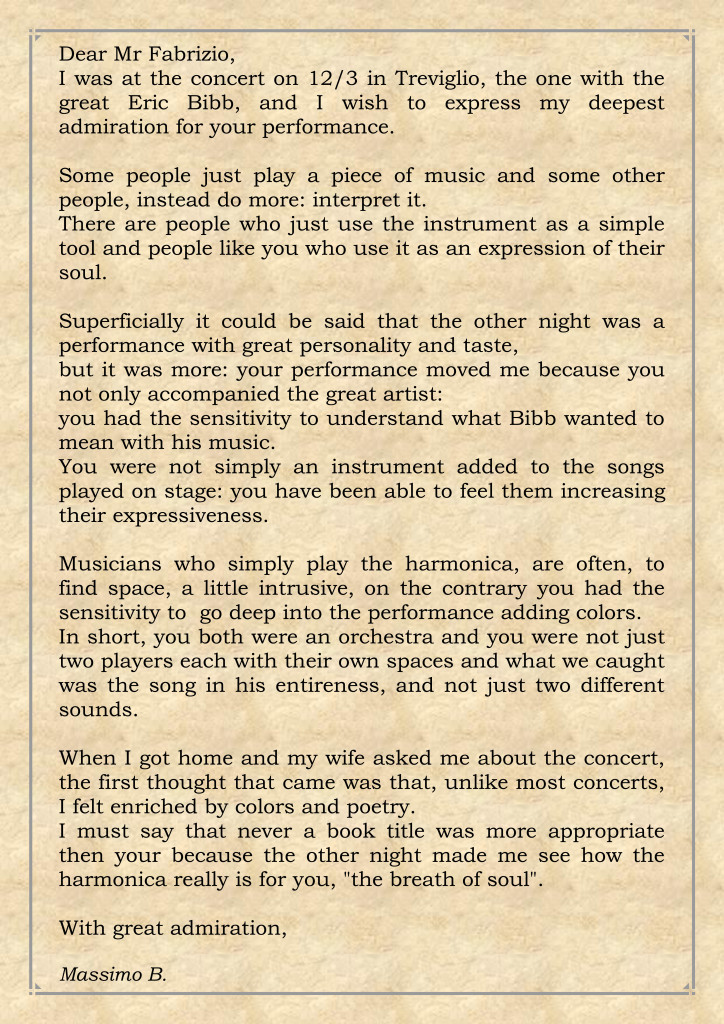 ---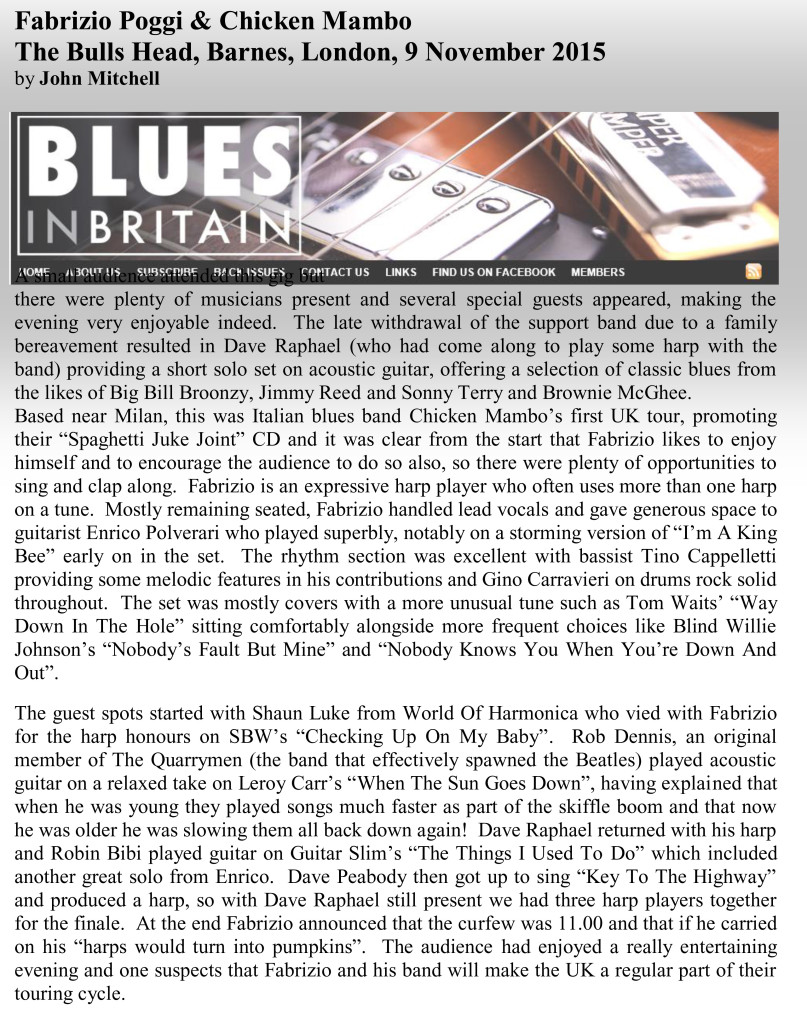 ---
Duke Robillard talks about Fabrizio Poggi's harmonica playing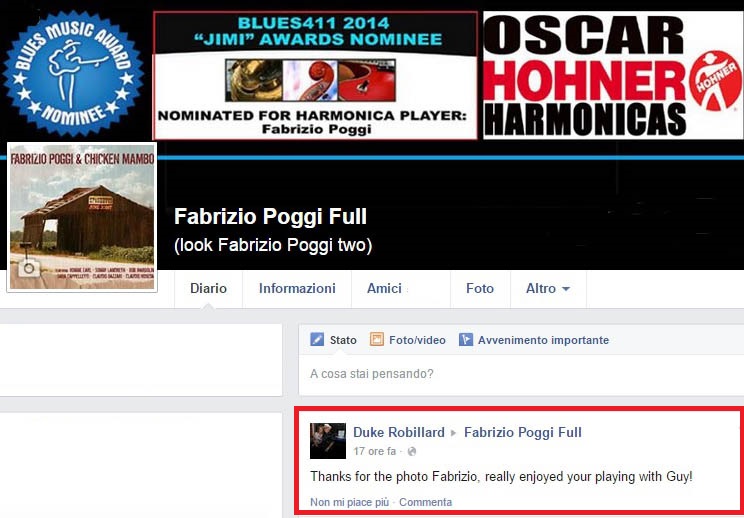 ---
Interview with Rootstime
BELGIUM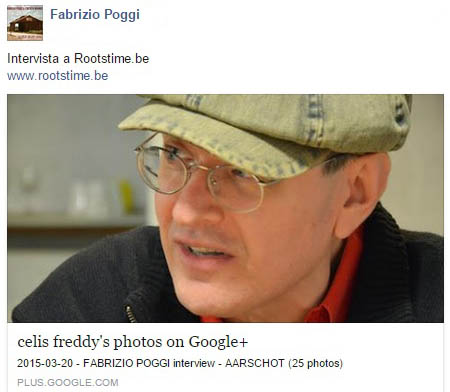 ---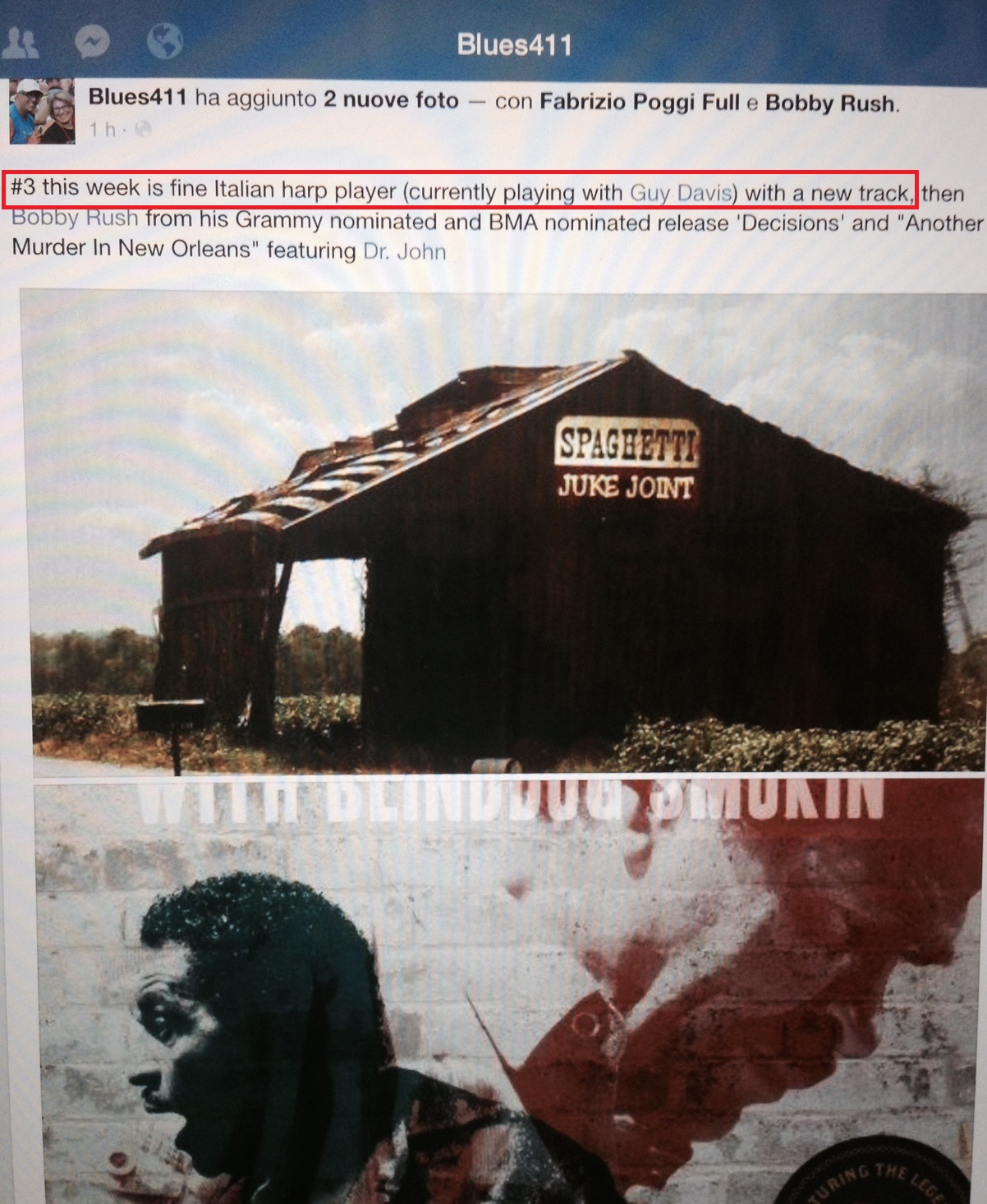 ---
BLUESZINE review by Zjosque Bergman THE NETHERLANDS
Dit jaar was het de 25e editie van 'The evening with the Blues' in Lantarenvenster te Rotterdam. Een uitverkocht festival gaf hoge verwachtingen en 2 onbekende van de 4 acts bracht nieuwsgierigheid. Bij binnenkomst waren in de foyer Robert Fossen en de jarige Peter Struijk al vast met de opwarming begonnen. Als openingsact en enige Nederlandse band hadden ze een ereplekje tussen de grote buitenlandse namen die de poster sierden. Deze taak werd met verve vervuld door deze Dutch Blues Awards-genomineerden. In de zaal begon het optreden van Guy Davis & Fabrizio Poggi keurig op tijd. Met ietwat hese stem zette Guy Davis 'Lay lady lay' van Dylan in, direct een teken van herkenning maar met een uitvoering naar eigen wonderschone interpretatie . Ook Duke Robillard verschijnt even tussen de coulissen om te genieten van de machtige ondersteuning die Fabrizio Poggi hem op de mondharmonica geeft. Beide heren blijken het publiek vrijwel meteen te kunnen betoveren met hun diverse klanken waar ze ons op trakteren. Er volgt bijvoorbeeld een nummer 'Take just a little of your time' waarin een wandeling op blote voeten wordt beschreven met de fraaie uitspraak 'Gander a Salamander' om aan te geven dat je soms de tijd moet nemen om te genieten voordat het niet meer gaat.Terwijl Guy vertelt dat hij blijft zitten om zo meer tijd te hebben om voor ons te spelen loopt de klok door en zo vindt hij nog even tijd om een nummer te spelen waarbij hij met zijn eigen mondharmonicaspel menig toeschouwer verbaasd achterlaat. Het lijkt alsof hij ademt door het instrument, je begrijpt niet waar hij het vandaan haalt. Met 'I wish I hadn't stayed way so long' en 'My mother died when I was away on the road, got home to late to say goodbye' laat hij het publiek uiteindelijk goedgezind en in een verraste verbazing achter. Duke Robillard zet in met een vlotte swing. Dan volgt het meer jazzy 'You don't love me (And I don't even care)', van T-bone Walker. Na de slow blues met subtiel gitaarspel volgt een beschaafd applaus. Bij 'Down in Mexico' wordt de staande bas verwisseld voor een elektrische en de vleugel voor een Hammondorgel. Hiermee lijkt het feestgedeelte te zijn aangebroken. De toetsenist heeft er zichtbaar zin in, iets wat bij de rest van de band lijkt te ontbreken. Het publiek lijkt een 'vibe' te missen. Misschien zijn we verwend met meer interactie, misschien heeft 40 jaar podium zijn tol geëist, maar het optreden miste de verwachte magie van deze meester, helaas maakt hij de belofte vanavond niet waar. Na de laatste wissel is het dan beurt aan Toronzo Cannon. Duke ging het vooral om zijn gitaarspel, bij Toronzo is vanaf het eerste moment zichtbaar en voelbaar dat we met een rasechte verteller te maken hebben, met een publieksman, een entertainer, 'een Kingbee'. Hij praat tijdens en tussen de nummers met het publiek en laat je delen in zijn verhalen. De spanning stijgt bij een nummer over overspel. Hij vertelt hoe hij om 6 uur weggaat bij zijn liefje omdat haar man om 7 uur thuiskomt. Bij thuiskomst ziet hij net deze man zijn huis en zijn eigen vrouw verlaten.. Hij trekt een mes, de ander een pistool en dan drukt hij hem een granaat in 't gelaat.. 'What goes around comes around' lijkt de enige juiste beschrijving van dit spannende verhaal en we hangen aan zijn lippen.. Deze begenadigde man uit Chicago lijkt zijn taak tot het dragen van de bluesfakkel serieus te nemen en heeft zich omringd met bassist David Forte die met kalme blik en met een opvallende roffel zijn bas beheerst en toetsenist Ronnie Hicks die afwisselend op de vleugel en Hammondorgel laat horen dat de toetsen geen geheimen voor hem hebben. Als Toronzo zijn jasje uittrekt en de mouwen oprolt, zie je dat hij zin heeft en klaar is voor 't 'echte' werk. Met zijn soulvolle stem en lichtjes op de toppen van zijn tenen balancerend lijkt hij zichzelf bijna te ontstijgen in de wens het publiek te behagen. Dát is wat we willen zien! Bij de voorste rij van het publiek zie je alleen maar stralende opgeheven gezichten, Het publiek wil niet meer dat de avond stopt! Wanneer dan het bij iedereen bekende 'Tutti frutti' wordt ingezet verandert de zaal in een dansende en draaiende massa, het zittende publiek gaat uit de stoel! Bij 'I had to put a spell on her, she didn't love me' willen we hem allemaal geloven en als hij zegt dat hij door wil spelen omdat 'he has nowhere else to go wordt ook dat geslikt als zoete koek. Toronzo heeft de zaal in zijn zak! Op een stormachtige avond in Rotterdam, tijdens de '25th evening of the Blues' is het de organisatie gelukt om het publiek van de uitverkochte zaal een fraaie avond te bezorgen en tevreden huiswaarts te doen keren.
---
Review from www.keysandchords.com BELGIUM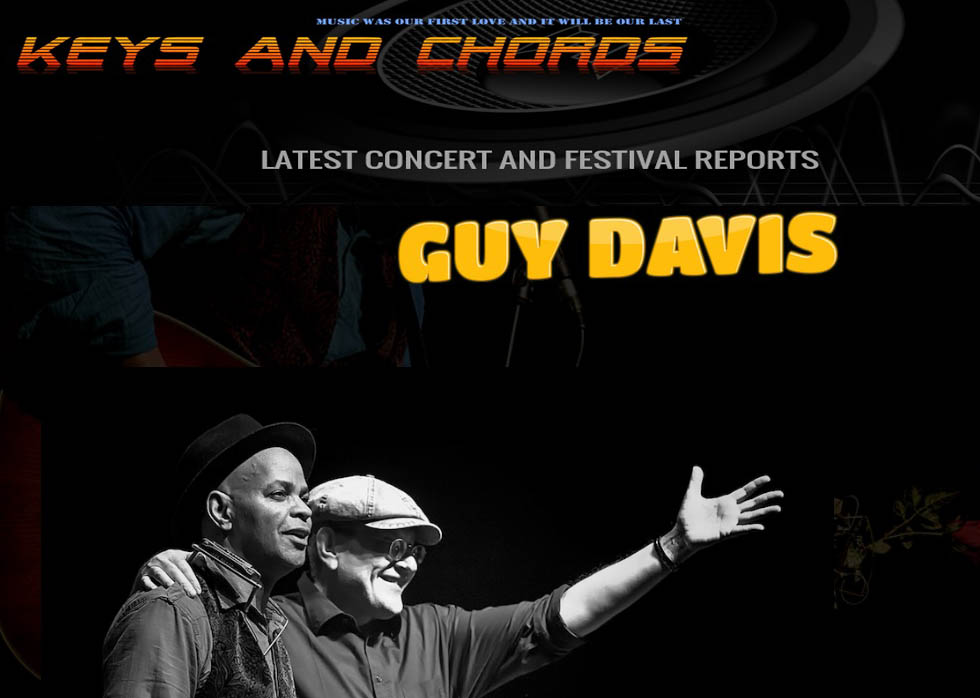 Donderdagavond trekken de liefhebbers van akoestische blues richting 'De Warande' te Turnhout voor een ontmoeting met één van de betere blues muzikanten wanneer we het over akoestische blues hebben. Voor deze 'tour' langsheen de CC's van ons landje doet Guy Davis beroep op Fabrizio Poggi. Deze getalenteerde harp- en accordeonspeler komt vanuit het noorden van Italië en buiten de liefde voor de country- en Delta blues is hij ook in zijn land een veel gelezen schrijver over de geschiedenis van de blues. Fabrizio is een globetrotter pur sang en het is voor Guy Davis dan ook een weelde om met deze blues adept langs onze zalen te trekken met de blues in één hand en een Duvel in de andere… …Na een klein half uurtje pauze is het moment dan aangebroken voor Guy Davis om deze 'Kuub' te laten kennis maken met zijn 'blues' en met zijn soms sublieme humor. Met aan zijn zijde Fabrizio Poggi weten deze heren de kuub volledig te vullen met hun warme country- en Delta klanken. Insiders weten dat Guy Davis niet meteen zijn eigen werk vooropstelt maar ons steeds laat genieten van heerlijk en soms vergeten bluesjes. Beginnen doen ze eraan met enkele gekende nummers zoals Willie Dixon zijn 'Little Red Rooster' dat in 1961 door Howlin' Wolf werd op de plaat gezet en waar zelfs de 'Stones' in de beginne een graantje wisten van mee te pikken. Het publiek op zijn hand krijgen is voor deze Guy Davis peanuts en op zijn aangeven wordt het 'howlin' and barkin' van de honden door de ganse Kuub beantwoord. Kerstmis moet voor Guy Davis een periode zijn dat hij zijn muze om te schrijven zonder moeite weet te vinden want met 'Talkin' Just a Little Bit of Time' en zijn prachtige ode aan Pete Seeger 'I Wish I Hadn't Stay Away So Long' laten een enorme indruk na op de aanwezigen. Uit zijn album 'Jubba Dance' van 2013 dat hij samen met deze Fabrizio Poggi opnam brengt hij o.a. 'Black Coffee' en Muddy Waters zijn 'My Eyes Keep Me In Trouble' en het waarom weten de dames in de zaal wel te ondervinden, deze Guy Davis weet ook zijn vrouwelijke fans te bespelen. Voor zijn hommage aan Sonny Terry brengt Guy het nummer 'Did You See My Baby' waarbij hij alle aandacht opeist op zijn footstompin' en harpblowing act. Ook met Bob Dylan heeft hij enige affectie al kan deze vol humor zittende troubadour het niet laten om Robert Zimmerman er eventjes door te nemen maar zijn 'Lay Lady Lay' is van hoge klasse. Het is magistraal hoe dit duo deze CC's weten te behagen met 'blues' die in feite thuishoort in de kleinere juke-joints maar met 'Goin' Down South' (dat je ook kan terugvinden op zijn album 'Sweetheart Like You' uit 2009) weten we dat het einde er zit aan te komen. Nog vlug eentje van Robert Johnson en deze intense bluesnight zit er weer op al laten de aanwezigen zich niet vlug van hun stuk brengen en dwingen ze Guy Davis en Fabrizio Poggi met applaus om toch nog een extra encore te brengen. Met dank voor enkel mooie en vergeten bluesjes zoals 'Bumble Bee Blues' van Amos Easton aka Bumble Bee Slim!
---
VERSLAG: AN EVENING WITH THE BLUES – LANTARENVENSTER, ROTTERDAM GUY DAVIS & FABRIZIO POGGI BLUESMAGAZINE DI PAUL SCHOLMAN THE NETHERLANDS

…De Amerikaanse muzikant en acteur Guy Davis is uitgegroeid tot de internationale ambassadeur van akoestische bluesmuziek van zijn generatie. Al jarenlang draagt hij zijn liefde voor de blues uit over de vier continenten. Samen met de Italiaanse mondharmonica-virtuoos Fabrizio Poggi bracht hij in 2013 het album Juba Dance uit (met onder meer een gastbijdrage van The Blind Boys of Alabama). Het leverde Guy Davis een nominatie op voor 'beste akoestische artiest' en 'beste akoestische plaat' voor de 35e Blues Music Awards in de VS. Strak op schema is de aftrap met 'Maggie Campbell Blues', een nummer uit de late jaren '20 van Tommy Johnson dat terug te vinden is op zijn album 'Skunkmello'. Tussen de nummers door is er plaats voor humor en zo rijgt hij tijdens het stemmen van zijn akoestische gitaar of 12 string, de nummers aan elkaar. Willy Dixon wordt geëerd met Little Red Rooster dat destijds is uitgevoerd door Howlin' Wolf en de Rolling Stones. Poggi kan zijn ei heerlijk kwijt bij Guy Davis waarbij ze soms zelfs samen op de harp duelleren. Richting het eind speelt Davis een mooie uitvoering van Lay Lady Lay van Bob Dylan. Davis en Poggi komen niet onder een toegift uit, die weer met dezelfde passie wordt gespeeld. Een uitstekende en onderhoudende akoestische set.
---

---
An evening with the blues in LantarenVenster, Rotterdam review by Shui Pinky The Netherlands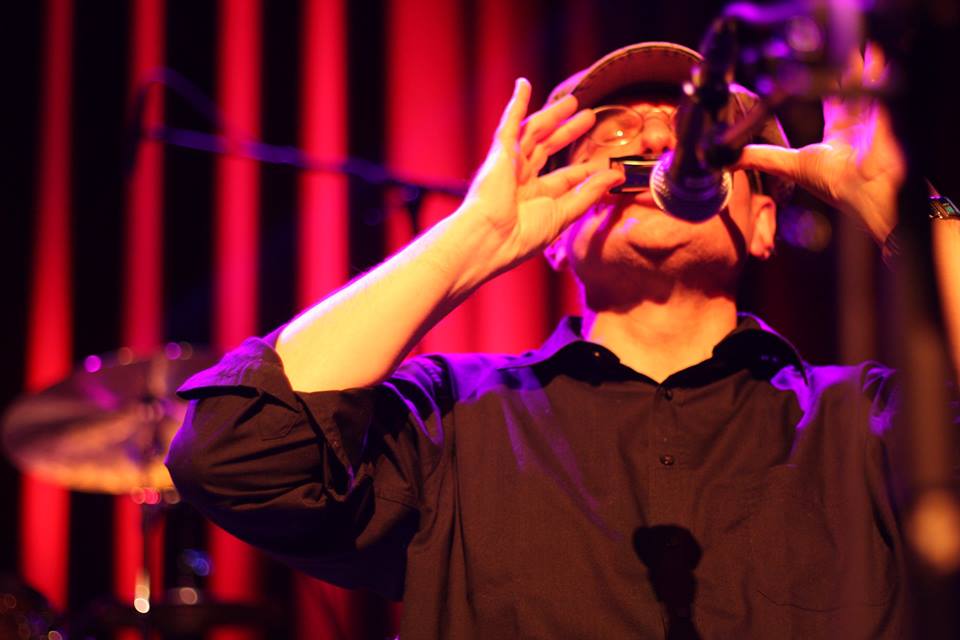 Last Saturday I Spent 'an Evening with the Blues'.. No blues for me!. I had a wonderful time seeing my special friend Guy Davis again and meeting some great new musician friends! After spending 50 minutes in front of stage Guy invited me backstage. We had an inspiring chat about my goals in Life! He even sang me my favorite song 'Love Looks Good on You'. Guy was not alone.. he had mr Fabrizio Poggi with him! Damn! he's good with a harmonica!! Magical! and so Nice! Went to see the other shows and they were all soooo good!!! did miss some, but One day I'll catch up! Promise! Toronzo Cannon David Forte Ronnie Hicks Chris Alexander , Bruce Bears‬ & Duke Robillard. Thank you for the Fun!! Hope to see you all soon in the Netherlands!!
---
Review appeared on Rootstime written by Eric Schuurmans about Guy Davis and Fabrizio Poggi's show at Aarschot Cultural Center in Belgium during their 2015 european tour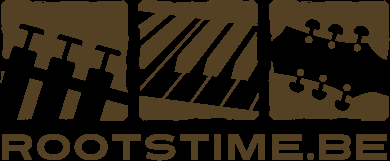 Guy Davis and Fabrizio Poggi are living proof of how beautiful pure blues can be. Buy their "Juba Dance" album, because this is an absolute must! For the remaining play dates, check out our website.
---
Comments: It was a pleasure to play music with you Farizio. Thanks for joining us. Your band sounded terrific. BILL PAYNE (LITTLE FEAT) Fabrizio Poggi is a terrific italian harmonica player!!! DAN AYKROYD, Elwood Blues – The Blues Brothers It was a great pleasure to meet you in London with Guy and to enjoy your fantastic harmonica playing. ROD DAVIS QUARRYMEN Gorgeous! PAUL JONES – BBC RADIO 2 – LONDON (UK) Your harmonica playing is very tasteful! ROBERT CRUMB I love the cd amigo. FLACO JIMENEZ Dear Fabrizio – I have been thinking about you and listening to your music alot lately. Congratulations on the honors that you are receiving! You are a great musician and even greater because it all comes from you heart and from God. I pary you and your family are doing well, and I do look forward to the day that you will come back and play for us. TRACIE FERGUSON il direttore artistico della GRUENE HALL – TEXAS, uno dei più importanti club musicali americani Fabrizzio your harmonica is fabolous CHAN LEE Some truly awesome harping THOMAS Spirit of Mercy: Just another great cd! MIKE Angeli Perduti del Mississippi page – liked! Fair winds and following seas… CHRISTINE Live at BBC with Paul Jones: Authentic and mesmorising ! Great sound ! MAX Wonderful session!Thankyou for that ANNE it lived and breathed so natural ! PHIL I really enjoyed the programme tonight, Paul. Thank you PAULINE Look forward to listening on catchup. I'm a big fan of Guy Davis. MARTIN Harptastic ! Loved it ! IAIN Great session on Paul Jones show on Radio 2.:) MIKE brilliant session now I want the album RONDA amazing, loved it more of the same,PLEASE NICOL I really enjoyed the show ! For me most of the blues concerts I saw before were mimics of blues from the States…but yesterday it was really Great Blues ! Thank you again to you and Guy Fabrizio 🙂 … The CD is going to loop on itself in my Hifi … PATRICE you guys are amazing. And Lea, love your singing on 'Some cold rainy day'. Must be a song about Belgium MARC waw, a new Guy Davis ia always a treat, and with Fabrizo Poggie it's a double treat !!! KEMPEN I've bought Juba Dance,it is a small masterpiece. MARK There goes again friendly Guy Davis with his peculiar voice, strong blues number and good folk songs. Always a pleasure. Merci, MARIO B Listening to "midnight train" live on YouTube. You can seriously blow that harp, man. Stay in touch AMERIGOGO Thanks so much for reaching out. I know that you sent me a note after the last CD as well. What I love about Fabrizio's music is that he doesn't just play music that sounds like the old masters – he makes new music that honors the history. ERIC cool sound fabrizio JOE Guy Davis – Juba dance Featuring Fabrizio Poggi…Lost Again Excellent track 'Lost Again' which is such a great song … SHAUN Juba Dance has got to be one hell of an album. Fabrizio Poggi is one of the most unique producers in the world, and Guy is definitely the real deal. I can't wait!!!!! DONNIE commento pubblicato su Fabrizio Poggi & Chicken Mambo Indian Baby feat. Jamie Hilboldt: Very nice… would love a copy of this album when you come to the UK my Friend MARK Harpway 61. Great cover!" RICK Sounds good bro! VINNY I'm a fan! I'm also a student of the harmonica and enjoy playing along to your latest CD!" SUE ha condiviso il tuo link.: "Please don't miss this one . . .the "Real Deal"!!!!" JACKIE OLIVER-LUCKENBACH FABRIZIO POGGI – HARPWAY 61 Great idea behind the album – energetic stuff CROSSBONESALEX Commento al video FABRIZIO POGGI – THE BREATH OF SOUL Beautiful! JAMES Commento al video FABRIZIO POGGI – THE BREATH OF SOUL This is beautiful. Fabrizio lives in Italy but comes to visit us in Texas every year or two. Take a listen before the day is out! TRACIE commento pubblicato su Fabrizio Poggi & Chicken Mambo Mercy / Walkin' blues feat. Garth Hudson (THE BAND) Cool CROSSBONESALEX Commento su FABRIZIO POGGI IN MY HOUR OF DARKNESS Beautiful version Fabrizio! JAMES Commento su FABRIZIO POGGI AMERICAN BAND MEXICAN MOON LIVE IN TEXAS December 2011: good stuff ALPHA Your cd Harpway 61 is a masterpiece for music lovers. JAKE Just received a copy of Harpway 61 from the Blues Foundation and I'm lovin' it. Excellent!! You certainly outdid yourself on this one. Keep those great blues comin'. Thanks! DON "Oh Fabrizio, you just made my day!!!! Your voice and harmonica early in the morning is very uplifting. I absolutely love your version of Precious Lord. Well done, my very talented Italian friend." LOTTIE I've been trying to play along with this great CD for months now. I'm getting better, thanks to Fabrizio Poggi! He's given me many riffs to work on! SUE Commento su Fabrizio Poggi & Chicken Mambo feat. ERIC BIBB, MAUD & GARTH HUDSON – I HEARD THE ANGELS SINGIN': I'm hearing an angel sing! 92SJ Thanks Donnie Price and Debbi Walton for making a stop at Hondo's On Main with Fabrizio Poggi and the FABULOUS band of Texas Hill Country musicians… Stefano Intelisano, John Inmon, Ponty Bone, Melissa Weatherly, Bryan Maldonado… WOW! What a SHOW! Keep the INCREDIBLE music coming – it's a FEAST for our SOULS! "Music…gives wings to the mind, a soul to the universe, flight to the imagination, a charm to sadness, a life to everything." – Plato MIMI (HONDO'S ON MAIN) The kindest most talented man ever….so much love.. I can still feel it a month later, Thanks Donnie Price for including me in this RACHAEL (MOVIE DIRECTOR) Fabrizzio love your show. What a talented musician. LORRAINE Fabrizio I love you and I love your music. You must come and play at Gruene at least two times in a year. TRACIE FERGUSON (GRUENE HALL musical director) Commento dagli USA sulla canzone: I heard the angels singin': Great song! Thanks Angelina. Merry Christmas and Happy New Year to you and Fabrizio as well!!! Cheers, STEVE (DELTA GROOVE Records) I very liked CD but have not looked DVD and I think the biggest compliment for you will be this: "Your CDs (this and previous too) are my car's as ever- and anywhere traveler". For example when we were in Poland to Rawa blues we had to go 15 hours driving one way and we listened your CDs many times. Thank you for this!!! AIGARS LAPSA Fabrizio I love the song King biscuit time! SONNY PAYNE It's a great cd with beautiful songs and also the DVD s beautiful. I'm a big fan. RAY – ROOTSREVIVAL Fabrizio you write beautiful songs. JIMMY CARTER (The Blind Boys of Alabama) Fabrizio and Angelina-The CD and DVD are truly wonderful! PONTY BONE Love the concept, camera work and music! Fabrizio…..a work of art and inspiration! Required viewing for us all in a time of chaos. Touched by the spirit. Thank you for this. CELESTE BIRDWELL