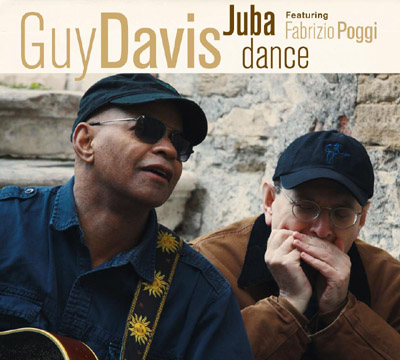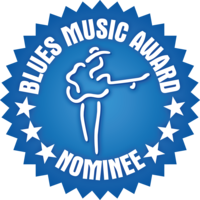 Review appeared on www.warande.be (Belgium)
JUBA DANCE – GUY DAVIS feat. Fabrizio Poggi
De 62-jarige Amerikaanse muzikant (en acteur) Guy Davis is uitgegroeid tot dé internationale ambassadeur van akoestische bluesmuziek van zijn generatie. Al jarenlang draagt hij zijn liefde voor de blues uit over de vier continenten.
Guy Davis groeide op in New York City, maar ontwikkelde zijn passie voor de blues dankzij de verhalen van zijn grootouders in het rurale zuiden van de VS. Davis bracht meer dan tien veelgeprezen albums uit in de VS en werkte onder meer samen met blueslegendes als Dr. John, Bonnie Raitt, Taj Mahal en Pete Seeger.
Samen met de Italiaanse mondharmonicavirtuoos en accordeonist Fabrizio Poggi bracht hij in 2013 het album Juba Dance uit (met onder meer een gastbijdrage van The Blind Boys of Alabama). Het leverde Guy Davis een nominatie op voor 'beste akoestische artiest' en 'beste akoestische plaat' bij de vijfendertigste Blues Music Awards in de VS.
zang, gitaar, banjo: Guy Davis
mondharmonica: Fabrizio Poggi
---
NO DEPRESSION by Devon Leger
Guy Davis featuring Fabrizio Poggi Juba Dance.
2013. M.C. Records.
Guy Davis played our showcase room and just about charmed us silly. No surprise there, he's known as one of the foremost country blues interpreters around, and each album of his is a little treasure box. But singing along to his delightful song "Love Looks Good On You," I was just happy to have a part in his music. There's something welcoming to what he does, something that draws you in in a way that's unusual for the blues. Isn't this supposed to be a solo affair? The hard times of a single man, voice raised in protest? With Davis, the blues reaches to its own deeper meaning: a collection of traditions and old byways inspired by the past but refreshingly present. Davis' new album, Juba Dance, seems almost too easy, an illusion born from Davis' total mastery of the traditions. Here he's wandering the back roads of the African-American experience, seemingly picking songs as scraps floating through the air. The title song, "Juba Dance," references the great African-American dancer Master Juba, but is really, as Davis says, "an excuse for me to play claw-hammer banjo the way I really want to, combined with a butt shaking rhythm." "See That My Grave is Kept Clean," with Davis joined by the Blind Boys of Alabama is a revelation. As a songwriter, Davis excels here again. Aside from "Love Looks Good On You," which should be this album's single, I've got huge love for his song "Lost Again," which manages to be a bit funny and poignant at the same time. "Did You See My Baby" is about the cutest ribald blues song featuring a harmonica that I've heard. Watching Guy perform this and shake his ass was a definite Folk Alliance highlight! Juba Dance is an utterly delightful album full of surprises. I didn't know Guy Davis played the banjo so well, for example. Find your own surprises!
…Special note for Italian harmonica master Fabrizio Poggi who was funny and charming in person with Guy Davis and shines like a polished gem on Guy's album "Juba Dance".
---
Review from ABC network
"The weekend planet" radio program
host Doug Spencer (Australia)
'BLACK COFFEE' from JUBA DANCE – GUY DAVIS FEATURING FABRIZIO POGGI
Hypnotic-mesmeric, macho-man blues which evokes John Lee Hooker – to whom this is Guy's salute.
Guy's African-American voice is accompanied by his own 6-string acoustic guitar and slide guitar, tambourine and foot stomp, plus his Italian friend Fabrizio Poggi's wonderfully 'vocal' harmonica.
Guy recorded his new album in Italy, with Fabrizio as co-producer and special guest…
---
Review from Blues Blast magazine by Marty Gunther (USA)
Guy Davis feat. Fabrizio Poggi – Juba Dance
Blues guitarist Guy Davis seamlessly combines standards with his own original compositions as he breathes new life into the country blues idiom on Juba Dance, assisted by Fabrizio Poggi on harmonica.
Named after a form of expression that originated in West Africa and involves foot-stomping and patting of the arms, legs, chest and cheeks, juba – also known as hambone — was brought to the New World via the slave trade and was a precursor to the blues. In many ways, it was used as an attempt to dance away one's sorrows. With "Juba Dance," Davis weaves both the beauty and pain of that experience into a rich, modern musical tapestry.
The son of celebrated actors and Civil Rights activists Ruby Dee and Ossie Davis and an actor-director himself, Guy fell in love with the music by listening to his grandparents. He's celebrated them throughout his career by weaving their experiences into his songs. Poggi, who co-produced this CD, is a native of Voghera, Italy, where he's also journalist, and has performed frequently in the U.S. during the past 20 years, most notably with his band, Chicken Mambo.
Davis' first release on the M.C. Records imprint, the disc kicks off with "Lost Again," on which he alternates among six- and 12-string guitars and upper-register harmonicas while Poggi pitches in on lower-register and bass harps. "Wishin' on the wrong star/Walkin' down the wrong street/Stoppin' in the wrong park/Sippin' on the wrong drink/Talkin' to the wrong girl/I was lost again." You get the idea. It's a sprightly little upbeat original on which Guy also provides clever cowbell accents.
A Muddy Waters original, "My Eyes Keep Me In Trouble," features Davis and Poggi alternating vocals and harp before Guy launches into the tender "Love Looks Good On You," an original with a classic feel. Guy shares vocal duties with blues and gospel powerhouse Lea Gilmore on "Some Cold Rainy Day," written in 1928 by Bertha "Chippie" Hill, an early blues and vaudeville superstar. Then he gets an assist from the Blind Boys Of Alabama – Jimmy Carter, Ben Moore, Eric "Ricky" McKinnie and Joey Williams – for a triumphant version of "See That My Grave Is Kept Clean." The tune has special meaning for Davis. Written by Blind Lemon Jefferson, Guy sang it at his father's funeral.
Davis' claw-hammer banjo picking is featured on "Dance Juba Dance," while "Black Coffee" is his tribute to John Lee Hooker, highlighted by Poggi's rich, soulful contributions on the diatonic harmonica. He's also featured on "Did You See My Baby," Guy's homage to Piedmont harmonica star Sonny Terry.
The guitarist wrote the next tune, "Satisfied," based on a memory recounted to him by musician Bryan Bowers. It's a recreation of the call-and-response between two groups of prison-farm inmates, one male, the other female. The final four cuts are all modern takes on early blues classics. Rev. Robert Wilkins' "That's No Way To Get Along" leads into an interpretation of Ishman Bracey's "Saturday Blues." Another Wilkins original, "Prodigal Son," follows with Davis using an arrangement conceived by Josh White. The disc concludes with Blind Willie McTell's "Statesboro Blues."
This is a beautiful, clean presentation from beginning to end, and has earned Davis a nomination for 2014 Blues Music Association Acoustic Album Of The Year. It's an instant, but timeless classic.
---
Review appeared on Where y'at by Sam Nelson (New Orleans)
Guy Davis was raised in New York, but grew to love southern blues early. He began his career acting and integrating music and theater off Broadway, but in the last two decades he has committed himself to preserving blues traditions. While many of his contemporaries blend funk and rock with their blues, Guy Davis's latest release is stricter in its loyalty to roots music. The album is named after a rhythmic dance created by plantation slaves and while the title track pays homage to Haitian sounds and beats, most of the album is focused on the deep south's folk blues heritage as Davis channels seminal country and swamp blues musicians like Ishman Bracey, Furry Lewis, and Brownie McGhee. Davis picks and strums in raw, minimalist style, using 12 string and six string acoustic guitars and five-string banjo for most of the tracks. He is accompanied by Italian bluesman Fabrizio Poggi on harmonica. Some of the best tracks are tributes, reaching deep into the catalogue of southern blues standards, like Reverend Wilkins's "That's No Way to Get Along," and Josh White's boogie-woogie "Prodigal Son." But Davis is a creative and talented song-writer himself, as evidenced by the upbeat number, "Love Looks Good On You," that is traditional in its lyrical framework but original in content. "Where's the blues, nobody knows/ Love seems to fit you like a fine suit of clothes/ Looks good on you," he sings while picking and strumming simultaneously in the fluid style of Mississippi John Hurt. The Blind Boys of Alabama also appear on the album, singing backup on "See That My Grave Is Kept Clean," which Davis sang at the funeral of his father, actor Ossie Davis. The album was recorded in Italy.
---
Best Blues Albums of 2013 from www.downatthecrossroads.com (Ireland)
Guy Davis feat. Fabrizio Poggi: Juba Dance
Old school country acoustic blues from one of the masters of the genre. Guy Davis's voice and guitar work are unmistakable as he dances his way through ragtime, heart-warming ballads and groove-laden blues. Features the tasteful blues harp of Fabrizio Poggi. A treat.
---
Quote from Blues Music Magazine (USA)
…A 24-karat session…
---
Review from www.bealestreet.be
Guy Davis featuring Fabrizio Poggi – Juba dance
Kosten besparen ….Dat tegenwoordig behoorlijk wat albums in een eenvoudig kartonnen hoesje te koop worden aangeboden heeft ongetwijfeld te maken met de jammer genoeg aanhoudende slabakkende verkoop van cd's. Een gelukkige uitzondering op die betreurenswaardige regel is "Juba Dance", het nieuwe meesterwerkje van soulful troubadour, part showman, part interpreter Guy Davis die blijkbaar kosten noch moeite gespaard heeft om zijn noeste arbeid met collega Fabrizio Poggi (singer / Hohner Award Harmonica player / writer) aan te bieden in een schitterende digipack. Voor een prikje krijg je niet alleen een schat aan informatie en schitterende foto's – het doet mij hunkeren naar het opnieuw inlijsten van gesigneerde lp hoezen – maar bovendien een dertiental sublieme songs die uiteraard als gegoten passen bij de man die anno 2013 beschouwd mag worden als one of today's most prominent Blues artists ! Guy Davis has storytelling in his blood en dat manifesteert zich op "Juba Dance" in een aantal tribute's to John Lee Hooker ("Black Coffee") , harmonica genius Sonny Terry ("Did You See My Baby"), Muddy Waters ("My Eyes Keep Me in Trouble") , Blind Willie Mc Tell (" Statesboro Blues"), Reverend Robert Wilkens ("That's no Way to Get Along") , Josh White ("Prodigal Son") en a dedicate to Bob Fanke and his wife ("Love Looks Good On You"). Zoals het hoort schittert Guy Davis naar aloude traditie niet alleen vocaal maar ook op 12 & 6 string guitars, slide guitar, 5 & 6 string (slide) banjo, mandolin, tambourine, (high) harmonica en laat Fabrizio Poggi (played with Garth Hudson, Eric Bibb, Zachary Richard, Charlie Musselwhite, Flaco Jimenez, Otis Taylor, Marcia Ball) zich van zijn beste zijde horen op zijn geliefkoosd smoelschuivertje. "Juba Dance" is een muzikale verbinding waar het ("Saturday Blues" ) plezier van afstraalt, dat (h)eerlijk samenvalt en met de extra support van The Blind Boys of Alabama op "See That My Grave Is Kept Clean" en Lea Gilmore ("Some Cold Rainy Day" ongetwijfeld muziekgeschiedenis gaat schrijven. Guy Davis & Fabrizio Poggi = vakmanschap is meesterschap ! (SWA)
---
Review appeared on Rhythms Magazine (Australia)
Guy Davis feat. Fabrizio Poggi – Juba Dance
Keeping the folk-blues tradition alive and well, actor/writer/composer/singer/multi-instrumentalist Guy Davis teams up with noted Italian harmonica player Fabrizio Poggi on this new addition to his extensive catalogue. The son of actors Ossie Davis and Ruby Dee, Davis is a master of Piedmont and Delta country blues styles whose principal tools of trade are acoustic six string, 12-string and slide guitars, mandolin, banjo and blues harp. Davis' original songs preserve the spirit of the great pre-war blues artists, his interpretations of their material represented by inventive new arrangements without sacrificing respect for the past. The CD was recorded in Italy with overdubs by session guests recorded in the US. Blues and gospel empress Lea Gilmore joins Davis in a splendid vocal duet on Bertha 'Chippie' Hill's classic blues 'Some Cold Rainy Day', The Blind Boys Of Alabama reinforcing his growling voice on Blind Lemon Jefferson's soul soothing 'See That My Grave Is Kept Clean'. Ishman Bracey's 'Saturday Blues', Muddy Waters' 'My Eyes Keep Me In Trouble', Robert Wilkins' 'That's No Way To Get Along', Josh White's 'Prodigal Son' and Blind Willie McTell's 'Statesboro Blues' are delivered with skill and assurance, while the title cut, a pre-blues traditional hambone tune, spotlights Davis' claw-hammer banjo prowess.
---
Review from FORTE MAGAZINE (Australia)
Guy Davis feat. Fabrizio Poggi – JUBA DANCE
As a bluesman playing it 'old school', Guy Davis is something of a Johnny-come-lately. He's quick to acknowledge his place in the blues story, however: 'I ain't no bluesman/I'm the bluesman's son'. And there ain't nothing wrong with that.His unfussy acoustic stylings do the heritage proud. Much in the way Eric Bibb sounds both contemporary and traditional, Davis boasts well-suited vocals and fine playing. On Juba Dance his guitars, banjo, harmonica and vocals deliver the slick and the raw in perfect balance. A huge bonus here is the added harp work of Hohner hero Fabrizio Poggi. There's more than a casual nod to Sonny Terry expressed by both. In fact, Davis dedicates 'Did You See My Baby' to the legendary harp man. It's one of five tracks delivered solo, with guitar cited as a tribute to Terry's offsider Brownie McGhee as well as Bukka White.The opening track features Davis on high harp with Poggi on low and bass harps. As with many blues classics, there are echoes of some within others. Covers and originals alike could be mistaken for familiar standards done by all and sundry down through the decades.The fabulous off-kilter rhythm of 'Saturday Blues' reminds me as much of Joe Bonamassa's take on 'Stones in my Passway' as it does the 1928 original. Davis' honourable interpretations visit Muddy Waters, Blind Willie McTell, Josh White, John Lee Hooker and Rev. Robert Wilkins' 'That's No Way to Get Along'. The latter is as tasty as The Stones version in its own right.Davis adds mandolin, slide guitar, front porch percussion (hand claps, wooden spoons etc.) and field work cadence to the mix. A contribution from The Blind Boys of Alabama is icing on the cake.
---
Review from the free press (Maine, USA)
Guy Davis feat. Fabrizio Poggi – Juba Dance
– Davis does a lot with a little-
Guy Davis, American bluesman and storyteller, shows the priceless value of acoustic blues on Juba Dance. Although modern unamplified blues is not as prominent as it should be in the mainstream music scene, advances in the style are still being made on a regular basis. Guy Davis is at the forefront of the style. His storytelling capacity is similar to legends such as Son House; his instrumental proficiency is comparable to such guitar heroes as Elizabeth Cotten; also, his vocals are as deep and powerful as Howlin' Wolf's. With such skill, it is good to know that Davis is not simply doing what has proved successful for others in the past, but instead incorporating elements of old-time delta blues with feeling and style that is instantly recognizable as Guy Davis. Davis' version of "Statesboro Blues," a standard of the style written by Blind Willie McTell, shows respect for the old-time blues greats, while also adding a new contribution. Guitar is fingerpicked with a thumping rhythm played in the bass, while a series of riffs are simultaneously played in the instrument's upper register. This common technique is performed by Davis with metronome-like stability and immense forcefulness, making it unique. Deep and rough-edged vocals that drive this tune can make the hair stand up on your neck with their unmatched soulfulness.
"Love Looks Good on You" shows listeners a mellower side of Davis. Although relatively simple, this song breaks away from the standard 12-bar blues form heard on much of the album. A slow and intricate guitar part is matched tastefully with upper register harmonica work characterized by long, sustained notes. Though not a blues song according to the strictest of definitions, Davis is still able to portray the rugged soulfulness characteristic of blues that has never been sacrificed in any of his work. Perhaps most inspiring thing about Davis' musicianship is how much music he is able to make with just an acoustic guitar, a banjo, a harmonica (when Fabrizio Poggi is not playing his own great harmonica) and his voice. This minimalistic approach creates a sound that is anything but lacking. In fact, fewer instruments bring to light the intricacies, feeling and unique musical voice communicated by Davis. This non-convoluted approach that characterizes Juba Dance should be recognized as musically invaluable.
---
Review from La Hora del Blues by Vicente Zumel (Spain)
Guy Davis feat . Fabrizio Poggi – Juba Dance (english)
Guy Davis is a musician who always plays what he wants, what he likes and what he feels. He does it with no bonds or concessions, because he does not marry to anyone. He plays his music with a very delicate taste, an unbelievable charisma and a good dose of satisfaction. You will find real acoustic blues, which follows the path of the genuine tradition, without unnecessary garnishments, but always elegant and direct. Guy Davis sings and plays acoustic guitar, twelve-string guitar, six-string banjo, harmonica, tambourine, slide guitar, and different percussion instruments. Fabrizio Poggi adds his harmonica, providing a good colourful and exquisite outlines to Davis' compositions. You will find as guest musicians in a couple of songs singer Lea Gilmore, on an exquisite delicious performing, and The Blind Boys Of Alabama, on an inspired song with delicate gospel influences. Both collaborations give originality and beauty to an eye-catching appealing album. GREAT.
---
Review from La Hora del Blues by Vicente Zumel (Spain)
Guy Davis feat . Fabrizio Poggi – Juba Dance (spanish)
Guy Davis es un músico que interpreta siempre lo que quiere, lo que le apetece y lo que le viene en gana y además lo hace sin ataduras y sin concesiones, puesto que no se casa con nadie. Todo lo que interpreta lo hace con un gusto muy delicado, mucho carisma y una gran satisfacción. La música que aquí encontramos es blues acústico que sigue los cánones de la tradición, sin ningún tipo de fastos y siempre elegante y directo. Guy Davis canta y toca guitarra acústica, guitarra de doce cuerdas, banjo de seis cuerdas, armónica, tambourine, guitarra slide y percusiones diversas. Fabrizio Poggi añade su armónica, aportando buenos coloridos y exquisitas pinceladas a las composiciones de Davis. Asimismo intervienen como invitados en un par de temas la cantante Lea Gilmore, exquisita en su intervención y los Blind Boys Of Alabama, siempre inspirados, en una canción con delicadas influencias gospel. Ambos invitados aportan originalidad y belleza a un disco ya de por sí vistoso y apetecible. MUY BUENO.
---
Review from blackgrooves.org (USA) by Brenda Nelson-Strauss
The multi-talented Guy Davis has segued between music and acting throughout his life, not surprising since he's the son of Ruby Dee and the late Ossie Davis. His folksy style also reflects his early exposure to roots music at a summer camp run by the Seeger family, where he first learned to play the banjo. On his latest release, Juba Dance, Davis continues to weave together these influences, presenting some mighty fine storytelling, banjo picking, old-timey hoedowns and down home country blues… Featured guest Fabrizio Poggi, an Italian harmonica virtuoso, contributes to the majority of the tracks and is especially effective on Muddy Waters' "My Eyes Keep Me In Trouble" and Josh White's "Prodigal Son," and delightfully adds the cream to "Black Coffee," a homage to Delta blues master John Lee Hooker. On "Some Cold Rainy Day," a song popularized by Georgia Tom (aka Thomas A. Dorsey) and Bertha "Chippie" Hill, Davis is joined by "blues & gospel empress" Lea Gilmore and they clearly relish their role in re-creating this classic. One of the highlights of the album is a rendition of Blind Lemon Jefferson's "See That My Grave Is Kept Clean," with the Blind Boys of Alabama singing back-up over Davis's lead vocals and 5-string banjo. Another is "Dance Juba Dance," an original song composed in the style of a folk ballad that references the 19th century African American dance, complete with claw-hammer banjo and spoons in a "butt shaking rhythm." Children will be enthralled by "Did You See My Baby" as Davis turns into a one-man band, playing 6-string guitar while employing harmonica for call and response in this foot-stomping romp through an "Old MacDonald's Farm" style tale. The album closes with Blind Willie McTell's "Statesboro Blues" to which Davis admits adding "some Motown chords" to support the story, but it's done with subtlety in a manner that bridges traditional blues with a little dash of soul. That approach sums up the album—reinterpreting and reinvigorating the classics while adding new songs to the repertoire that will satisfy traditionalists and with any luck, engage a new generation.
---
Review # 2 from Red Hot Blues – VAN DE BLUES
El bluesman Gay Davis criat a Nova York, al llarg de tota la seva carrera ha buscat les arrels del blues, ha optat moltes vegades pel blues acústic tocant cançons de grans mestres del blues i també per histories afroamericanes isobre tot hi trobem composicions d'ell on explica crues i tristes histories que li explicaven a casa, avui us vull proposar el seu nou àlbum "Juba Dance"(Dixiefrog), es un disc on hi trobem blues de molta qualitat ien ell conta amb un convidat d'excepció a l'harmònica, el gran talent del music de blues itàlia us parlo de Fabrizio Poggi.
---
Review appeared on PAPERBLOG.DE
Guy Davis gehört mit Keb' Mo' und Eric Bibb zur Spitze der akustischen Bluesszene der Gegenwart. Bei den Aufnahmen zu seinem neuen Album "Juba Dance" arbeitete er unter anderem mit Fabrizio Poggi (mharm) und den Blind Boys of Alabama zusammen. Platten von Guy Davis haben immer etwas von einer äußerst unterhaltsamen Unterrichtsstunde an sich: Der Sänger und Gitarrist bringt Klassiker des Blues neu zum Klingen und stellt sie neben neue Songs, die im gleichen traditionellen Stil verwurzelt sind. So interpetiert er auf "Juba Dance" Stücke von Blind Lemon Jefferson, Rev. Robert Wilkins und Blind Willie McTell. Was anderswo leicht zur unsinspirierten Covernummer geraten würde, wird bei ihm zu einer äußerst lebendigen und tanzbaren Musik: Hier ist der Blues genau dort, wo er ursprünglich entstanden ist angekommen. Manchmal ist das feinster Mississippi-Blues, manchmal fühlt man sich wie gleich beim Opener "Lost Again" an die Jugbands von Memphis erinnert. Und auch die Freunde des ragtimlastgen Piedmont-Blues kommen hier auf ihre Kosten. Aber niemals glaubt man, einer billigen Kopie lzu lauschen. Denn Davis und seine Mitstreiter sind zwar Traditionalisten oder Konservative im besten Sinne des Wortes. Doch niemals vergessen sie, dass ein Blues nur dann "echt" ist, wenn man ihn selbst musikalisch durchlebt und sich zu Eigen macht. Manch Kritiker fühlt sich von der absolut überzeugenden Zusammenarbeit von Davis mit dem italienischen Harpspieler Fabrizio Poggi gar an eine Neuauflage von Terry & McGhee erinnert. Höhepunkte sind neben dem schon erwähnten "Lost Again" der Titelsong "Dance Juba Dance", eine hypnotisch dahinstürmende Nummer mit Banjo und Percussion, wo Motive aus "John Henry" zum Stammestanz mutieren und der auf die Straßen von New Orleans passende Trauermarsch "Some Cold Rainy Day", den Davis im Duett mit Lea Gilmore singt. Und natürlich die wundervolle Version von "See That My Grave Is Kept Clean" von Blind Lemon Jefferson, was dank der Blind Boys of Alabama endlich mal wieder die spirituelle Tiefe erhält, die so vielen Rockversionen des Songs einfach fehlt. Eine unterhaltsame Unterrichtsstunde – und ein bemerkenswertes akustisches Bluesalbum des Jahres 2013!
---
Review appeared on Living Blues by Frank Matheis
Fresh off the True Blues project with compatriots Alvin "Youngblood" Hart, Corey Harris, Phil Wiggins, Taj Mahal, and Shemekia Copeland, Guy Davis carries on with Juba Dance, his first album since Sweetheart Like You back in 2009. Juba dance marks a departure from his longtime label Red House Records, with whom he had issued nine albums since 1995, and a switch to the New York blues label M.C. Records. Davis has developed into one of the most significant practitioners of the acoustic blues, and here he showcases his prowess on banjo, six- and twelve-string guitar, and slide. The Juba dance, often called "Pattin' Juba," is an African American folk dance that traces its path back to pre-slavery African origins. The dancers stomp their feet rhythmically while slapping their own body to create complex percussive rhythms. This dance was popular on plantations, especially when drumming was forbidden, and it was a precedent to tap dancing. Interestingly, on Dance Juba Dance Guy Davis sings about a particular black dancer named Juba, possibly the famous "Master Juba" of the minstrel shows, William Henry Lane. For this album, Guy Davis went over to Italy to record in the beautiful city of Bergamo in the mountains north of Milan. He duo-partnered with Italian harmonica player Fabrizio Poggi, whose subtle accompanying adds a touch of sweetness, albeit with occasional tentativeness. The Italian bluesman plays competently, in moments beautifully, evoking old-style country-blues players and demonstrating again that the blues has no national boundaries. The special treat on this album is the gospel/spiritual See That My Grave Is Kept Clean, on which the duo is joined by the Blind Boys of Alabama. Whenever those guys bring on their impeccable harmonies they add powerfully moving and heartfelt elements, and that one song surely creates a longing for more. Guy Davis also brings out singer Lea Gilmore on Some Cold and Rainy Day, and she brings more than a bit of spice to the album. Throughout the years, Guy Davis has searched the blues archives for material to preserve and interpret from the great songbook of the African American prewar blues. On Juba Dance, Guy Davis brings on a few great originals, like Lost Again, Black Coffee, and Did You See My Baby and two standout songs that have become his recent trademarks, Rev. Robert Wilkins' That's No Way to Get Along and Blind Willie McTell's Statesboro Blues. Another triumph for the old-time acoustic blues in the 21St century.
---
Review from Markin Book Review by Frank Jackman (excerpt)
Many years ago I posed a question to some friends, some aficionados of the genre, about who would carry on the blues tradition, the black-etched blues. You know, the old time country down in the Delta, picking Mister's cotton dawn to dusk, living day and night by Mister James Crow's rules, and living for Saturday night in some no electricity juke joint drinking low-shelf hooch, eying some full-breasted women, and ready to cut any man six ways to Sunday, maybe more, if the mood struck… The answer, or answers, to that question came up in a pretty short list of those, mainly black, who rather than grab onto the hip-hop nation coattails wanted to keep the roots, the Delta and Chicago city blues roots, and maybe going back further to Mother Africa roots alive. Right at the top of that short list stood one Guy Davis who over the years has through his performances, teaching, and, as here with this latest CD, Juba Dance, done his damnedest to keep the traditions alive… …Guy Davis, son of the late famed actors and civil right activists Ossie Davis and Ruby Dee, a city boy mainly, does not exactly evoke that downtrodden edge either, but he comes damn close. And that bring us to this compilation of Guy works with some new work like the title cut Juba Dance (Juba going back to slavery times and back further to Mother Africa time) and old-time stuff like Blind Willie McTell's Statesboro Blues where his gravelly voice evokes those old-time country blues players. He does his work with a strong sense of history, his hard scrabble history, and in his own style (or better, styles since on some stuff he sounds like the son of John Hurt and others like the son of Mississippi Fred McDowell). I might add that I have recently seen his perform many of the cuts on this CD in concert and he proved quite the showman, quite the entertainer. And played a harmonica to die for, practically devouring the night and evoking Sonny Terry when he held forth on that instrument. It must be in the DNA. Ossie and Ruby would have been proud.
http://markinbookreview.blogspot.it/
---
Review from www.paisajeselectricos.com (Spain)
Este gran cantante, compositor, guitarrista (también se maneja genialmente con el banjo) y actor comenzó contracorriente con el blues acústico en la década de los 90 y siendo ya un veterano. Por eso se le asoció con nombres interesantes que surgieron en dicha época cercanos al más puro blues como Corey Harris (luego si probó reggae y otras hierbas diferentes), Keb' Mo' o Alvin Youngblood Heart. Se les consideró herederos del legado de Taj Mahal, pero a Guy Davis, por ejemplo, también le encandilaban Blind Willie McTell, Blind Lemon Jefferson o Muddy Waters (según propias palabras). También se pueden citar a Son House, John Lee Hooker, Mississippi Fred McDowell, Charley Patton, Woody Guthrie, Howlin' Wolf, Sleepy John Estes, Big Bill Broonzy o Fats Waller. ¡Y en ello sigue al cumplir los 60! Aparece en este disco en muchos temas a pelo (algunos de ellos los mejores para mí) pero en otros le acompaña uno de los mejores armónicas de Europa con el permiso de J.J. Milteau y de nuestro Antonio Serrano. Se trata de el italiano Fabrizio Poggi, presente en 7 de los 13 temas del trabajo y haciendo las veces de otro de sus bluesmen predilectos, el armonicista Sonny Terry. Viene, como siempre en DixieFrog/Karonte, excelentemente presentado en un triple digipack y con un excelente libreto repleto de buenas fotografías y con todas las letras y créditos. Abre con chispa, arcaico pero divertido en "Lost again" y sigue con uno de sus favoritos, Muddy Waters, en "My eyes keep me in trouble". En ambas, con Poggi soplando como un poseso. A pelo y con folk-blues crea su "Love looks good on you". En "Some cold rainy day" de Bertha "Chippie" Hill le acompaña la voz de Lea Gilmore. Para otro de sus favoritos, Blind Lemon Jefferson, se acompaña de The Blind Boys Of Alabama y también de Poggi. Entre todos te llevan al cielo en forma de brutal góspel. Se lo monta de miedo cn el banjo de 5 cuerdas en "Dance Juba dance" y con la guitarra de 12 cuerdas en "That's no way to get along" del Reverend Robert Wilkins. Nos recupera a otro olvidado como Ishman Bracey también en solitario y vuelve Poggi para atacar con el clásico "Prodigal son" de Josh White. Finaliza con otro clásico como es el "Statesboro Blues" de Blind Willie McTell, en solitario, que le viene también como anillo al dedo y que suena precioso e igual de puro en su voz. ¡Fenomenal disco de blues puro y atemporal!
---
Review from Folk Roots / Folk Branches by Mike Regenstreif
GUY DAVIS feat. Fabrizio Poggi Juba Dance M.C. Records
Over the past two decades, Guy Davis has been one of the premiere interpreters of traditional acoustic blues and one of the songwriters whose in-the-tradition work has kept the genre vital and alive in modern times. In the hands of Guy and a few of his peers, the traditional blues forms remain timeless – as relevant in 2013 as they were 30, 50 or 80 years ago. All of the recordings Guy has released since the limited edition Guy Davis Live in 1993 (repackaged as Stomp Down Rider in 1995) have been both a homage to Guy's musical forebears and a crucial contribution to contemporary music. Juba Dance, about half of which features excellent contributions from Italian blues harmonica player Fabrizio Poggi, is one of Guy's best as it ranges through various styles from jug band to delta blues to gospel and old-time. I love jug band music and Guy kicks off the album with "Lost Again," a happy sounding tune that sounds like it could have been played by the Memphis Jug Band 80 or so years ago. A jug band-meets-classic blues feel animates Guy's version of Bertha "Chippie" Hills "Some Cold Rainy Day," a delightful duet with Lea Gilmore. Guy pays direct tribute to some of his musical ancestors by reinterpreting and revitalizing songs written or associated with them. His acoustic version of "My Eyes Keep Me in Trouble," seems to have lost none of the force of Muddy Waters' electric original. Blind Lemon Jefferson's "See That My Grave is Kept Clean" seems organically suited to Guy's banjo accompaniment and gets a deep gospel feel from the formidable harmonies of the Blind Boys of Alabama, and Blind Willie McTell is recalled in Guy's intense version of "Statesboro Blues. Another tribute is Guy's "Did You See My Baby," in which he pays homage to the whoop-and-holler style of Sonny Terry (that's Guy, not Fabrizio playing harmonica on this track). Guy also added a guitar part in homage to Brownie McGhee, Sonny's long-time partner. A couple of other banjo-driven songs are among the album's highlights. "Dance Juba Dance," is a "butt shaking" song that recalls the African American string band tradition, and "Satisfied," with Guy playing some very bluesy slide banjo is a powerful prison song. Great stuff.
---
Review from www.ingeplugd.nl (The Netherlands)
Guy Davis (featuring Fabrizio Poggi) – Juba Dance, ****(*)
Guy Davis (1952) behoort nog steeds tot de prominente hedendaagse bluesartiesten. Met zijn ruime staat van dienst als 'recording artist' – zoals dat zo lekker bekt in het Engels- hoeft hij niets meer te bewijzen. Keer op keer oogst hij grote waardering voor zijn buitengewoon adequate vertalingen van stokoude bluesvormen naar de hedendaagse blues. Hij is gitarist en banjospeler, songwriter en acteur. Door de jaren heen is hij genomineerd voor negen Handy Awards (Blues Music Awards) en heeft hij zich ingezet voor de heropleving van de traditie van de akoestische blues. Een flink dozijn uitstekende releases heeft hij al op zijn naam staan inclusief het sublieme live-album Guy Davis on Air (2007) en het absolute 'must-have' album The Adventures of Fishy Waters (2012). In dit rijtje hoort ook zijn nieuwe album Juba Dance thuis. Want weer is de man er in geslaagd om een puik album af te leveren. Voor degenen die hem kennen is er niets nieuws onder zon wat betreft zijn doodeerlijke benadering van de originele bluessong. Eigen nummers worden daarbij afgewisseld met sublieme covers. Op dit album wordt hij bijgestaan door de meesterlijke mondharmonicaspeler en co-producer Fabrizio Poggi, bekend van onder anderen Otis Taylor en Eric Bibb. Samen laten zij op Did you see my Baby hun instrumenten in dialoog gaan met Guy's warme stem waardoor de muziek er een spannende laag bij krijgt. Op See That My Grave Is Kept Clean (Blind Lemon Jefferson) zingt hij samen met The Blind Boys of Alabama op gospelachtige wijze een lied van een ongekende schoonheid. Het is niet het enige kippenvelmoment op dit album. Ook Muddy Waters' My Eyes Keep Me in Trouble en Blind Willie McTells Statesboro Blues worden knap vertolkt. Zijn virtuoze banjospel is te horen op het swingende titelnummer Dance Juba Dance met zijn indrukwekkend, snel en inventief claw-hammer banjospel! Samen met Lea Gilmore in het trage Some Cold Rainy Day brengt hij een mengeling van blues en gospel. Dit is puur genieten! Juba Dance is een opmerkelijk album met een zeer rijk en mooi akoestisch geluid. De ware liefhebber van moderne akoestische blues zal keer op keer opnieuw naar dit album teruggrijpen. Een bescheiden meesterwerkje! Daarom is dit album voor mij ook het bluesalbum van deze maand. Een warm welkom in deze koude dagen!
---
Review from www.bluesbreeker.nl (The Netherlands)
Guy Davis reisde de wereld rond om zijn boodschap uit te dragen via "zijn" muziek. Talloze live concerten en inmiddels een dozijn CD's verder kunnen we stellen dat Guy Davis nog niets veranderd is. Goudeerlijke blues zoals die honderd jaar geleden ook gespeeld zou kunnen zijn. Je ziet hem al zitten met zijn gitaar op een krakkemikkige stoel onder een grote boom, geflankeerd door een zelfgemaakt armzalig drumstelletje en een jankende mondharmonica die zijn beste tijd lang geleden had. De tijden zijn veranderd, Guy Davis maakt dan nog wel diezelfde muziek, de omstandigheden zijn nu in zijn voordeel. De kwaliteit is van hoog niveau en hij is in de gelukkige bijkomstigheid dat hij heel veel mensen kan bereiken met zijn muziek. En daar heeft hij nog niets eens zo heel veel voor nodig. Een mede muzikant al is dat niet de minste, want Fabrizio Poggi (harmonica) mag dan niet erg bekend zijn, hij past perfect in de sfeer van deze CD. Deze samenwerking resulteerde in een volledig akoestische CD met de titel "Juba Dance"opgenomen in Italië bij Smokeydoke Records, Harmonia Mundi zorgt voor de verspreiding. Lea Gilmore neemt de vocals voor haar rekening op het langzame "Some Cold Rainy Day" en The Blind Boys of Alabama tillen "See That My Grave is Kept Clean" , origineel van Blind Lemon Jefferson, naar de hogere sferen of juist terug naar dat plekje onder die grote boom. Eerlijke gospelachtige blues ontdaan van alle opsmuk maken dit nummer tot een pareltje. Bij deze 2 gastoptredens blijft het dan ook. 13 Nummers waarvan er 6 uit zijn eigen pen kwamen, de resterende 7 komen uit de geschiedenis van de Amerikaanse Blues, deze geschiedenis is de inspiratiebron van Guy Davis en dat hoor je gewoon. Hij gelooft wat hij speelt , hij is net zo blind als Blind Lemon Jefferson of Blind Willie McTell, hij is de activist Josh White, hij is Muddy Waters."Did You See My Baby" is zijn ode aan Sonny Terry, alleen met een gitaar en wat foot-stomp. Deze ingrediënten zijn trouwens de basis voor de hele CD met het harmonicawerk van Fabrizio Poggi. Een andere ode is "Black Coffee"gericht aan "John Lee Hooker". De titelsong Dance Juba Dance is weer een vlot eigen nummer met ditmaal de banjo in de hoofdrol. Guy Davis hoeft niets meer te bewijzen met 9 nominaties op zak voor de "Handy Award", al gaat hij met dit "Juba Dance" hoge ogen gooien in de categorie Roots/Blues als op het einde van het jaar de lijstjes weer verschijnen. Dat is zeker, je kunt je geld erop zetten. Ook opvallend is de verzorgde uitvoering van het hoesje, met een fraai boekje wordt u ook nog eens voorzien van de songteksten. Zo krijgt het oog ook wat, de oren worden al genoeg verwend. Voor de liefhebbers van de oude blues is dit een "must have", zelfs menig niet liefhebber zal deze CD toch weten te waarderen, want blues zo eerlijk is heerlijk.
---
Review from www.bluesnews.de (Germany)
Guy Davis ist dagegen ein jüngerer Vertreter des akustischen Blues, der meistens Gitarre, aber auch sehr gut Mundharmonika spielt. Nach einem Haufen CDs für Red House Records, einer Radio-Bremen-Live-CD auf Tradition & Moderne und einer im vergangenen Jahr selbst produzierten Doppel-CD mit einem Hör-Theaterstück taucht der schwarze US-Blueser jetzt mit "Juba Dance" auf dem französischen DixieFrog-Label auf. Mit dabei sind der Harpspieler Fabrizio Poggi sowie als Special Guests die Blind Boys Of Alabama und Lea Gilmore.
---
Review from www.blues.about.com (USA)
Guy Davis feat. Fabrizio Poggi –Juba Dance (M.C. Records)
Acoustic bluesman Guy Davis has been pretty busy as of late, pursuing a multi-faceted career as a musician, songwriter, actor, and director. Juba Dance makes the sixth album released by the folk-blues guitarist in the past decade, a prolific pace by contemporary blues standards, the LP following hot on the heels of his acclaimed 2012 story-song album The Adventures of Fishy Waters. A 13-song collection, Juba Dance is a relatively stripped-down affair, featuring mostly Guy and his guitar and harp player Fabrizzio Poggi working out on a mix of Davis originals and inspired covers from folks like Blind Lemon Jefferson and Blind Willie McTell. Juba Dance also features a guest appearance by The Blind Boys of Alabama, which is always a treat.
---
Review from Somethingelsereviews.com by S. Victor Aaron (USA)
Guy Davis can act, direct, write, compose…and he can play the blues. In a world where few acoustic country blues performers thrive, Guy Davis has made his mark, serving as an effective ambassador of the great African American music form along with Keb' Mo' (early on, at least) and old pal Eric Bibb. Davis, the son of actors and civil rights activists Ruby Dee and the late Ossie Davis, made his first record in '78 but for a while followed in his parent's footsteps and pursued an acclaimed acting career. Eventually, he made his way back to acoustic roots music by the mid 90s. Davis' draws his blues from some of the best: Son House, Blind Willie McTell, Skip James and Mississippi John Hurt, among others. A lot of people can still play that country folk blues, so what makes Guy Davis so special? Like Bibb, he might be from NYC, but he immersed himself in the stuff as a child, learned from some of the best and worked at it his whole life, even when he was acting full time. He's also gifted with a gruff, sincere voice, and a nifty fingerpicking style not that far removed from Robert Johnson. Ultimately, it just comes down to feel, and Davis does feel it. Juba Dance is his first for roots record label M.C. Records and this one is most notable for featuring Italian harmonica master Fabrizio Poggi on most of the songs, which are a balanced combination of Davis originals and some tasty old blues covers. Combined with Davis on acoustic guitars, banjo, rudimentary percussion and vocal, the duo forms a modern-day version of Sonny Terry and Brownie McGhee. The head-nodding "Lost Again" even treats us to Davis on high harmonica and Poggi on low harmonica. There are plenty of other treats in store on Juba, belying any notion that there isn't anything left fresh and new to do with such an old music form. Davis plays a rustic sounding bottleneck banjo on "Satisfied" that perfectly captures the essence of this prison spiritual. He plays a lively claw-hammer banjo for "Dance Juba Dance," and undertakes McTell's "Statesboro Blues" with nothing but a six-string acoustic guitar, but inserts some RnB stylings to it. Noted blues and gospel singer Lea Gilmore duets with Davis for the old 1928 Chippie Hill tune "Some Cold Rainy Day" that's reminiscent of the hot jazz of its day, missing only Satchmo's cornet. The Blind Boys of Alabama supply uplifting backing vocals for Blind Lemon Jefferson's "See That My Grave Is Kept Clean," giving it a noble aura. In addition to contributions on some of those aforementioned tunes, Poggi's genuinely pastoral, joyful harp goes good with Davis's slide on "My Eyes Keep Me Trouble" and expresses the dirty lowdown blues with conviction for "Black Coffee."
The music was recorded in Italy and the harp player, who also co-produced the record, is from there, too. But there was never a single moment where the music itself left the Piedmont or the Mississippi Delta. Blues, after all, is a state of mind, and bolstered by the harmonica and input from Poggi, Juba Dance has its heart in the exact right place.
http://somethingelsereviews.com/2013/08/29/guy-davis-featuring-fabrizio-poggi-juba-dance-2013/
---
Comment appeared on GaryBluesStarBlues
Guy Davis' pairing with Italian harp player with Fabrizio Poggi drew heavily from the SonnyAndBrownie well (who says that's a bad thing).
---
GUY DAVIS feat. Fabrizio Poggi/Juba Dance Review appeared on midwestrecords.com (USA)
Davis has this wild knack for doing a retro thing that pulls on blues iconography from all over that he somehow makes his own in the end. You can hear all your faves and all the greats somewhere in these grooves but it never leaves you rolling your eyes. It doesn't get anymore basic than a singer with his guitar and his harmonica playing sidekick but somehow, in Davis' hands, it's a wonderful racket that's such a kick to hear. If you think that down home stuff isn't for you, this set will get you out on the back porch, kicking back in no time. Killer stuff that really connects.
---
Review appeared on muruch.com (USA)
Juba Dance is acoustic blues virtuoso Guy Davis new album. The album's thirteen tracks, most of which feature harmonica player Fabrizio Poggi, are a mix of Guy Davis originals and covers of songs by Muddy Waters, Blind Lemon Jefferson, Rev. Robert Wilkins and Blind Willie McTell. Singer Lea Gilmore duets on "Some Cold Rainy Day" and The Blind Boys of Alabama lend vocals to the chilling "See That My Grave is Kept Clean." The standout tracks are: the buoyant Muddy Waters cover "My Eyes Keep Me in Trouble;" the uniquely rhythmic original "Dance Juba Dance" and the bluesy "Black Coffee."
The only track I don't like at all is "Have You Seen My Baby." I admire the concept of dueling vocals and harmonica, but the result is an irksome listen. But that's a minor complaint for an otherwise excellent album.
---
Review from MUSICA JAZZ magazine (Italy) by Edoardo Fassio
GUY DAVIS feat. Fabrizio Poggi – JUBA DANCE
Guy Davis (guit, mand, bjo, arm, voc); Fabrizio Poggi (arm);
Lea Gilmore (voc,4); Blind Boys Of Alabama (voc, 5)
Who said that the blues revival can only be sterile , repetitive and tedious ? "Juba dance" is the result of a long alliance on the frontline of the stage between New York Blues musician, storyteller, and theater man, Guy Davis and Fabrizio Poggi , unstoppable international ambassador of folk and blues harmonica . Davis , an expert traditionalist and musical craftsman , conveys an intelligent sense of humor in this selection of his own songs and carefully adapted tunes from the immense blues songbook. The exuberant interaction between the two partners and friends, sort of a postmodern Sonny Terry and Brownie McGhee , play on the record with an exquisite sense of balance , enriching it, but only when needed, by prestigious guests . Curiously, the only song dedicated directly to the most famous acoustic blues duo of the history is "Did You See My Baby" , performed by Davis as a solo performance, taking care of vocals, harmonica and guitar, as he did in a Broadway show where Guy reprized the role made famous by Sonny.
---
Review from www.blogfoolk.com (Italy) by Salvatore Esposito
Guy Davis feat. Fabrizio Poggi – Juba Dance (Dixiefrog)
Great bluesman and among the most popular harmonica players in Europe and the United States, Fabrizio Poggi has an artistic career that brought him great prestige in the years to collect a long series of excellent collaborations, and to line up a discography of great value. In particular, in recent years his career reached its apex with the publication of two great albums like "Mercy" and "Spirit & Freedom", but we knew that would not sit to enjoy success, but he would have some other new work. In fact, in a short time he released the wonderful "Live In Texas" and the jewel that is the instrumental record called "Harpway 61" in which the protagonist is his harmonica, and this year there is "Juba Dance" an album by his old friend Guy Davis. Fabrizio Poggi produced it and has made it precious with the sound of his trademark harmonica. It is a disc of pure acoustic country blues, which contains thirteen songs between originals and covers, characterized by the dialogue between two harmonicas that develops on the acoustic sound of guitar and banjo. During the listening the songs that mostly shine are "My Eyes Keep Me in Trouble" which features excellent vocals by Guy Davis, "Some Cold Rainy Day" in which Guy Davis sings with Lea Gilmore, and especially the superb version of " See That My Grave Is Kept Clean "in which there are Fabrizio Poggi's harmonica alongside with the voices of the legendary Blind Boys Of Alabama. The record, however, reserve other surprises as the slow blues "Black Coffee" in which we appreciate the excellent Fabrizio Poggi's harmonica, the folk blues of "Did You See My Baby" performed by Guy Davis as a solo and the conclusive "Statesboro Blues", from the repertoire of Blind Willie McTell, reinterpreted here with just voice and guitar. Enlightened performers and keepers of the flame of roots acoustic blues, Guy Davis and Fabrizio Poggi with "Juba Dance" released a record that is already a classic of the genre, and we are confident that the trail of success that has greeted his arrival in stores will not ended in a short time…
---
Review from www.musiczine.net (France/The Netherlands)
Guy Davis feat. Fabrizio Poggi – Juba Dance Guy Davis has a good reputation in the world of folk blues. He spent his childhood in the suburbs of New York. Complete artist, he became lead singer, guitarist, songwriter (NDR: also for soundtracks) and theater actor. Very steeped in African-American and especially acoustic blues traditions, it has its roots in primitive blues legends: Blind Willie McTell, Mance Lipscomb, Skip James and Mississippi John Hurt. He is also passionate about his contemporary, Taj Mahal. The release of his first album was in 1995 when he recorded "Stomp Down Rider" for Red House label. Among his discography, unanimously appreciated by critics, especially "Call down the thunder" and "You don't know my mind." His last album dates back to 2012, a double album entitled "The adventures of Fishy Waters: In bed with the blues." During the recording of "Juba dance", he mostly received the support of the Italian harmonica player Fabrizio Poggi, leader of Italian blues band Chicken Mambo It is the latter that provides production. "Juba Dance" combines personal compositions and covers. Like a horse trotting, "Lost Again" opens the plate with a full sound produced by 6 and 12 strings guitars. Guy blows in his bass harmonica register, while Fabrizio plays the higher one. Muddy Waters' "My eyes keep me in trouble" is an authentic country blues played on a lively tempo. Davis's voice is hoarse. He plays slide in the manner of the Chicago master, perfectly supported by Transalpin mouth harmonica. Guy is joined on vocals by gospel singer Lea Gilmore to perform "Some cold rainy day," a traditional blues. The duo lazily stretching his voice on a base made by a six-string banjo. Special treatment and chills in the back was reserved for Blind Lemon Jefferson "See That my grave is kept clean" supported by the voices of Blind Boys of Alabama.
Excellent!
---
Review from www.musiczine.net (France/The Netherlands)
Guy Davis feat. Fabrizio Poggi – Juba Dance Guy Davis jouit d'une belle notoriété dans l'univers du folk blues. Il a passé son enfance dans les faubourgs de New York. Artiste complet, il est devenu chanteur, guitariste, compositeur (NDR : également pour musiques de films) et acteur de théâtre. Très imprégné des traditions afro-américaines et notamment du blues acoustique, il puise ses racines chez les légendes du blues primitif : Blind Willie McTell, Mance Lipscomb, Skip James et Mississippi John Hurt. Il est aussi passionné par son contemporain, Taj Mahal. La sortie de son premier elpee remonte à 1995. Il grave alors "Stomp down rider" pour le label Red House. Parmi sa discographie, unanimement appréciée par la critique, on épinglera surtout "Call down the thunder" et "You don't know my mind". Son dernier opus remontait à 2012, un double opus intitulé "The adventures of fishy waters : In bed with the blues". Lors de l'enregistrement de "Juba dance", il a surtout reçu le concours de l'harmoniciste italien Fabrizio Poggi, le leader de Chicken Mambo, un blues band italien. C'est également ce dernier qui assure la production. "Juba dance" réunit compositions personnelles et reprises. Tel un cheval au trot, "Lost again" ouvre la plaque. Une plage balayée de sonorités produites par des guitares à 6 et 12 cordes. Guy souffle dans les basses de son harmonica, tandis que Fabrizio se consacre aux parties aigues. Signé Muddy Waters, "My eyes keep me in trouble" est un country blues authentique imprimé sur un tempo vivace. La voix de Davis est éraillée. Il joue de la slide à la manière du maître de Chicago, parfaitement secondé par la musique à bouche du Transalpin. Guy est rejoint au chant par la chanteuse de gospel Lea Gilmore pour interpréter "Some cold rainy day", un traditionnel du blues. Le duo étend paresseusement ses vocaux, sur fond de banjo à six cordes. Un traitement particulier a été réservé à la voix de Blind Lemon Jefferson sur "See that my grave is kept clean" pour soutenir les répliques vocales des Blind Boys of Alabama. De quoi vous flanquer des frissons dans le dos. "Dance juba dance" est abordé à la manière d'un holler nerveux. Soutenu par un banjo à 5 cordes très rythmique, et dans un concert de claquements de mains et de cuillères en bois, Guy récite ses lyrics. Superbe blues, "Black coffee" rend hommage à John Lee Hooker. Tout y est : la voix hypnotique, la slide et l'harmonica impeccable de Poggi. "Did you see my baby" est un autre hommage, mais réservé à Sonny Terry. Mais c'est Guy en personne qui souffle dans l'harmo. Une splendide version caractérisée par les fameux 'Whoops' à la Terry! Le long playing ne baisse jamais d'intensité. Et épingle encore quelques reprises. Dont le "That's no way to get along" de Reverend Robert Wilkins, le "Saturday blues" d'Ishman Bracey, illustré par un superbe one man band de Davis à la guitare, mandoline, harmo et tambourin ; et en final le célèbre "Statesboro blues" de Blind Willie McTell, adapté en folk blues traditionnel.
Excellent!
---
Review from www.bluesmagazine.nl (The Netherlands) by Stan van der Lugt
Guy Davis featuring Fabrizio Poggi – Juba Dance Roots musician Guy Davis passed over the pond to Italy where he recorded assisted by Fabrizio Poggi (beautiful name, by the way) the thirteen tracks for his new, full acoustic album. Guy plays various stringed instruments with a leading role for his (slide) guitar, which influences include Blind Blake and Robert Johnson. Fabrizio Poggi plays his harmonica as if the devil is at his heels, he's a master of his instrument with a fat, nasty and varied sound. The songs are a combination of their own pieces of work and fresh covers of songs by Muddy Waters, Blind Willie Jefferson and Blind Willie McTell. Lost Again seems inspired by ragtime guitarists from the 20s of the last century. The vocals of The Blind Boys Of Alabama on See That My Grave Kept Clean (BW Jefferson) transform this blues classic in a beautiful gospel.
Final conclusion: Juba dance has the duo of Davis / Poggi surpassing himself, and they released a great Roots / Blues album that I cannot take out of my CD player.
---
Review from www.bluesmagazine.nl (The Netherlands) Tekst: Stan van der Lugt
Guy Davis featuring Fabrizio Poggi – Juba Dance Roots muzikant Guy Davis toog over de grote plas naar Italië waar hij met hulp van Fabrizio Poggi (prachtige naam, overigens) de dertien tracks voor zijn nieuwe, volledig akoestische, album heeft opgenomen. Guy bespeelt diverse snaarinstrumenten met een hoofdrol voor zijn (slide) gitaar, waarbij invloeden zijn te horen van o.a. Blind Blake en Robert Johnson.Fabrizio Poggi bespeelt zijn mondharmonica alsof de duivel hem op de hielen zit, wat een vette, vuige en gevarieerde klanken haalt deze geweldenaar uit zijn instrument.De songs zijn een combinatie van eigen werkstukjes en frisse covers van songs van o.a. Muddy Waters, Blind Willie Jefferson en Blind Willie McTell. Lost Again lijkt geïnspireerd door de ragtime gitaristen uit de jaren 20 van de vorige eeuw. De vocalen van The Blind Boys Of Alabama op See That My Grave Kept Clean (B.W. Jefferson) transformeren deze bluesklassieker in een fraaie gospel.Eindconclusie: Met Juba Dance heeft duo Davis/Poggi zichzelf overtroffen en een geweldig roots/blues album op de markt gebracht dat voorlopig niet uit mijn cd-speler is weg te branden.
---
Review from www.bibliotek.kk.dk (Denmark) by Jacob Wandam
Guy Davis & Fabrizio Poggi: Juba Dance
Intense country blues duo evokes memories of great guitar / harmonica duos as Sonny Terry & Brownie McGhee and Cephas & Wiggins.
Guy Davis belongs to a generation of neo-traditionalist blues musicians that also includes names such as Alvin Youngblood Hart, Otis Taylor and the slightly older Taj Mahal. All profess themselves (among other things) to the acoustic country blues as it was played in the first decades of the 20th century. On 'Juba dance' Guy Davis at most intersections has teamed up with the Italian harmonica player Fabrizio Poggi. Poggi is perhaps no internationally known name, but he is well versed in the American blues tradition and in addition to 15 CDs released books about the quest for the pure role of folk and blues music. Together, Davis and Poggi committed a Piedmont blues album that evokes memories of great guitar / harmonica duo Sonny Terry & Brownie McGhee and Cephas & Wiggins. Guy Davis 'strong, hoarse vocals, draws from the great delta blues icons like Son House and Howlin' Wolf. And then we hear of course Davis on banjo and various other instruments. Track list is a mixture of Guy Davis originals and well-known blues standards like Robert Wilkins " That's no way to get along ', Blind Willie McTells' Statesboro Blues 'and a very intense version of Blind Lemon Jefferson's "See that my grave is kept clean' with the Blind Boys of Alabama. If you like country blues, and not least to the classic vocals / guitar / harmonica combo is Juba dance is highly recommendable.
---
Review from IL BLUES (Italy) by Luca Zaninello
The artistic profile of Guy Davis is not confined to just a narrow music sphere, but extends also in the theater, where he is a popular actor: however, the caliber of the sixty year-old, New York bluesman is such that some consider him a worthy heir to the school of Robert Johnson and John Lee Hooker. The acoustic blues that he performs has profound roots in the history and culture of this music and at the same time shows that communication that makes it immediately accessible to every listener. This latest work includes the company of Italy's own Fabrizio Poggi, who's reputation with his harmonica playing and the respect he earns in both Europe and the United States, is confirmed by his albums recorded in USA and his live performances in famous places such as the House of Blues in New Orleans. This CD starts off with a classic country blues, "Lost Again", and upon listening, one can easily imagine an old bluesman who recounts his story on the front porch of his wooden house (musically enriched by the dialogue between two harmonicas). "My Eyes Keep Me in Trouble " is music rooted in the earth, with assorted shades of harmonica embellishments at each step, and the voice of Davis that transmits all its great emotional intensity. We find in the next superb ballad based on a simple arpeggio, where the harmonica remains respectfully in the background. The two following songs are authentic testimonies of the deepest and true roots of rural America, preciously embellished with vocal harmonies created by Davis and Lea Gilmore, and then again by the legendary Blind Boys of Alabama, followed by the title track which is spread over a hypnotic rhythm, led by banjo and simply paced by a stomping foot and wooden spoons. "Black Coffee" is another superb slow song, where Fabrizio shows again not only his talent, but also to the feeling that the his harmonica can marvelously translate in each step, thanks to the clever and very fitting use of vibrato. Again the harmonica is in a leading role in "Did You See My Baby," on this one we find Guy Davis in a solo performance, true hobo and great entertainer. The three subsequent tracks are all characterized by their hypnotic cadence, the first darker, "That's No Way to Get Along" which is much more lively, and "Saturday Blues", as noted in the enclosed booklet, is almost meditative, but all are very engaging, so that the listener cannot help but tap his foot along with Guy's own. "Prodigal Son" is another timeless blues, it immediately captures the interplay between the two musician friends, so much so that in the booklet it reads that the recording took place in one take. The final song is "Statesboro Blues," a classic by Blind Willie McTell, offered here in all its simplicity and beauty, with just Davis sharing his gifts of voice and guitar playing. So here's an album which deserves to be appreciated and listened to with attention, essential for all acoustic blues lovers. But that it's certainly recommended to those who maybe love more the electric sounds, because it is always good to go back to those sounds from which was born and has developed the blues.
---
Review appeared on www.bluesonline.pl (POLONIA)
Guy Davis to jedna z legend wspó³czesnego akustycznego bluesa. Ma dziewiêæ nominacji do "Handy Award", wci¹¿ komponuje i bawi s³uchaczy tradycyjnym bluesem. Fabrizio Poggi to harmonijkarz uhonorowany przez Hohnera i wspó³pracownik wielu gwiazd bluesa. Wspólnie nagrali akustyczn¹ pere³kê – "Juba Dance". Od pierwszych taktów "Lost Again" mo¿na siê zorientowaæ, z jak¹ muzyk¹ mamy do czynienia. Piêciostrunowe banjo, gitara akustyczna, troszkê slide, troszkê przeszkadzajek i dwie œcie¿ki harmonijki. W studiu nie takie rzeczy wychodz¹. A sama piosenka przypomina ragtime z pocz¹tku stulecia. Ale ju¿ "My Eyes Keep Me in Trouble" nie powstydziliby siê zagraæ i nasi Hard Times. Jest drive, coœ z nastroju werandy, slide i mnóstwo energii. I te responsy Fabrizio – jak on umie uzupe³niaæ wokalistê. "Love Looks Good On You" to niemal ballada w klimacie country, a mo¿e bardziej po prostu americana. W takiej spkojnej atmosferze mo¿na jeszcze lepiej wys³yszeæ niuanse g³osu Davisa i ws³uchaæ siê w wysoko brzmi¹cego hohnera Poggiego. W "Some Cold Rainy Day" powracamy do nowoorleañskich knajpek. Oczywiœcie wszystko czysto akustyczne, tyle, ¿e w tej piosence pojawiaj¹ siê goœcie. G³os Lea Gilmore dodaje barwy utworowi, a czyœciutka harmonijka dodatkowo uwodzi s³uchaczy. Prawdziwa opowieœæ, wzbogacona g³osami Blind Boys of Alabama p³ynie z pieœni "See That My Grave Is Kept Clean". Banjo trzyma rytm, ale równie wa¿ne s¹ frazy wyœpiewywane przez Boysów. Œwietne korzenne granie, z elementami gospel. Radosne przebieranki palcami po strunach banjo wzbogacone o odrobinê postukiwañ i tupañ tworz¹ ca³e t³o dŸwiêkowe piosenki "Dance Juba Dance" Za to w klimacie "Black Coffee" œmia³o mo¿na doszukiwaæ siê opowieœci na miarê Johna Lee Hookera. A i harmonijka jakby mroczniejsza, g³os ni¿szy i bardziej rozedrgany. Guy Davis w takiej miejskiej acz akustycznej wersji sprawdza siê idealnie. Klasyczna zabawa i niemniej wyborne granie harmonijkarza tworzy "Did You See My Baby". Idealne uzupe³niaj¹ce frazy dialogi to esencja ¿ywego bluesowego muzykowania. "Satisfied" znów zagrane zosta³o w lekko kowbojskim klimacie charakteryzuj¹cym americanê. I energia i rytmika tej piosenki, mimo akustycznego brzmienia z rytmicznym banjo, œmia³o mog³aby mu pozwoliæ rozbrzmiewaæ w radiach. Tylko gdzie? O klasie Guya Davisa jako gitarzysty mo¿e œwiadczyæ niewymuszona wirtuozeria, z jak¹ gra "That's No Way To Get Along". Strunowe instrumenty pracuj¹ tworz¹c folkowo brzmi¹ce t³o do kolejnej klasycznej opowieœci. Jeszcze ciekawiej brzmi "Saturday Blues". Jedna z gitar udaje mandolinê, za to riffy z zatrzymaniami nadaj¹ utworowi niezwyk³¹ dynamikê. A kiedy trzeba – machina zatrzymuje siê, a Davis œpiewa kilka taktów unisono z gitar¹. A i sama interpretacja ma w sobie coœ nieziemskiego. A¿ strach pisaæ, ale podobno Davis gra³ w jakimœ przedstawieniu Roberta Johnsona i wszystko staje siê bardziej jasne. Klasyczny "Prodigal Son" z bluesowymi zagrywkami akordów akustyka mo¿e byæ uznany za wzorzec metra – podobnie partie harmonijki. Bez udziwnieñ, przesterów, tylko rêce i usta i wszystko dzia³a. P³ytê koñczy "Statesboro Blues". Ka¿dy wie, o co chodzi, a i Guy Davis nie stara siê odkrywaæ Ameryki. Gra bardziej balladowo, jakby ¿egnaj¹c siê ze s³uchaczami, którzy nie mog¹ wyjœæ z podziwu. Kto lubi sam graæ na gitarze b¹dŸ z towarzyszeniem harmonijkarza na p³ycie tej znajdzie mnóstwo inspiracji, a kto akustycznego bluesa kocha – znajdzie dok³adnie to, czego szuka – œwietnie brzmi¹ce piosenki dobre i w S³oñcu i na deszcz.
---
Review appeared on  VAN DE BLUES (Spagna ) vandeblues.blogspot.com di Josep Palmada – Red Hot Blues (Radio Vilafant)
DOS GRANS BLUESMEN JUNTS, UN AMERICÀ I UN L'ALTRE ITÀLIA.
El bluesman Guy Davis criat a Nova York, al llarg de tota la seva carrera ha buscat les arrels del blues, ha optat moltes vegades pel blues acústic tocant cançons de grans mestres del blues i també per histories afroamericanes i sobre tot hi trobem composicions d'ell on explica crues i tristes histories que li explicaven a casa, avui us vull proposar el seu nou àlbum "Juba Dance" (Dixiefrog), es un disc on hi trobem blues de molta qualitat i en ell conta amb un convidat d'excepció a l'harmònica, el gran talent del music de blues itàlia us parlo de Fabrizio Poggi.
---
SOUNDGUARDIAN – Croatia by Mladen "Mike" Lončar
Uvijek kada se radi o akustičnom, tradicionalnom bluesu dodatno sam oprezan jer znam koliko bi njegova, samo naoko ili na prvo slušanje neatraktivnost mogla veliki broj slušatelja jednostavno odbiti. Naravno, malo je ljudi koji su dobili tako stresno i šokantno prosvjetljenje u bluesu kao moja malenkost. Zašto? Evo zašto, do 1974. bio sam uvjeren kako je to ipak pjesma od Wintera ili Creamovaca, a onda sam vidio oznaku 'traditional' i u specijaliziranom magazinu pročitao da se uz ovu pjesmu vežu imena poput: Hambone Willie Newbern ili McKinley Morganfield (aka. Muddy Waters), ali isto tako da je tu podugačka lista glazbenika pa evo samo nekih koji su ovu pjesmu snimili s godinom snimanja: Robert Johnson, 1936 Sonny Boy Williamson I, 1938 Muddy Waters, 1950 Memphis Slim, 1959 Elmore James, 1960 Cream, 1966 Canned Heat, 1967 Johnny Winter, 1968 Bonnie Raitt, 1972 te mnogi drugi tijekom nadolazećih godina. Za moju osobnost bilo je to izuzetno bolno i razočaravajuće iskustvo i stoga sam sljedećih gotovo punih 10 godina slušao isključivo tradicionalni, akustični blues američkih afroamerikanaca. Sve sam ostalo isključio, jer sam se tada osjećao prevarenim, iz manipuliranim i ne znam što sve još. A potom došlo je do ponovnog buđenja moje svijesti i spoznaje da ta moja isključivost ne vodi nikuda. Dok ste mladi puni ste nekih čudnih ideala, vežete se za neke jednostavne, čak i pomalo iskrivljene maštarije. Trebalo je proći još jedno desetljeće, pa čak i više vremena da bih se odlučio krenuti nekim drugim putem…i tek sada, vidim kuda sam otišao. Glazbeni portal SoundGuardian.com sa svojim BLUES CORNERom dio su velike europske zajednice na čijem je tlu tijekom šezdesetih taj i takav blues doživio svoj BLUES BOOM. A sudeći po izdanjima koja i dan danas pokrivaju europske izdavačke kuće taj BOOM se još uvijek nije stišao. Juba Dance van serijskih Guy Davisa i Fabrizio Poggija otkriti će kako je taj BOOM jak i da se te i takve detonacije šire u koncentričnim krugovima, što Davisovim vokalom i svirkom gitare, a što Fabriziovom usnom harmonikom, koja iz svake note jasno ocrtava upravo taj tradicionalni blues Delte. Početkom ove godine Guy Davis preko Smokeydoke Records i francuske izdavačke kuće Dixiefrog Records, objavljuje svoj novi studijski album Juba Dance – Guy Davis featuring Fabrizio Poggi. A ponovno obasuti izuzetnim zalaganjem i pažnjom te željom za promocijom Angela Megassini – Poggi uspostavila je most između Italije i Hrvatske i moje malenkosti. Baš poradi toga smo krenuli u zajedničku akciju oko promocije onoga što radi i čime se sve bavi Fabrizio Poggi. Toliko za uvod! No, kako je ovo album Guy Davisa nekako je pošteno da upravo on bude ovaj put primaran i da ovaj njegov album dobije zasluženo mjesto u mojoj skromnoj kolekciji tekstova o albumima. Kako osobno još uvijek na posebni način uživam u ovom jedinstvenom glazbenom stilu, nije mi nimalo teško pisati o onome što toliko volim. Od vokalne, do instrumentalne prezentacije u svakoj pjesmi nalazimo mnoštvo izuzetnosti, koje nam čine ovaj blues itekako raskošnim i zanimljivim.Uvijek se iznova čudim onima koji tradicionalni blues doživljavaju kao nešto jednolično, kao nešto što nema ništa. Bože moj, kako je to moguće, da li ti ljudi imaju imalo sluha. Možda je kod nas neka druga slušna ali i emocionalna percepcija. Neki su to čak željeli i dići na neki viši nivo, razinu; te priču postaviti da blues nije za svakoga. Ma, blues je baš za svakoga, on je realan i stvaran, on je živ i životan…ne moguće je razdvajati takve stvari. Ako se samo još malo vratim na onaj BLUES BOOM sa početka i sredine šezdesetih vidjeti ćete ono što ja u svojim mladim danima nisam …a to je neporeciva istina da su bijeli blues glazbenici, bandovi učinili STRAHOVITO puno kako bi promovirali, prezentirali i učinili sve da taj i takav blues približe što većem broju publike, slušateljstva. S druge pak strane, učinili su jako puno da originalnim afroameričkim glazbenicima odaju dužno poštovanje i priznanje. Svjedoci smo mnogih akcija sa ciljem osiguranja različitih vidova opstanka nama legendarnih majstora bluesa a njihovim sredinama to su bili samo tako neki…to su bili zatvorenici poput primjerice Huddie Ledbettera aka Leadbelly, da, baš njega sam se sada sjetio. No, bila je tu jedna cijela plejada ljudi, glazbenika, koji su preko dana radili na plantažama, u pekarama, mesnicama, čistili su ulice, bili su grobari, mehaničari, perači suđa radili su sve i svašta a navečer su postajali lokalne, klupske 'zvijezde'. Trebalo je proći puno godina, da bi ipak koliko – toliko neke stvari sjele na svoje mjesto. Da bi dobili itekako dobre izvođače ovog blues stila. A onda su godine prohujale, došli smo do današnjih dana…a tu su i sjajni i nadasve vrsni glazbenici poput Guy Davisa i Fabrizio Poggi, toliko su predani bluesu i to je jednostavno njihov život. Sve je danas poprimilo malo drugačije konotacije i na kraju ova priča ima zapravo jedan i jedini, osnovni cilj da vam pokaže i pokuša približiti taj tradicionalni blues, koji doslovno zrači iz svake note. No da bi to postigli, morate imati dosta utakmica u nogama. Guy Davis je već dugi niz godina respektabilni blues umjetnik.Gitarista, pjevač i skladatelj te glumac Guy je svoju kvalitetu i vrijednost snažno istaknuo svojim nominacijama (9) za najprestižniju glazbenu nagradu, kada je u pitanju blues … W.C. Handy Awards danas je to BMA (Blues Music Awards). Nasuprot Guy Davisu imamo čovjeka, glazbenika, producenta koji je radio sa brojnim poznatim imenima i bandovima ( Garth Hudson ex-The Band, The Blind Boys Of Alabama, Eric Bibb, Marcia Ball, Charlie Musselwhite, Flaco Jimenez, Little Feat, Stev
---
Review appeared on www.absentamusical.com (Chile) por Felipe Suarez
Según cuenta la historia, en el siglo XIX nació en Estados Unidos un afroamericano que fue dado a luz como un hombre libre, por lo cual podía bailar; su nombre era Juba. Ése es el origen del título del nuevo álbum del músico y actor, Guy Davis.Su discografía ha abordado permanentemente el Blues acústico rural y también algunos motivos del folk más enraizado, elementos legados de las historias que sus abuelos le contaron acerca del sur desde muy pequeño a Guy Davis. Juba Dance no es la excepción. En este nuevo trabajo, Davis hermana su guitarra y banjo a la armónica del italiano Fabrizio Poggi, colaboración presente en el grueso del tracklist, a la que también se suman un par de invitados. Juba Dance es un álbum orgánico y genial.El ágil fingerpicking de Davis en el banjo, junto al barítono registro de su voz -que recuerda a ratos al más curtido Johnny Cash- logran una relación que ya se vale por sí sola y a qué nivel, empero, esto sumado a los torácicos licks de Poggi, llevan el elepé al siguiente peldaño. La armónica y las cuerdas siempre se han llevado bien. Aquí, un argumento más a lo anterior.Al principio, la invitación es a moverse con la impronta rítmica de Lost Again y el banjo andante de Davis. En Juba Dance un poco más de la mitad de las canciones son versiones; la primera es a Muddy Waters con My Eyes Keep Me in Trouble, una escala por Chicago que luego arriba a los sonidos de la Big Easy, New Orleans, con Some Cold Rainy Day, la cual cuenta con la colaboración de Lea Gilmore. Por su parte, los Blind Boys of Alabama refuerzan las armonías vocales en la original de Blind Lemon Jefferson, See That My Grave is Kept Clean. El punto más conmovedor es junto a la apacible y melodiosa Love Looks Good on You.El banjo es atacado con magnífica intención en Dance Juba Dance, resuelta en el título del álbum. Fabrizio Poggi sopla con decisión y grandeza la armónica en la adherente Black Cofee, misma vitalidad presente en la festividad rítmica de Did You See My Baby. La sexualidad implícita es tremendamente frecuente en el Blues y aquí tiene su ministro con Satisfied, el fiero azote de las cuerdas con el slide es notable. En el álbum Chocolate to the Bone (2003), Guy Davis ya había interpretado Saturday Blues. No obstante, esta nueva versión pareciera estar más próxima a su núcleo.Prodigal Son se vale de su crudeza blusera, nutrida por la conmovedora interpretación de Davis y la siempre atenta compañía de Poggi. Pareciera que este álbum fuese el que ambos esperaron por años para realizar juntos. Guy Davis ofrece una de las grandes interpretaciones al multiversionado clásico de Blind Willie McTell, Statesboro Blues en el cierre del álbum. Cuando muchos apuestan por la modernización del Blues, otros simplemente buscan volver a las raíces del género. Guy Davis no es para nada un novato en esto de cavar profundo en la tierra del Blues, y nuevamente ofrece un álbum con autoridad y confortable desenvoltura. Porque cuando el Blues es acústico el alma resuena en orgánica sintonía, y de eso Guy Davis pareciera saber mucho.
Calificación 4.5/5
---
New England Flame – USA
Guy Davis's latest recording is a CD entitled, "Juba dance" released on the French-based label, Dixie Frog in April 2013. It will be released in the U.S. later this summer. Recorded in Bergamo, Italy and produced by Guy's old friend, the noted Italian harmonica player, Fabrizio Poggi, it features original songs by Guy as well as covers of legendary Blues musicians. It is a recording of just Guy on vocals, guitars and harmonica, with some harmonica added by Fabrizio. There are guest spots by Soul & Gospel singer Lea Gilmore on "Some Cold Rainy Day" and the "Blind Boys of Alabama" on the song, "See That My Grave is Kept Clean".
---
Daily Herald Tribune, Grand Prairie, Alberta – CANADA
"It's always a treat when Guy plays the area," says concert promoter Thom Wolke, who also manages Guy. "He's constantly got new material, like the fresh album full of music he just recorded in Italy and released in Europe, and he seems to know the old songs the audience wants to hear." Davis' folksy and humble stage presence, combined with his humorous monologues, made one feel that this was not a concert, but rather, an impromptu performance on a front porch down in some southern swamp. Indeed, at times Davis had the audience singing, clapping and stomping their feet".
---
Review from malbecblues.blogspot.it (Argentina)
Blues en blanco y negro
Estos dos lanzamientos tienen como protagonistas a músicos con distintos backgrounds que sumaron esfuerzos y talento para darle una vuelta de tuerca al sonido y estilo que los caracteriza. Guy Davis (feat. Fabrizio Poggi) – Juba dance. Davis es uno de los músicos actuales que mejor interpreta el country blues de pre guerra. Tiene 52 años y nació y creció en Nueva York, muy lejos de los campos de algodón y las aguas del río Mississippi. Sin embargo, su abuela lo educó con la mente puesta en el sur, en sus antepasados y en sus raíces. Así, Davis empezó a escuchar desde muy chico a Blind Willie McTell, Mississippi John Hurt y Skip James. Comenzó a tocar la guitarra cuando era adolescente y desarrolló con mayor naturalidad el estilo del fingerpicking. Con el tiempo pasó al banjo y hoy toca ambos instrumentos por igual. Aquí, este notable artista, con casi una docena de discos editados, encara temas propios y algunas canciones tradicionales. Lo mejor está en su interpretación de See that my grave is kept clean, de Blind Lemon Jefferson, en la que el banjo y la armónica marcan el pulso mientras su voz juega a coro con la de los Blind Boys of Alabama. Fabrizio Poggi, destacado armonicista italiano, lo acompaña en la mitad de los tracks soplando con mucha intensidad, y la cantante Lea Gilmore se luce en Some cold rainy day, de Bertha "Chippie" Hill. Con artistas como Guy Davis, el blues tradicional está en muy buenas manos.
---
Review appeared on www.musicwaves.fr di Mr. Blue (FRANCIA)
Peu de gens en France doivent connaitre le nom de Guy Davis. Pourtant, dans le milieu du Blues le monsieur fait figure de proue depuis de nombreuses années. Fils d'acteurs américains, acteur lui-même (il a interprété le rôle de Robert Johnson au théâtre), il écume les scènes mondiales depuis plusieurs décennies en défendant son Blues, celui des racines, l'acoustique, celui des tout premiers noirs américains. Avec "Juba Dance", Davis pousse son amour de la musique à l'extrême. Très dépouillée, sa musique se concentre autour de sa voix âpre et unique, guitare acoustique et Banjo à 5 cordes (il est passé maître dans la maîtrise de l'instrument) et harmonica bien sûr. Et pour enfoncer le clou, sans chercher un quelconque coup médiatique, il s'associe à Fabrizio Poggi. Lui-même célèbre harmoniciste italien ayant joué avec de vraies pointures (Eric Bibb, Otis Taylor, Marcia Ball, et bien entendu The Blind Boys Of Alabama, présent eux-mêmes sur l'un des meilleur titre de l'album, le théâtral 'See That My Grave Is Kept Clean'), il apporte à l'album une couleur unique, une authenticité évidente. Ainsi tout au long de ces 13 titres, l'auditeur remonte aux sources du Blues, à la limite des chants des traites négrières, oubliant au passage l'invention de l'amplification et les paillettes du show business. Singulièrement authentiques, des titres comme les joyeux et galopants 'Dance Juba Dance' ou 'Did You See Me Baby' tout en harmonica, le sublime 'Some Cold Rainy Day' à deux voix ou un 'My Eyes Keep Me In Trouble' (proche de l'auto parodie avec sa mélodie d'harmonica reprenant l'éternelle ritournelle connue en France sous le nom du 'Port de Tacoma' interprété en son temps par Hughes Aufray) semblent ne pouvoir jamais lasser ni vieillir puisque déjà hors du temps. Et du nonchalant 'Lost A Gain' blanchi au soleil du Mississippi à l'intime 'Statesboro Blues' à la délicieuse mélodie de guitare, digne des plus fins compositeurs du genre, Davis rend hommage à ses racines et défend avec toujours autant de verve un Blues traditionnel qui ravira les plus exigeants et puristes d'entre vous, de ceux qui ont compris que le Blues est avant tout l'expression de l'âme. Alternant avec justesse le léger et le grave, se délestant de tout temps mort en allant à l'essentiel, 'Juba Dance' est un Must du Blues acoustique, cristallisant avec véracité les origines du Blues.
---
Review appeared on  FOLK ROOTS (UK) by Dave Peabody
Travelling American bluesman Guy Davis ships up in Bergamo, Italy, to record his latest album where he's joined (on six of the thirteen tracks) by Italian harmonic maestro Fabrizio Poggi. Both men are playing to top strength, working well together, playing some great music. Often the sound is fuller than you'd generally expect from a duo, due to Guy's ability to double-track a second guitar, banjo or mandolin part and also to providing some simple foot stomp, cowbell, tambourine, spoon or hand clap percussion. The recording brings out all the rich tones of Guy's voice with the vocal/instrumental mix balanced to perfection. There are four solo items from Guy plus versions of Bertha 'Chippie' Hill's Some Cold Rainy Day (featuring guest vocalist Lea Gilmore) and Lemon Jefferson's See That My Grave is Kept Clean (with The Blind Boys Of Alabama providing background vocals) that helps make Juba Dance one of Guy Davis' very best recordings of his brand of traditional-styled acoustic blues.
---
Review from JAM MAGAZINE by Roberto Caselli (english translation)
The guitarist and banjo player meets Fabrizio Poggi's harmonica: between a prayer and a desperate cry
Juba Dance is the work that seals the long collaboration between Guy Davis and Fabrizio Poggi, two musicians geographically distant, but complementary in terms of music. Both prefer the acoustic dimension of the blues, the one that immediately transform music into feeling, whether it is of a spiritual nature or about passion. Davis is a guitarist and banjo player who embodies the long history of the blues coming from plantations and solitary dusty roads and knows how to evoke that with great sensitivity. Poggi uses another instrument, the harmonica, and also for this reason he is perfectly complementary because he closes the circle opened by Guy with his picking. The repertoire chosen for the disc mixes compositions by Davis with other classics written by personalities as Blind Lemon Jefferson (See That MyGrave Is Kept Clean, which involves also the Blind Boys Of Alabama), Blind Willie McTell (Statesboro Blues), Ishman Bracey (Saturday Blues), Josh White (Prodigal Son), the latest Muddy Waters (My Eyes Keep Me in Trouble) and the brilliant Bertha Chippie Hill (Some Cold Rainy Day in which Lea Gilmore lends his voice), all artists very different for regional origin and style, but all put together by the immense soul of the blues that is able to represent the depths of each one of us. Davis with his beautiful voice gives great pathos and emotion on every performance when he touches on a prayer or when he barely holds back a desperate cry.
---
Review from REAL ROOTS CAFE' www.realrootscafe.com (english translation)
Although he had released an LP in 1978 the discography of musician/actor Guy Davis starts really gets good only in 1993. Since then he delivers with great regularity new music and is now at number thirteen with Juba Dance CD, if I counted correctly. The recordings for this CD were made at Suonovivo Recording Studio in Bergamo. Most of the work of Davis has appeared on Red House Records, but this CD is released by Smokeydoke Records / Dixie Frog. This CD has been produced in collaboration with the Italian harmonica player Fabrizio Poggi and is a beautiful acoustic album in the tradition of people like Skip James, Blind Willie McTell and other performers. Davis writes songs in the style of his musical heroes, but also includes old works, once again putting a very fresh feel to it. Songs like "Lost Again", "Love Looks Good On You" and "Satisfied" are all great songs, as is " Juba Dance ", in which both the African and American influences converge. He also does strong performance of the covers. Blind Lemon Jefferson's "See That My Grave Is Kept Clean" has the contribution of The Blind Boys Of Alabama, giving it some extra weight and the same goes for Bertha 'Chippie' Hill's "Some Cold Rainy Day ", a duet of Davis with Lea Gilmore. The old " Statesboro Blues" comes out of the speakers as if it were just newly written. The combination Guy Davis / Fabrizio Poggi will hopefully be something we will hear some more of in the future. With Juba Dance, they delivered a brilliant CD in any case in all simplicity.
---
Review from REAL ROOTS CAFE' www.realrootscafe.com
Hoewel hij in 1978 al een LP/ CD had afgeleverd begint de discografie van muzikant/acteur Guy Davis eigenlijk pas goed in 1993. Sindsdien levert hij met grote regelmaat nieuw werk af en zit met Juba Dance inmiddels op vijftien cd, als ik goed geteld heb. De opnamen voor deze cd zijn gemaakt in de Suonovivo Recording Studio in het Italiaanse Bergamo. Het meeste werk van Davis is verschenen op Red House Records, maar deze cd is uitgebracht door Smokeydoke Records/Dixiefrog. Deze cd is tot stand gekomen in samenwerking met de Italiaanse harmonicaspeler Fabrizio Poggi en is een schitterend akoestisch album geworden in de traditie van mensen als Skip James, Blind Willie McTell en andere grootheden. Davis schrijft nummers in de stijl van zijn muzikale helden, maar weet ook het oude werk juist weer heel fris neer te zetten. Nummers als "Lost Again", "Love Looks Good On You" en "Satisfied" zijn stuk voor stuk sterke nummers, evenals trouwens "Dance Juba Dance", waarin zowel de Afro als Amerikaanse invloeden samenvloeien. Ook de diverse covers krijgen als gezegd een sterke uitvoering. Blind Lemon Jefferson's "See That My Grave Is Kept Clean" krijgt door de bijdrage van The Blind Boys Of Alabama nog wat extra gewicht en hetzelfde gaat op voor Bertha "Chippie" Hill's "Some Cold Rainy Day", een duet van Davis met Lea Gilmore. Het aloude "Statesboro Blues" komt uit de speakers alsof het net nieuw geschreven is. De combinatie Guy Davis/Fabrizio Poggi is er hopelijk een, waar we in de toekomst nog wat meer van gaan horen. Met Juba Dance hebben ze in elk geval in alle eenvoud een schitterende cd afgeleverd.
---
Review from R2 ROCK'N'REEL MAY/JUNE 2013 by Trevor Hodgett (4 stars)
New Yorker Guy Davis, somewhat of a modern day songster, is an engaging performer whose music ranges widely, stylistically and emotionally. "Lost Again" one of the six original songs, is a genial opener, for example, with clever and humorous lyrics. Nut it's immediately followed by the contrasting "My Eyes Keep Me in Trouble", a Muddy Waters song that is essentially an unashamed declaration of compulsive hominess, sung in a lascivious growl. And this is turn is followed by "Love Looks Good On You", a charmingly fingerpicked celebration of romantic commitment. Later, the menacing, caustically-sung "Dance Juba Dance" showcases Davis's claw-hammer banjo playing while Blind Lemon Jefferson's "See That My Grave Is Kept Clean" features the Blind Boys Of Alabama's spine-chilling harmonies in a performance of great emotional power. Contrastingly again, "Black Coffee" is a dark, chilling tribute to John Lee Hooker, with striking harmonica from Fabrizio Poggi, while "Did You See My Baby" is a high-spirited Sonny Terry tribute, with Davis himself playing harmonica. Davis's solo interpretation of Blind Willie McTell's "Statesboro Blues" shows his greatness as a storyteller, the version of Rev. Robert Wilkins's "That's No Way To Get Along is masterful.
---
Review from www.bluesagain.com by Max Mercier
Devant cette nouvelle livraison du bluesman new-yorkais Guy Davis, Monsieur de la Fontaine aurait tort de se poser la question qui le taraude habituellement, et nous venons ici le rassurer en fanfare et douze mesures standard : oui, Jeannot, le ramage de l'oiseau rare se rapporte bel et bien à son étincelant plumage. Les 13 morceaux enregistrés pour cet album quasi-primitif sont charpentés à grandes fritées d'expérience. Le son porte beau et le choix des armes fera se prosterner à genoux, sous la flamme vacillante d'une bougie, les aficionados du blues des racines : des guitares acoustiques à 6 ou 12 cordes, dont la mythique Gibson J45 aux basses dantesques, un banjo, une mandoline, l'harmonica de Fabrizio Poggi, le stomp élémentaire pour frapper la cadence, des invités de marque, The Blind Boys of Alabama et Lea Gilmore. Et puis c'est tout. Du refrain des cotonnades introductif à la douce complainte finale, crypto-picking clôturé sur un bouquet d'harmoniques, on est projeté au fond d'un juke joint du Vieux Sud, entre les deux guerres, avec une enfilade de pièces à l'ancienne gavées de lancinances, de martellements surclassiques, en boucles obsessionnelles, où les êtres sortent des rails pour plonger tête nue dans une mare de mauvais whisky. En contrepoint, il y a l'interprétation embrasée de Guy. Il y a du shuffle à danser, de l'humour, des aboiements incontrôlés, les envolées de Hohner signées Fabrizio, des phrasés mélodieux, parfois même les soubassements du rock'n'roll qui affleurent de cet humus fumant. Rudimentaire. Epais. Juba Dance, ou l'âme saphir de l'homme debout.
---
Review from www.blues.ru (RUSSIA)
"Juba Dance" 2013 – @@@@@
Íîâûé àëüáîì Ãàÿ Äýâèñà, çàïèñàííûé â èòàëüÿíñêîì ãîðîäå Áåðãàìî ïðè ó÷àñòèè íåèçâåñòíîãî ìíå õàðïåðà Ôàáðèöèî Ïîäæè. Ñåé ãóáíîãàðìîíèñò çåëî õîðîø, íî ðå÷ü ñíà÷àëà íå î íåì. Íà ýòîì äèñêå ñîîòíîøåíèå êàâåðîâ è ñîáñòâåííîãî ìàòåðèàëà Äýâèñà ïðèìåðíî ïÿòüäåñÿò íà ïÿòüäåñÿò, è ñîâåðøåííî èñêëþ÷èòåëüíûå òðåêè åñòü â îáåèõ êàòåãîðèÿõ. Ïåñíÿ See That My Grave Is Kept Clean ñ ïàðòèåé áàíäæî è äîçàïèñàííûìè ïîäïåâêàìè ñàìèõ Blind Boys of Alabama ïðåâðàòèëàñü â ïðîíèêíîâåííûé ãîñïåë-íîìåð, That's No Way to Get Along è Saturday Blues îðèãèíàëîâ, êîíå÷íî, íå çàìåíÿò, íî íåâåðîÿòíî ìîùíû è õîðîøè. À âåùè àâòîðñòâà Ãàÿ? Ñîâñåì àðõàè÷íî çâó÷àùàÿ Dance Juba Dance ñ ãèïíîòè÷íûì áàíäæî-ðèôôîì, ïðèòîïûâàíèÿìè è èãðîé íà ëîæêàõ! Black Coffee, ãäå â ïîëíóþ ìîùü ðàçâîðà÷èâàåòñÿ èíñòðóìåíò Ôàáðèöèî. È òóò æå ñàì Äýâèñ áåðåòñÿ çà ãàðìîøêó è âûäàåò ñìåøíóþ òåìó Did You See My Baby â äóõå Ñîííè Òåððè. Íåëüçÿ íå îòìåòèòü Satisfied ñ íàñûùåííûì çâóêîì: òóò íàëîæåíû øåñòè-, äâåíàäöàòèñòðóíêà è áàíäæî. ß ïåðå÷èñëèë âñåãî îêîëî ïîëîâèíû òðåêîâ äèñêà, íî è îñòàëüíûå ñîäåðæàò íåìàëî èçþìèíîê. Çàìå÷àòåëüíàÿ çàïèñü ñ î÷åíü áîãàòûì è êðàñèâû&
---
Review from www.redlick.com (UK)
GUY DAVIS featuring FABRIZIO POGGI – Lost Again, My Eyes Keep Me In Trouble, Love Looks Good On You, Some Cold Rainy Day, See That My Grave Is Kept Clean. Dance Juba Dance, Black Coffee, Did You See My Baby, Satisfied, That's No Way To Get Along, Saturday Blues, Prodigal Son, Statesboro Blues
A new album from Guy Davis is always a notable occasion, each invariably providing lots of traditional rootsy blues alongside a few unusual but enjoyable interludes.This new CD is no exception, recorded in Italy (mostly) and with the tasteful blues harp of Fabrizio Poggi (on about a half of the tracks) providing the only instrumental support to Guy's own acoustic guitars, banjos, tambourine and occasional harmonica playing by Guy himself. Some of the most notable highlights come from Guy's vocal exchanges on a couple of songs – particularly good is the vocal support of the Blind Boys Of Alabama on an expanded version of Blind Lemon Jefferson's See That My Grave Is Kept Clean. I also like the version of Bertha 'Chippie' Hill's Some Cold Rainy Day on which Lea Gilmore and Guy's vocal duelling are reminiscent of the excellent recordings released over recent years by Diana Braithwaite and Chris Whitely on Electro-fi.The other covers (of Blind Willie McTell, Muddy Waters, Reverend Robert Wilkins and Ishman Bracey) are more faithful to the originals but, as always with Guy, have enough of his personality stamped over them to make these versions his. And the originals are excellent: I particularly enjoy Love Looks Good On You, an evocative and beautifully paced song that calls to mind the early recordings of Taj Mahal.If you were lucky enough to catch Guy on his short UK tour recently you will already know how special he is. If not, this CD is an excellent way to get yourself acquainted with a real blues and roots musician.
---
Review from www.rootstime.be by Luc Meert
Guy Davis staat garant voor kwaliteit. Wie eigen is met het werk van de man en het genoegen al heeft gesmaakt om hem live aan het werk te zien weet dat hij een van de meest charismatische, doorleefde bluesartiesten is van het moment. Een flink dozijn uitstekende releases heeft hij al op zijn naam intussen en voor de vuist weg sommen we er een paar op die je gerust als absolute must-have albums mag catalogeren: het sublieme live abum "On Air", het fantastische "Sweetheart Like You" en het ongemeen boeiende "The Adventures of Fishy Waters". Voeg aan dat lijstje maar gerust zijn nieuwste worp "Juba Dance" aan toe want wederom is de man er in geslaagd om een absoluut topproduct af te leveren. Er is niets nieuws onder de zon. Guy Davis is er nog steeds met zijn doodeerlijke benadering van de oude, originele bluessongs. Zelfgepende songs, afgewisseld met sublieme covers. Zijn songs nog steeds verhalend gebracht, subliem afwisselend tussen, al dan niet bijtende, humoristische en/of beklijvend tekstgeschrijf. Davis krijgt op deze uitgave de steun van de meesterlijke mondharmonicaspeler Fabrizio Poggi en die laat probleemloos horen waarom ondermeer Otis Taylor en andere Eric Bibb's op hem al beroep deden. Hij laat zijn instrument haast in dialoog gaan met Guy's warme stem en voegt ontegensprekelijk een extra dimensie aan deze aantrekkelijke plaat. Maar wat dan gedacht van het gastoptreden van de ronduit briljante Blind Boys Of Alabama? Op "See That My Grave Is Kept Clean" zingen ze zo indrukwekkend knap dat een rush naar de repeatknop gegarandeerd is. Het Blind Lemon Jefferson nummer krijgt hierdoor een logischerwijze wat gospelachtig tintje aangesmeerd en is van een onvoorstelbare schoonheid. Het is niet het enige beklijvende moment op de plaat. Davis is bijvoorbeeld zo ongelooflijk pakkend bezig op Muddy Waters' "My Eyes Keep Me In Trouble" of ook nog op Blind Willie McTell's "Statesboro Blues" dat je daar onmogelijk onbewogen kan bij blijven. Dat hij het ook anders kan bewijst hij dan weer op het swingende titelnummer "Dance Juba Dance" met dat indrukwekkende, inventieve, snelle claw-hammer banjospel! Haast een uur onvoorstelbare schoonheid krijg je gepresenteerd. Voeg daarbij nog het bijzonder verzorgd boekje met uitleg over de songs en je bestelling moest al onderweg zijn! Je kan ook niet naast de aanwezigheid van Lea Gilmore. Het trage "Some Cold Rainy Day" is een perfecte symbiose tussen blues en gospel, puur genieten! Dit album is alweer een staaltje van ongebreideld kunnen. Guy Davis , het levende bewijs van hoe mooi pure blues wel kan zijn. Absolute aanrader en alvast kandidaat voor eindejaarslijstje, zijn warme plaat is welgekomen in deze (te )koude periode van het jaar!
---
Review from ZICAZINE by Fred Delforge
Contrairement à son grand ami Eric Bibb qu'il fréquente depuis son enfance, leurs deux familles étant très liées dans les années 50 et 60, Guy Davis n'est que trop rarement venu porter la bonne parole de son blues rural en France. Natif de New York, le bluesman a forgé son style en écoutant les histoires racontées par ses grands-parents et les a utilisées pour ses propres morceaux dans lesquels il transpose sur des sonorités acoustiques très vastes les vieilles anecdotes du Sud des Etats Unis. Neuf fois nominé aux W.C. Handy Awards, Guy Davis n'est pas seulement un chanteur à la voix rugueuse et un guitariste inspiré mais écrit et joue également pour le cinéma et le théâtre puisqu'on pouvait le croiser à Broadway où il jouait le rôle de Sonny Terry dans la pièce « Finian's Rainbow » et ailleurs où il assurait le rôle principal dans la pièce « Robert Johnson : Trick The Devil ». Incontournable de la scène blues américaine, l'artiste y apporte sa touche très particulière mais n'en oublie pas pour autant d'entretenir la flamme en reprenant régulièrement les morceaux des pionniers du genre, un exercice auquel il se livre une fois encore sur ce nouvel album sur lequel on remarque la présence d'un autre très grand songwriter, le chanteur et harmoniciste italien Fabrizio Poggi qui a déjà collaboré avec les plus grands artistes du genre. Volontairement très sobre, très dépouillé, « Juba Dance » nous entraîne dans des errances où la voix est juste soutenue par une guitare ou un banjo et un harmonica et nous fait passer de Muddy Waters à Blind Lemon Jefferson et de Josh White à Blind Willie McTell avec la même grâce qu'il nous dévoile des « Lost Again », des « Black Coffee » ou des « Satisfied » qui n'en finissent plus de donner le frisson tant ils sont remplis de bonnes choses et surtout de feeling. La complicité entre les deux formidables bluesmen se traduit à chaque instant par des trésors de blues roots et de folk blues pleins de naturel et c'est en invitant en prime Lea Gilmore mais aussi les Blind Boys Of Alabama à le rejoindre respectivement sur « Some Cold Rainy Day » et « See That My Grave Is Kept Clean » que Guy Davis met la touche finale à une « Juba Dance » qui, on l'espère, le ramènera dans l'hexagone un peu plus longuement que pour le concert qu'il donnera le 16 avril prochain au Sunset à Paris. Un album à ne surtout plus sortir de la platine une fois qu'on l'y a glissé !
---
Beautiful review and 5 stars from www.ctrlaltcountry.be
JUBA DANCE: a small masterpiece…
On his sixtieth and meanwhile over thirty-five years deep into his career as a "recording artist" – As in English bullied so delicious! – Guy Davis has of course long been nothing more to prove. With its extraordinarily appropriate translations of ancient rural blues form to the here and now harvest everytime tons of applause. And rightly so! For what a crack is this guy anyway! A real hell of a singer, an equally great storyteller-songsmith, a super guitarist, a boulder on the harmonica and moreover also a great entertainer. Basically one of the most prominent blues artists of the moment tout court. And if you join in too not immediately want to follow, then we recommend the man's new album "Juba Dance" quickly somewhere to go give a listen. On that, if we get it right, meanwhile twelfth of him is Davis for the occasion flanked by the traces include all of Eric Bibb, Garth Hudson, Marcia Ball, Otis Taylor, Charlie Musselwhite and Flaco Jimenez earned having harmonica virtuoso Fabrizio Poggi . Together the pair carves its way through six new Davis songs and covers of obscure and less obscure all material respectively Muddy Waters, Bertha "Chippie" Hill, Blind Lemon Jefferson, Reverend Robert Wilkins, Ishman Bracey, Josh White and Blind Willie McTell. Well over fifty-five minutes acoustic blues of the really very best kind. The highlights in our opinion it is extremely catchy own tune "Lost Again", Davis 'absolutely captivating reading of Muddy Waters' "My Eyes Keep Me In Trouble", the pure love once again glorifying "whisper song" "Love Looks Good On You "it to walking pace with gospel (blues) diva Lea Gilmore shared" Some Cold Rainy Day ", the gospel-like, with a guest appearance by the legendary Blind Boys Of Alabama upgraded" See That My Grave Is Kept Clean ", talking about catching clawhammer banjo go wonderfully with the butt shaking title track "Dance Dance Juba and covers of" That's No Way To Get Along "and" Statesboro Blues "from Davis' own heroes the Reverend Robert Wilkins and Blind Willie McTell. Songs of that caliber will every true lover of modern acoustic blues again and again to this album do revert. A small masterpiece! http://www.ctrlaltcountry.be/pagina9.htm
---