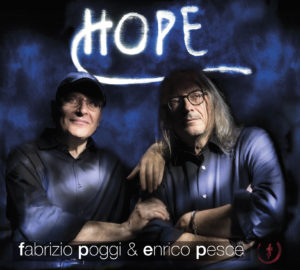 Hope is the title of Fabrizio Poggi's album number 24 written, conceived and played together with the great pianist, composer and arranger Enrico Pesce. In the movie "The Shawshank Redemption" one of the protagonists says: "Fear can hold you prisoner, hope can set you free".
Starting from this beautiful sentence, Fabrizio Poggi and Enrico Pesce propose a new canvas to paint, a new film in which the listener becomes the director, a blank page in which everyone writes their own story and a piece of clay to be shaped through emotions that this work will inspire. Fabrizio Poggi and Enrico Pesce retrace in their own way the path already traced by Nina Simone, John Lewis of the Modern Jazz Quartet, Oscar Peterson and Keith Jarrett, great artists who have been able to create a surprising and wonderful combination of blues, jazz and classical music.
Enrico Pesce's piano is reminiscent at times of the magnetic and evocative sound of Hosea Lee Kennard, the extraordinary and underated Howlin' Wolf pianist.
Poggi's harmonica, as always strictly acoustic, ancient and modern at the same time, is the red thread that unites the Mississippi blues with the sound vibrations of the contemporary world.
Taking a look at the titles of the songs, we discover the hypnotic and sensual sound between sin, redemption and spirituality of an unexpected "The house of the rising sun" that connects New Orleans brothels to Naples whorehouse in the 1920s. In those places the great jazz musicians and the great Neapolitan composers often respectively met. A tribute to the European music that resounded in the rooms of the large manor houses overlooking the cotton plantations is instead "Leave me to sing the blues". It is a blues and jazz reinterpretation of a famous eighteenth-century aria that makes use of an original piano writing by Enrico Pesce. With the addition of new lyrics, the song has turned into an ancient song of freedom: " Leave me to sing the blues and to cry with sorrow, weepin' and journeyin', for freedom, freedom now …"
The relentless commitment to civil rights that distinguishes Fabrizio Poggi finds its natural breath in "Every life matters", the original song that opens the cd. Here are the words written by Fabrizio on a music and a melody specially composed by Enrico Pesce, words that take on an even deeper meaning in the African-American nuances of Sharon White's guest voice: "I know it's hard but please don't give up, we shall overcome, I believe in his dream. So just remember, just remember Dr. King: you can kill the dreamer, but you can't kill his dream. Every life matters. And every song. You can jail the singer, but you can't jail his song. Because every song matters. Every song, every life ".
The message of hope is also heard loud and clear in "Song of hope" placed at the end of the album and written with Enrico Pesce: "When you feel so lonely, when you feel so blue, when you feel in sorrow I'll play this song for you. When you see just darkness, I can be your light, and I can be your friend passing through the dark … And I'll be at your side to sing this song of hope, for you and I ".
A song that seems to encompass the long journey made by Fabrizio in his long career, a path made (as it is in his style) of blues classics, old spirituals, ancient songs and timeless melodies.
Together Poggi and Pesce walk an intriguing path already traveled by many great musicians, taking something from the past to create something in the future. This contains the essence of immortal music like the blues.
This record brings together highly experienced musicians and young talents as if to pass an ideal witness between the generations, renewing a ageless sound that is destined to live forever …
A few words about the prestigious guests who enrich the album sound palette with their presence:
Sharon White: Eric Clapton's back vocalist for twenty years, she sang with many greats including Annie Lennox, Bryan Ferry and Paul McCartney (to name a few);
Emilia Zamuner: young and extraordinary Neapolitan jazz singer who also did a duet with Bobby McFerrin and won numerous international awards;
Hubert Dorigatti: blues, jazz and ragtime guitar virtuoso and excellent singer and composer, he is one of the leading names in European blues and beyond …
The message is clear from the words of Fabrizio Poggi and Enrico Pesce: "Hope is an album that, right from the title, in such a difficult moment, wants to help heal bitterness, affliction and the discouragement that often creep into us, like a dark evil. And we tried to do it with music and with words that convey comfort, consolation, trust, relief but above all hope ". An album in which the two musicians, as well represented in the beautiful cover photo by Mauro Negri, want with their songs to embrace the world and coming out from the dark to the light.
1 Every life matters (Fabrizio Poggi – Enrico Pesce)
2 Leave me to sing the blues (Fabrizio Poggi – Enrico Pesce)
3 Hard times (Stephen Foster)
4 Motherless child (traditional)
5 Goin' down the road feelin' bad (traditional)
6 My story (Enrico Pesce)
7 I'm leavin' home (Fabrizio Poggi)
8 The house of the rising sun (traditional)
9 I shall not walk alone (Ben Harper)
10 Nobody knows the trouble I've seen (traditional)
11 Song of hope (Fabrizio Poggi – Enrico Pesce)
Fabrizio Poggi vocals, harmonica
Enrico Pesce piano
with
Sharon White vocals on "Every life matters" and "I'm leavin' home"
Emilia Zamuner vocals on "Motherless child"
Hubert Dorigatti guitar
Jacopo Cipolla upright and electric bass
Marialuisa Berto percussion
Giacomo Pisani percussion
Arranged by Enrico Pesce
Recorded, mixed and mastered by Giuseppe Andrea Parisi
Produced by Fabrizio Poggi with Enrico Pesce, Giuseppe Andrea Parisi, Angelina Megassini
Logistics and organization Angelina Megassini
Front cover picture and art: Mauro Negri
Graphics: Manuela Huber
Fabrizio Poggi plays Hohner Harmonicas
Fabrizio Poggi wears The Blues Foundation hat
in loving memory of Jean Franco Formiga (1999 – 2021)