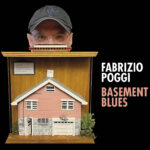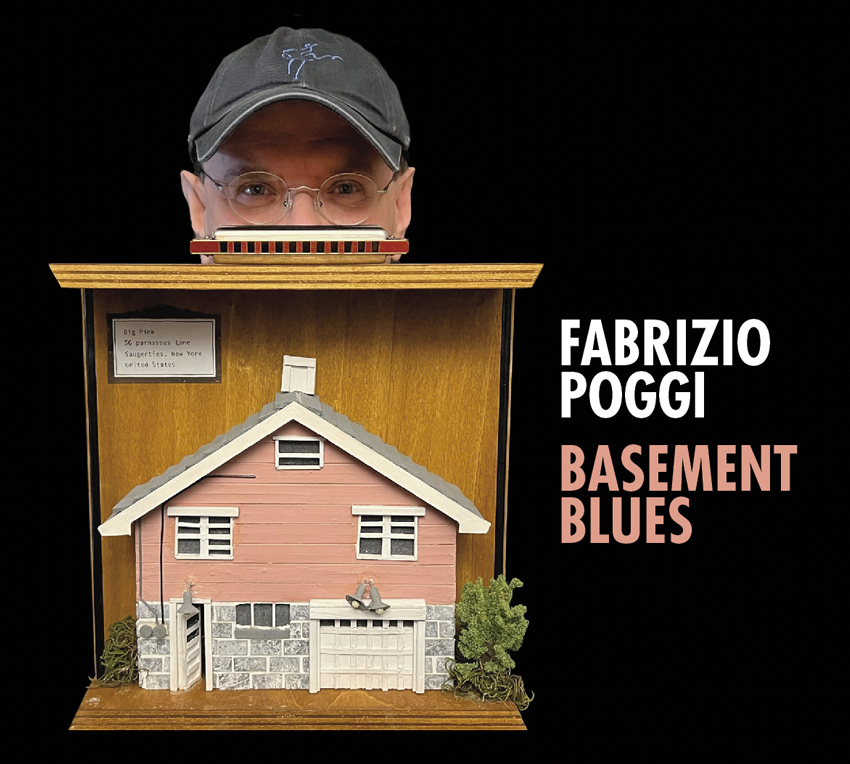 For his album # 25 Fabrizio Poggi decides to open his archives or better his basement. The title and the cover are inspired by the legendary Pink House where Bob Dylan and The Band recorded in Woodstock in 1967 the mythical Basement Tapes. This album is a collection of outtakes and rarities that pays a dutiful tribute to blues greats and to The Band whose film The Last Waltz contributed to give birth to Fabrizio's passion for the blues and for the music of the extraordinary Canadian band.
Fabrizio says: "My encounter with the blues took place many years ago, in the late seventies, when I saw for the first time in a small Italian movie theatre The Last Waltz, The Band's farewell movie and I was struck by the charisma of Muddy Waters and the incredible sound of Paul Butterfield's harmonica ".
The album contains songs from studio and live recordings taken in almost fifteen years, with many musicians involved including Garth Hudson of The Band, Ronnie Earl and Guy Davis.
The idea for the cover came after Fabrizio's partner, Angelina, gifted him a perfect miniature copy of The Big Pink on Valentine's Day.
From there the whole idea for these Basement Blues was born, which give us renewed and unreleased versions of great blues classics, intense spirituals and Fabrizio's original songs now almost impossible to find.
LINEUPS, WRITERS & MUSICIANS
1. PRECIOUS LORD (Thomas Dorsey) with Enrico Polverari
outtake from The breath of freedom, 2015
Fabrizio Poggi vocals, harmonica / Enrico Polverari guitar
2. LITTLE RED ROOSTER (Willie Dixon) with Guy Davis
live In Usa, 2014
Guy Davis vocals, guitar / Fabrizio Poggi harmonica
3. MIDNIGHT TRAIN (Fabrizio Poggi)
from studio rehearsal, 2010
Fabrizio Poggi vocals, harmonica / French Scala guitar / Roberto Re
bass / Stefano Bertolotti drums
4. JOHN THE REVELATOR (Traditional) with Garth Hudson
outtake from Mercy, 2008
Fabrizio Poggi vocals, harmonica / Garth Hudson organ / French
Scala guitar / Maurizio Fassino guitar / Francesco Garolfi mandolin /
Bobby J. Sacchi accordion / Maud Hudson back vocals / Roberto Re bass / Stefano
Bertolotti drums
5. YOUR LIGHT (Fabrizio Poggi / Ronnie Earl) with Ronnie Earl
outtake from Spaghetti Juke Joint, 2014
Fabrizio Poggi vocals, harmonica / Ronnie Earl guitar
6. BLACK COFFEE (Guy Davis) with Guy Davis
live In Usa, 2014
Guy Davis vocals, guitar / Fabrizio Poggi harmonica
7.THE SOUL OF A MAN (Blind Willie Johnson) with Enrico Polverari
outtake from The breath of freedom, 2015
Fabrizio Poggi vocals, harmonica / Enrico Polverari guitar / Stefano Spina bass, organ
8. BLUES FOR CHARLIE (Fabrizio Poggi)
outtake from Harpway 61, 2012
Fabrizio Poggi harmonica / Enrico Polverari guitar / Tino Cappelletti bass / Bobby
J. Sacchi accordion / Lorenzo Bovo organ / Stefano Resca drums
9. UP ABOVE MY HEAD (Rosetta Tharpe) with Ronnie Earl
outtake from Spaghetti Juke Joint, 2014
Fabrizio Poggi vocals, harmonica / Ronnie Earl guitar
10.BOOGIE FOR JOHN LEE HOOKER (Fabrizio Poggi)
outtake from Harpway 61, 2012
Fabrizio Poggi harmonica / Enrico Polverari guitar / Tino Cappelletti bass /
Lorenzo Bovo organ / Stefano Resca drums
11.SEE THAT MY GRAVE IS KEPT CLEAN (Blind Lemon Jefferson) with Guy Davis
outtake from Juba Dance, 2013
Guy Davis vocals, guitar, banjo / Fabrizio Poggi harmonica
12.I'M ON THE ROAD AGAIN (Fabrizio Poggi) with Enrico Polverari
outtake from The breath of freedom, 2015
Fabrizio Poggi vocals, harmonica / Enrico Polverari guitar / Stefano Spina bass, organ
13.Bonus track: HOLE IN YOUR SOUL (Fabrizio Poggi) with Enrico Polverari
live in Milan – Italy, 2015
Fabrizio Poggi vocals, harmonica / Enrico Polverari guitar
Produced by Fabrizio Poggi with Enrico Polverari, Stefano Spina, Angelina Megassini
Edited, mixed and mastered by Stefano Spina
Logistics and organization Angelina Megassini
Front cover picture: Angela Megassini
The little Big Pink House gifted to Fabrizio Poggi from Angelina on Valentine's day was made by Ilaria Traverso at Ceramiche il Tornesino Genova, Italy
Graphics: Manuela Huber
Fabrizio Poggi wears The Blues Foundation hat
Fabrizio Poggi plays Hohner Harmonicas

In loving memory of Claudio Noseda (1950 – 2022)