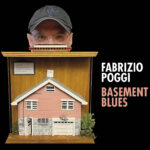 Per il suo disco numero 25 Fabrizio Poggi decide di aprire i suoi archivi o meglio la sua cantina. Ispirato sin dalla copertina e dal titolo alla leggendaria casa rosa dove Bob Dylan and The Band, nel 1967 a Woodstock, incisero i mitici Basement Tapes, questo album composto da outtakes e rarità paga un doveroso tributo ai grandi del blues e a The Band il cui film The Last Waltz ha contribuito a far nascere dentro a Fabrizio la passione per il blues e per la musica della straordinaria band canadese.
Fabrizio racconta: "Il mio incontro con il blues è avvenuto tanti anni fa, alla fine degli anni Settanta, quando vidi per la prima volta al cinema The Last Waltz, il film d'addio di The Band e venni folgorato dal carisma di Muddy Waters e dall'incredibile suono dell'armonica di Paul Butterfield".
Il disco contiene brani tratti da registrazioni in studio e dal vivo nell'arco di una quindicina di anni. Tantissimi i musicisti coinvolti tra cui spiccano Garth Hudson di The Band, Ronnie Earl e Guy Davis.
L'idea della copertina è venuta dopo che la compagna di Fabrizio, Angelina, gli ha regalato per San Valentino una copia in miniatura ma perfetta in ogni particolare di The Big Pink.
Da lì è nata tutta l'idea per questi Basement Blues che ci regalano rinnovate e inedite versioni di grandi classici del blues, di intensi spirituals e di canzoni originali di Fabrizio ormai quasi introvabili.
LINEUPS, WRITERS & MUSICIANS
1. PRECIOUS LORD (Thomas Dorsey) with Enrico Polverari
outtake from The breath of freedom, 2015
Fabrizio Poggi vocals, harmonica / Enrico Polverari guitar
2. LITTLE RED ROOSTER (Willie Dixon) with Guy Davis
live In Usa, 2014
Guy Davis vocals, guitar / Fabrizio Poggi harmonica
3. MIDNIGHT TRAIN (Fabrizio Poggi)
from studio rehearsal, 2010
Fabrizio Poggi vocals, harmonica / French Scala guitar / Roberto Re
bass / Stefano Bertolotti drums
4. JOHN THE REVELATOR (Traditional) with Garth Hudson
outtake from Mercy, 2008
Fabrizio Poggi vocals, harmonica / Garth Hudson organ / French
Scala guitar / Maurizio Fassino guitar / Francesco Garolfi mandolin /
Bobby J. Sacchi accordion / Maud Hudson back vocals / Roberto Re bass /
Stefano Bertolotti drums
5. YOUR LIGHT (Fabrizio Poggi / Ronnie Earl) with Ronnie Earl
outtake from Spaghetti Juke Joint, 2014
Fabrizio Poggi vocals, harmonica / Ronnie Earl guitar
6. BLACK COFFEE (Guy Davis) with Guy Davis
live In Usa, 2014
Guy Davis vocals, guitar / Fabrizio Poggi harmonica
7.THE SOUL OF A MAN (Blind Willie Johnson) with Enrico Polverari
outtake from The breath of freedom, 2015
Fabrizio Poggi vocals, harmonica / Enrico Polverari guitar / Stefano
Spina bass, organ
8. BLUES FOR CHARLIE (Fabrizio Poggi)
outtake from Harpway 61, 2012
Fabrizio Poggi harmonica / Enrico Polverari guitar / Tino Cappelletti
bass / Bobby J. Sacchi accordion / Lorenzo Bovo organ / Stefano Resca
drums
9. UP ABOVE MY HEAD (Rosetta Tharpe) with Ronnie Earl
outtake from Spaghetti Juke Joint, 2014
Fabrizio Poggi vocals, harmonica / Ronnie Earl guitar
10.BOOGIE FOR JOHN LEE HOOKER (Fabrizio Poggi)
outtake from Harpway 61, 2012
Fabrizio Poggi harmonica / Enrico Polverari guitar / Tino Cappelletti
bass / Lorenzo Bovo organ / Stefano Resca drums
11. SEE THAT MY GRAVE IS KEPT CLEAN (Blind Lemon Jefferson) with Guy Davis
outtake from Juba Dance, 2013
Guy Davis vocals, guitar, banjo / Fabrizio Poggi harmonica
12.I'M ON THE ROAD AGAIN (Fabrizio Poggi) with Enrico Polverari
outtake from The breath of freedom, 2015
Fabrizio Poggi vocals, harmonica / Enrico Polverari guitar / Stefano
Spina bass, organ
13. Bonus track: HOLE IN YOUR SOUL (Fabrizio Poggi) with Enrico Polverari
live in Milan – Italy, 2015
Fabrizio Poggi vocals, harmonica / Enrico Polverari guitar
Produced by Fabrizio Poggi with Enrico Polverari, Stefano Spina, Angelina Megassini
Edited, mixed and mastered by Stefano Spina
Logistics and organization Angelina Megassini
Front cover picture: Angela Megassini
The little Big Pink House gifted to Fabrizio Poggi from Angelina on Valentine's day was made by
Ilaria Traverso at Ceramiche il Tornesino Genova, Italy
Graphics: Manuela Huber
Fabrizio Poggi wears The Blues Foundation hat
Fabrizio Poggi plays Hohner Harmonicas

In loving memory of Claudio Noseda (1950 – 2022)