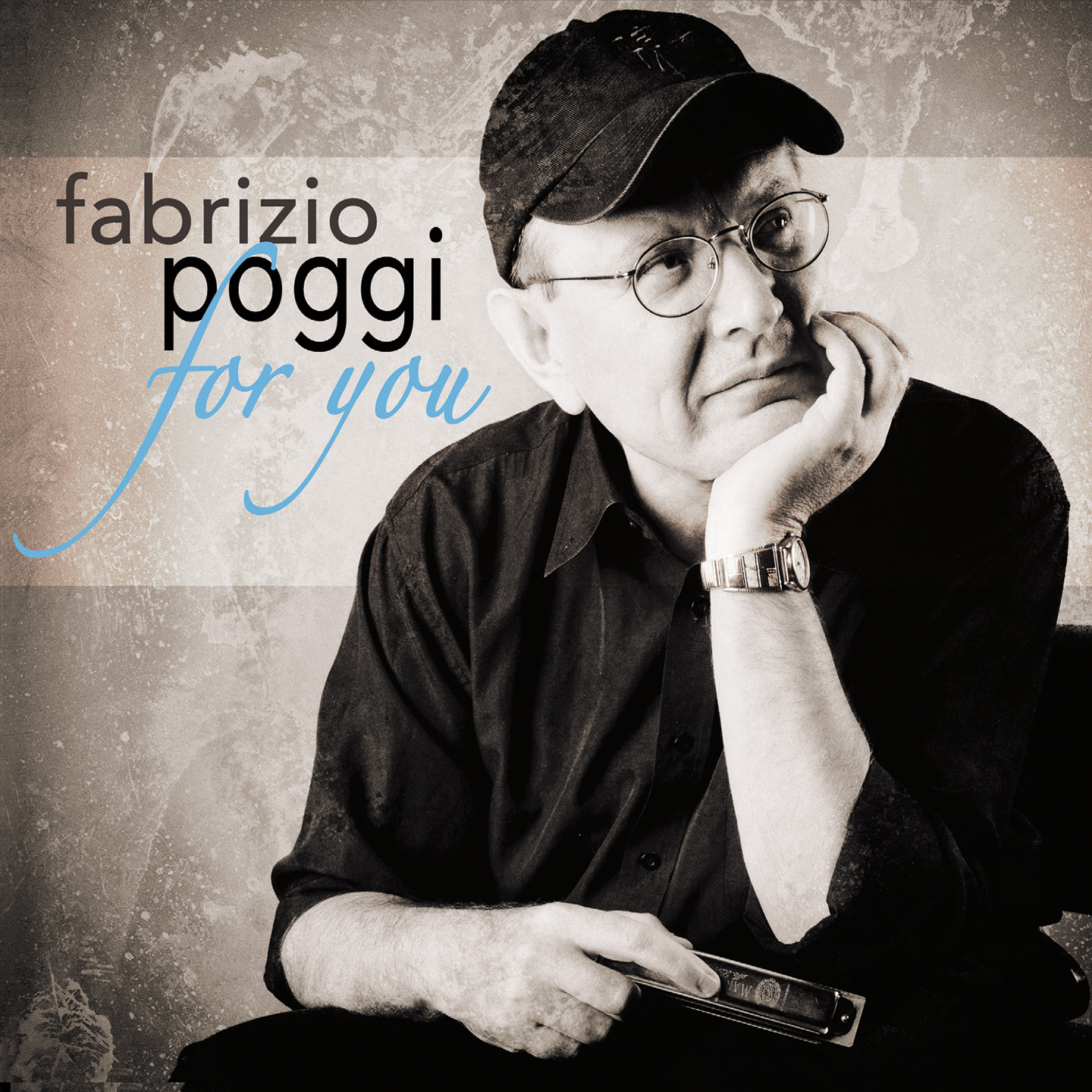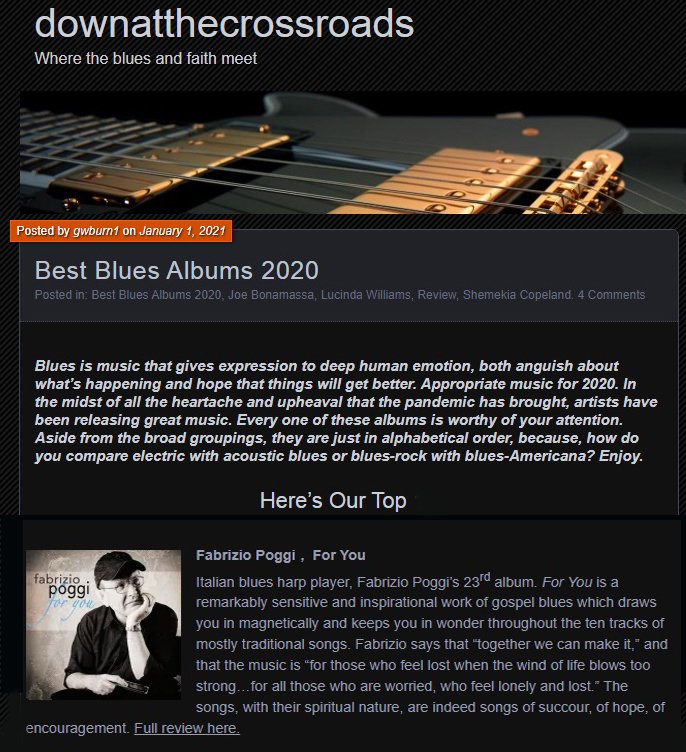 ---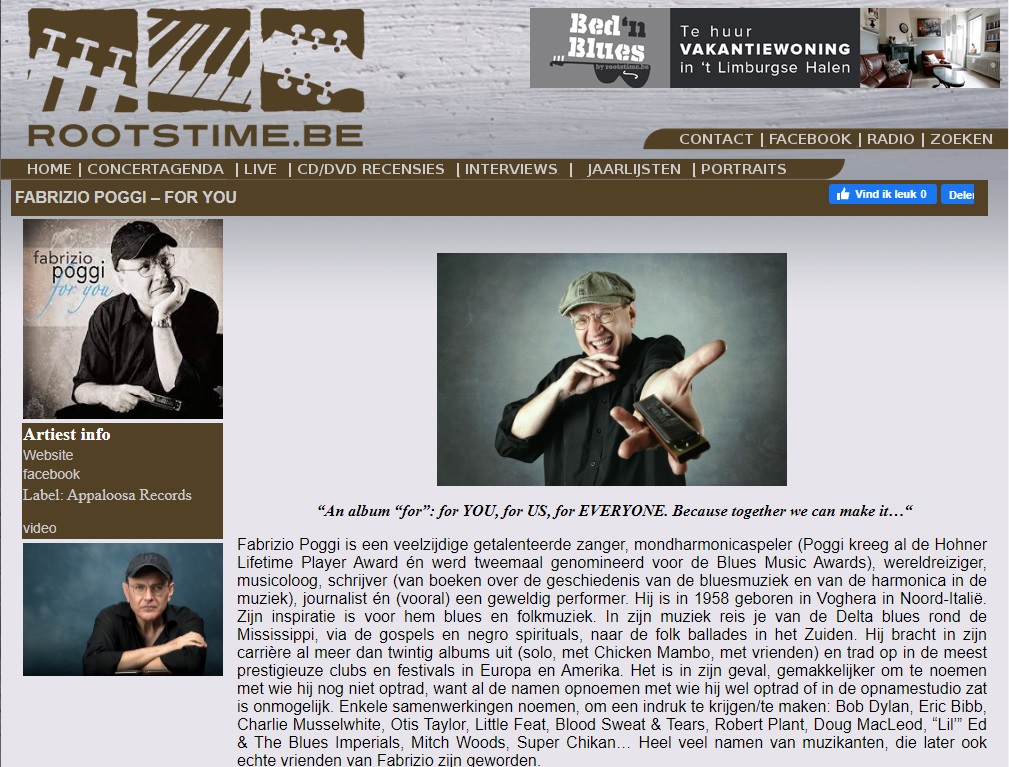 ---
---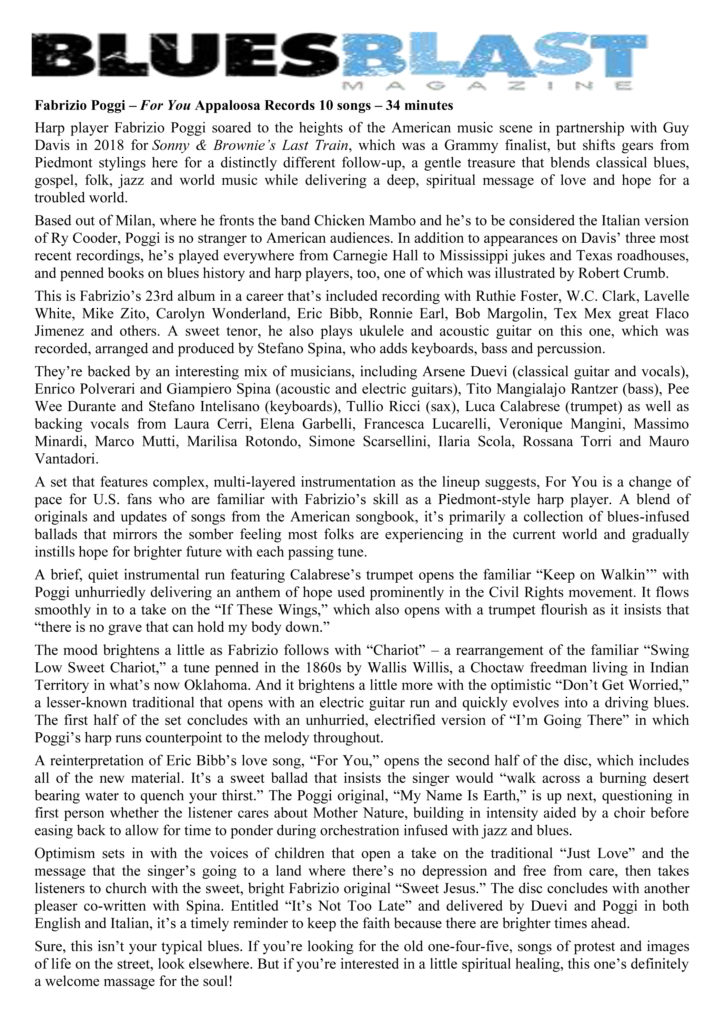 ---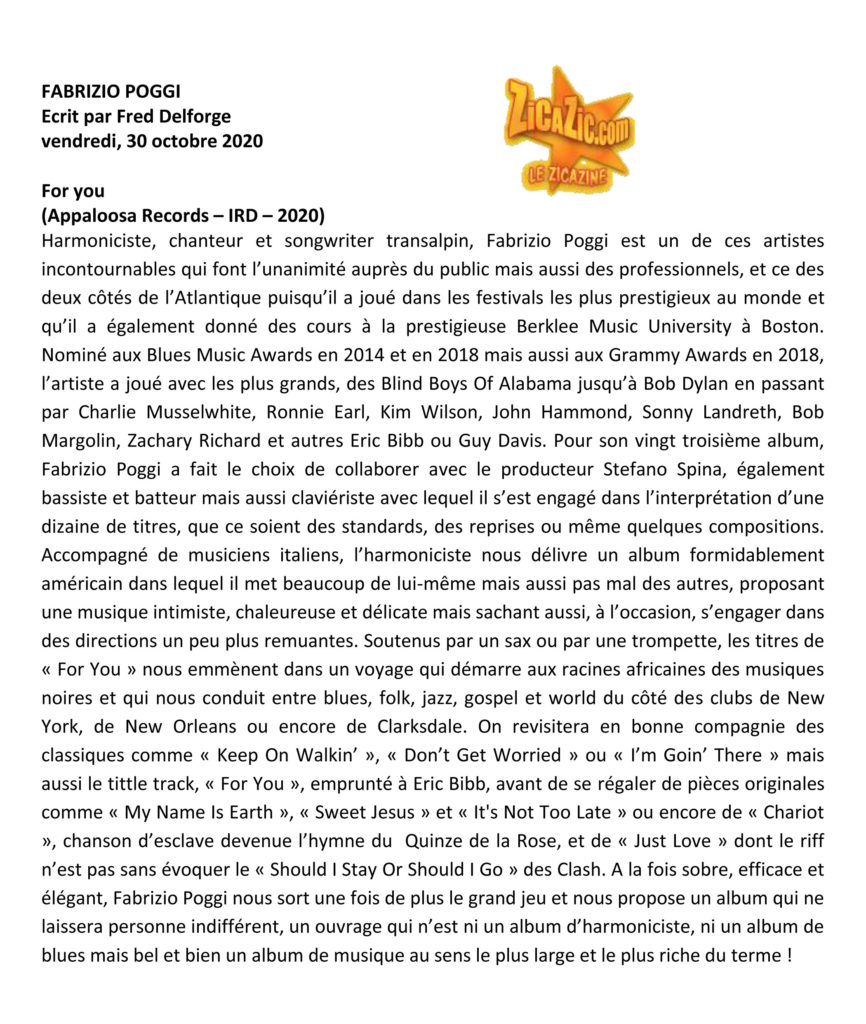 ---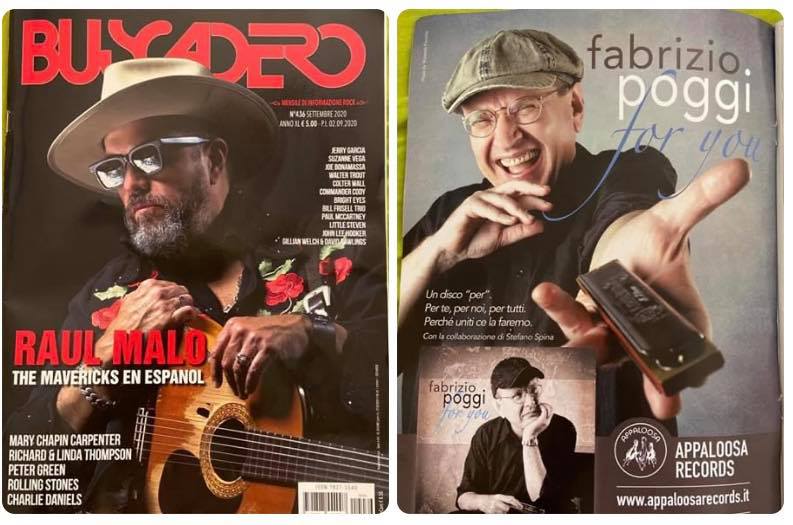 ---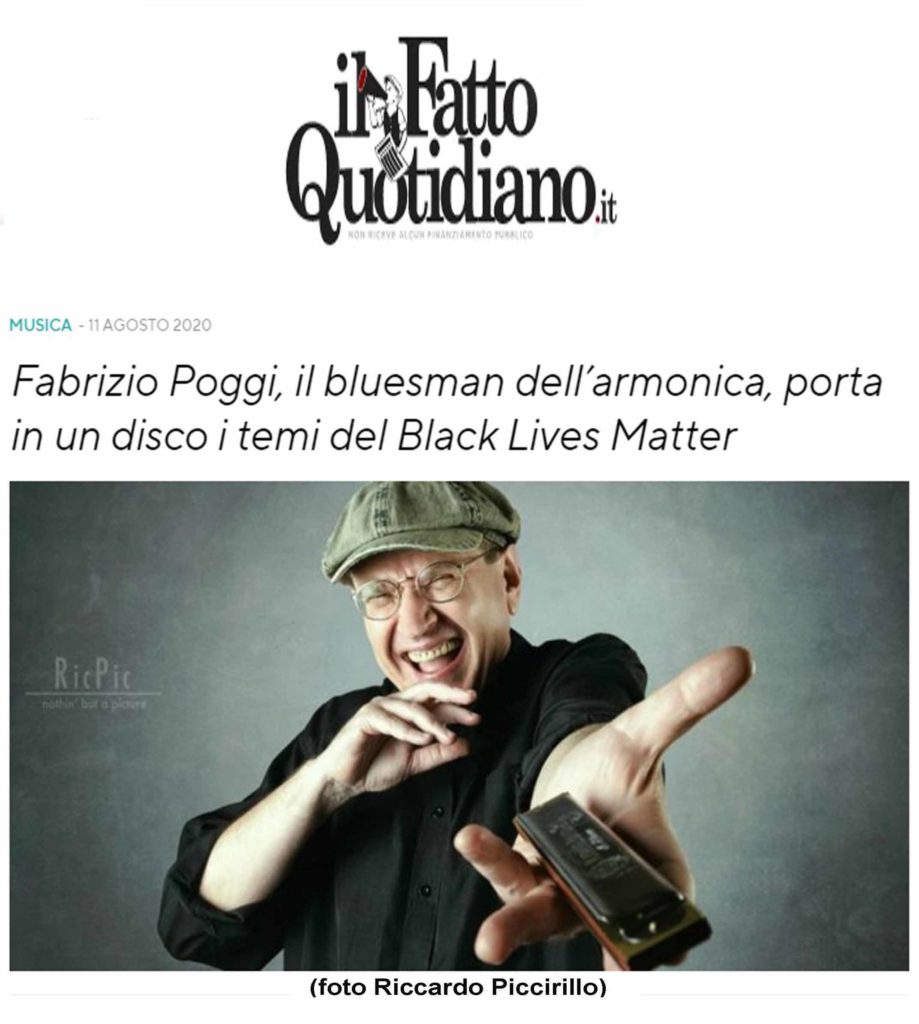 ---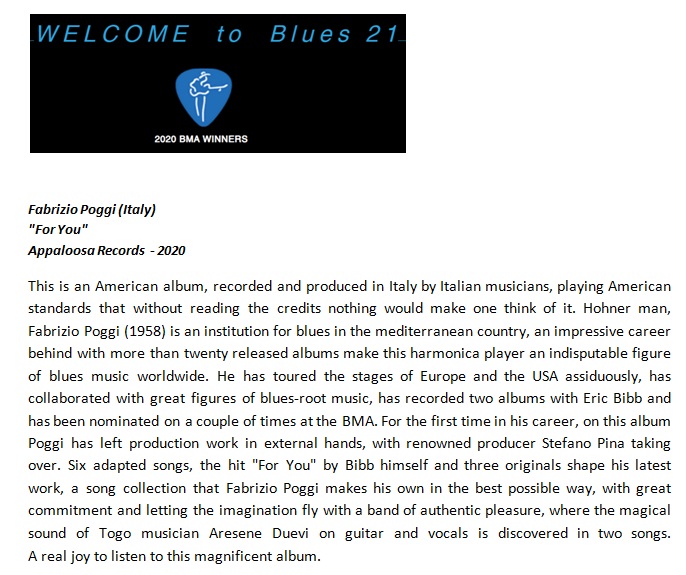 ---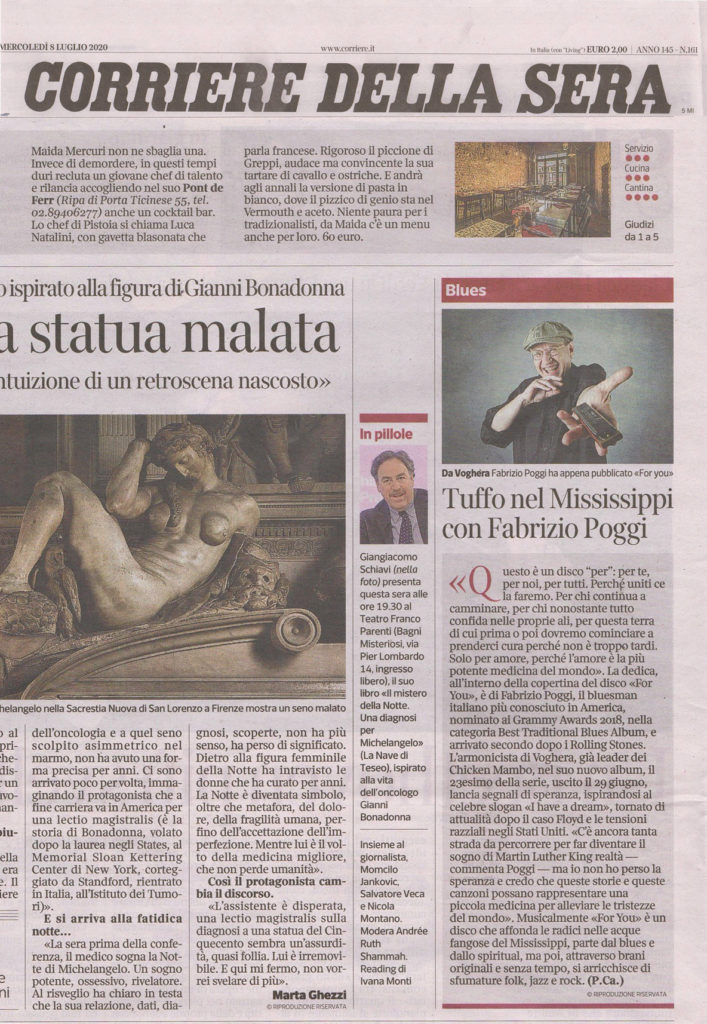 ---

Fabrizio Poggi, For You, Appaloosa Records
For You is Italian blues harp player, Fabrizio Poggi's 23rd album. The Grammy-nominated Poggi has shared stages with numerous top blues artists all over the world, including The Blind Boys of Alabama, Eric Bibb, Sonny Landreth, Ruthie Foster and John Hammond. For You is a remarkably sensitive and inspirational work of gospel blues which draws you in magnetically and keeps you in wonder throughout the ten tracks of mostly traditional songs.
The liner notes say it's an album "for you, for us, for everyone," and clearly is designed to be an album for this present moment, when the whole world is reeling in the current health crisis. Fabrizio says that "together we can make it," and that the music is "for those who feel lost when the wind of life blows too strong…for all those who are worried, who feel lonely and lost." The songs, with their spiritual nature, are indeed songs of succour, of hope, of encouragement.
And, although these are songs you may be very familiar with, they're brilliantly arranged and performed, with unexpected jazz and world music elements popping up to join the bluesy feel of the songs. Stefano Spina, who was the sound engineer on Poggi and Guy Davis's 2017 Grammy nominated album which pays tribute to Sonny Terry and Brownie McGhee, has done a superb job, not only producing the album, but arranging the songs. (He also plays various instruments, including drums and keyboards).
The band on the album is superb and consists of Tito Mangialajo Rantzer on double bass, Enrico Polverari and Giampiero Spina on guitars, Pee Wee Durante on organ, Tullio Ricci on saxophone, Luca Calabrese on trumpet and Stefano Intelisano on piano. Arsene Duevi, vocals and guitar.
For You kicks off with the defiant Keep On Walkin', with an unusual jazz arrangement, including some juicy work from the saxophone and trumpet. If These Wings starts mysteriously with the trumpet echoing in the background. It's actually a much-changed version of Brother Claude Ely's Ain't No Grave Can Hold My Body Down, and Poggi's well-phrased and earnest vocals combine superbly with the muted trumpet to strike a note of defiant hope.
Sweet Chariot swings into action with a throbbing double bass and is joined by Fabrizio Poggi's harmonica, adding a lovely bluesy feel to this traditional spiritual. Poggi is a very accomplished harmonica player and one of Europe's finest exponents of the blues. He also has a Hohner Lifetime Award, and has been twice a Blues Music Awards nominee, so we'd expect the harp work to be of a high calibre.
And it is. It fairly rocks in the upbeat Don't Get Worried, tugs at the heart strings on the beautiful version of Eric Bibbs' For You, and gets down and dirty on Just Love.
Throughout, Poggi handles the vocals with some aplomb – he's an accomplished singer, as well as harp player.
There are two songs written by Fabrizio Poggi and another co-written with Stefano Spina. The beautiful My Name Is Earth, with its choir sounds, keyboards and trumpet all combined to great effect, is a paean to our planet and a stand-out song. Sweet Jesus is a joyful song of praise, again with Poggi's harp complimenting his heartfelt singing.
The album closes with another thoughtful, hopeful song, It's Not Too Late, with Fabrizio telling us, "we can change the world."
Well, I think, we'd say Amen to that. And with music this inspirational to urge us on, just maybe we can.
---


BLUEBIRD REVIEWS Fabrizio Poggi – For You Written by Giovanni "Gio" Pilato Published: July 04 2020
Nobody would have ever predicted that, back in 2018, an Italian Blues artist would have reached a nomination to the most prestigious music award on earth, the Grammy Music Awards, particularly in a genre for which Italian music is not commonly associated with.
But when it comes to Harmonica Maestro and singer/songwriter Fabrizio Poggi, nothing seems to be unachievable, not even taking the Blues, with his fellow friend and hugely talented too Blues Artist Guy Davis, to the Red Carpet of music business with an album like Sonny & Brownie's Last Train.
For years, Poggi has developed and mastered a unique musical language that combines the Mississippi Delta Blues traditions with different others coming from other parts of the United States, like Tennessee, Texas and Louisiana, in a format that allows the Italian Artist to express his deep love for Gospel and Spiritual through heartwarming melodies, surging from his remarkable skills as an Harmonica player.
The Italian artist, after many years spent exploring the roots and the core of a genre so close to his soul, had long thought on how he could expand and enrich his great admiration for the genre in other directions, by still being able to maintain his trademark Blues Harmonica sound and building around it a palace of new sonic layers that would embrace elements belonging to different styles like Folk, Jazz, Rock, Roots and many more.
Poggi's plan has most certainly paid off and in such an impressive fashion, on his brand new record! His 23rd album, called simply For You and coincidentally released in the week where the Italian singer/songwriter celebrates his birthday too, it is a mesmerizing record not only because of the overall quality of the songs included in the new album but also for the imaginative and seductive musical approach taken by Poggi, in the making of For You.
In order to allow Poggi's music to expand into new sonic territories, the Italian singer and songwriter has, for the first time in his career, worked with an external producer, Stefano Spina, a multi-instrumental artist who had previously collaborated with Poggi, solely as a musician, on earlier Poggi's records.
Spina's contribution, on Poggi's new album, has been very important, in terms of writing all the arrangements for For You and also for being one of the major driving forces in directing the very talented cast of studio musicians playing on the Italian artist's new record, like his long-time collaborator Enrico Polverari on guitar, Stefano Intelisano on piano, Pee Wee Durante on organ, Luca Calabrese on trumpet and Tullio Ricci on saxophone.
For You incorporates some of the most profound lyrics to date, written by the Italian Harmonica Maestro. From the heartwarming ballad that is the album title-track, ("…Just call my name, I'll be there for you, just believe it… give me your dreams, together we can make them come true…) to the wonderfully dark and atmospheric song If These Wings (…there ain't no grave that can hold my body down… what do you think I see? I see a band of angels and they are coming after me…), among others, Poggi manages perfectly to translate, through his lyrics, hopes and fears of modern society, suggesting, at the same time, to use music as the most natural remedy to our fragility and insecurity as humans and as a blanket of comfort to our everyday's lives.
Each song off Poggi's new album is a journey on its own, as often happens with the Italian artist's musical vision. But this time around, with For You, Poggi also provides, together with his incredibly soulful Harmonica sound, a proper and truly inspired kaleidoscope of sounds which have always the Blues, in its foundations but it delves often into different sonic shapes and forms every time, in a very dynamic and creative way.
Fabrizio Poggi, through this breathtaking record, has taken another brave and massive step forward in his already outstanding career, proving once again that, when it comes to bring the roots of traditional Blues into more contemporary and diverse sounds, almost nobody, in the music business, does it quiet like the Italian Harmonica Master does.